James Harden and the Houston Rockets host Stephen Curry and NBA champions the Golden State Warriors in a huge Western Conference clash, live on Sky Sports Arena.
Live NBA: Golden State @ Houston
After a characteristically strong start to the season, the Warriors (44-21) have hit a rough patch recently. Golden State have lost six of their last 10 games, including a humbling 115-111 loss to the lowly Phoenix Suns.
Defense has been a major issue for the Warriors, as they are giving up over 116 points per game since the All-Star break. The defending NBA champions have also been sagging offensively, averaging 114.1 points per game since the break after putting up over 118 points in the first half of the season.
The Warriors have attempted to correct their recent slide, adding veteran center Andrew Bogut to the roster. Bogut, who won a championship with Golden State in 2015, recently concluded a stint in the Australian NBL.
Golden State will be without Kevin Durant, who sustained a bruised ankle during the fourth quarter of Sunday's tilt with the Suns. Warriors coach Steve Kerr downplayed the injury following the game, but the team will ultimately play it safe with their All-Star forward.
Durant's minutes will likely be spread out between Alfonzo McKinnie, Damion Lee, and Jonas Jerebko in some fashion, as Andre Iguodala has a pretty set role with the second unit.
The Rockets (42-25), meanwhile, are playing their best basketball of the season. They are on a nine-game winning streak and have soared to third place in the Western Conference.
Houston are coming off a double-digit win over the Charlotte Hornets in which reigning MVP James Harden tallied another 28 points and 10 assists.
Harden has far surpassed his numbers from last season's MVP campaign, averaging a league-leading 36.2 points per game while also dishing out 7.5 assists.
In addition to Harden's continuing strong play, the Rockets have ramped up their defensive production since the All-Star Break. Houston are holding opponents to just 105.2 points per game since the break thus far.
Key battle: Stephen Curry vs James Harden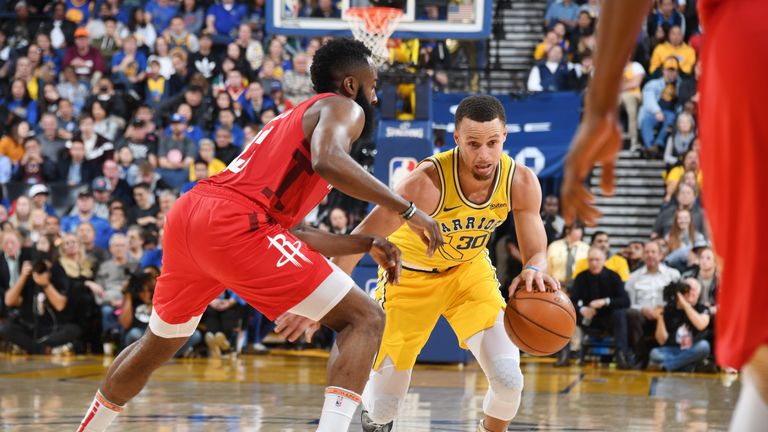 Two-time former NBA most valuable player Curry faces the league's defending MVP Harden.
With Durant missing for Golden State, this head to head of No 1 scoring options will go some way to deciding the outcome of this clash.
Harden's 36.2 points per game scoring output has become the stuff of legend this season. But if there is anyone to match him on a given night it is Curry, with his teasing drives to the hoop and his unlimited range from three-point land.
Despite sharing an offense with the prolific Durant, Curry is still the league's third-best scorer this season, averaging 27.9 points per game.
Last time out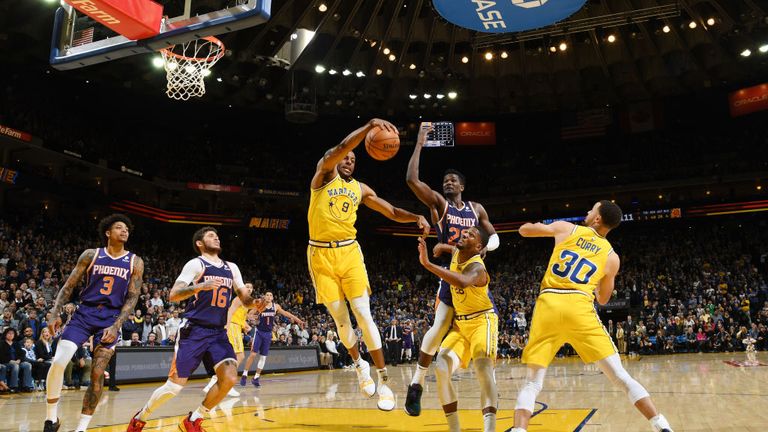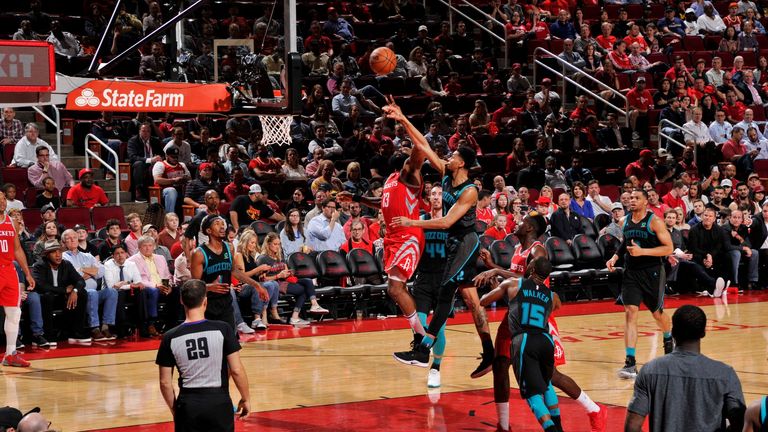 Numbers game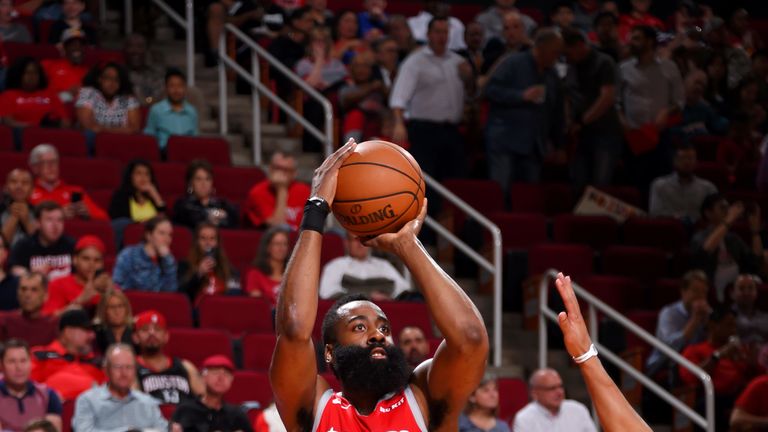 11.3 - That's the number of free throws James Harden attempts per game. That's a league-leading mark as is the 9.9 he makes per game from the charity stripe.
Harden's ability to draw fouls is unparalleled in the NBA. While it delights you or infuriates you, he is a master of his craft.
His ability to continually get to the line means, even on a night where he struggles with his three-point shooting, he can still affect the game with his scoring. Those free throws played a huge part in his streak of 32 straight 30-plus-point games earlier in the season.
Wednesday night's games
Orlando Magic @ Washington Wizards, 11pm
Brooklyn Nets @ Oklahoma City Thunder, 11pm
Detroit Pistons @ Miami Heat, 11:30pm
Memphis Grizzlies @ Atlanta Hawks, 11:30pm
Golden State Warriors @ Houston Rockets, 1:30am, live on Sky Sports Arena
Utah Jazz @ Phoenix Suns, 2am
One to watch (Warriors): DeMarcus Cousins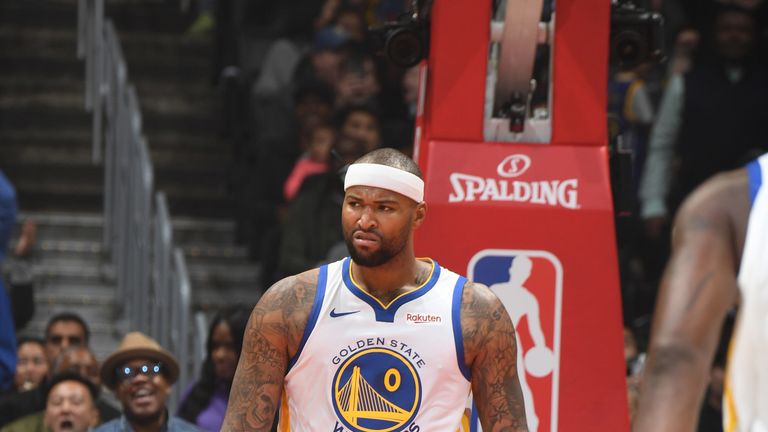 Cousins has been made the scapegoat for the Warriors' defensive struggles. That's due to a string of Warriors' opponents focusing their offense on exploiting him in pick-and-roll situations.
Cousins' team-mate Draymond Green refuted these claims, saying the team had to take collective responsibility for their porous defending.
Numbers back Green up. Golden State's defensive rating is almost identical with Boogie on (108.6 points per 100 possessions) or off (108.9 points per 100 possessions) the floor.
Nevertheless, James Harden and Chris are pick-and-roll players of the highest order and will be sure to test Cousins' resolve.
One to watch (Rockets): Chris Paul
After an injury-ravaged season, is the 'Point God' getting back to his best at the business end of the regular season?
While his shooting has remained underwhelming, Paul's assists and rebounds are up, illustrating he is having a greater impact over recent games.
At his very best, CP3 creates nightmares for mismatched forwards and centers switched onto him when opponents defense the Rockets pick-and-roll plays. Look out for Paul's willingness to take advantage of Cousins and Bogut in this fashion.
Want to watch the NBA but don't have Sky Sports? Get the Sky Sports Action and Arena pack, click here.