Even some of the NBA's best defenders would tell you that James Harden is one of the toughest covers in the league, if not the toughest.
His off-the-charts scoring is the reason the Houston Rockets star is in the running to win the NBA's Most Valuable Player award for a second consecutive season.
The 29-year-old is a transcendent force offensively and even if you break it down in detail, the volume of contribution and production from Harden really is staggering.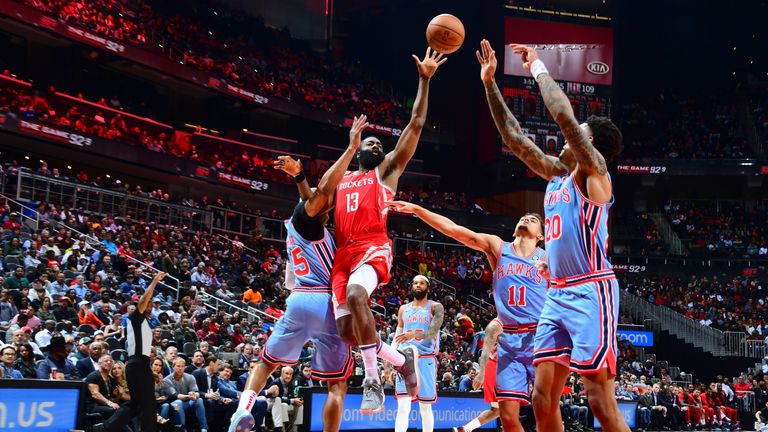 Whether it be the buckets, the streaks, the record-breaking or any multitude of other factors, it is a seriously impressive body of work from the seven-time All-Star.
Here we break down the impact the Rockets guard is having and some of the key numbers he is putting up...
Points, points, points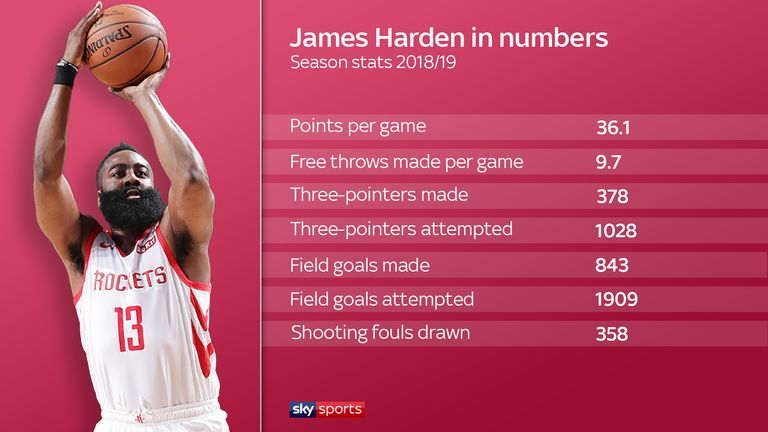 Averaging 36.1 points per game - Last season, Harden won the MVP and led the league in scoring with 30.4 points per game. He's upped that average by nearly six points and is currently in line to have the seventh best scoring season of all time in the NBA, behind five of Wilt Chamberlain's campaigns (in a completely different era of the sport) and Michael Jordan's best scoring season in 1986/87.
Nine 50-plus point games this season - Harden is already fourth all-time in the category of scoring 50 or more points in a game with 18 total. Only Kobe Bryant, Jordan and Chamberlain sit in front of him and even more strikingly, half of those games have come from him this season.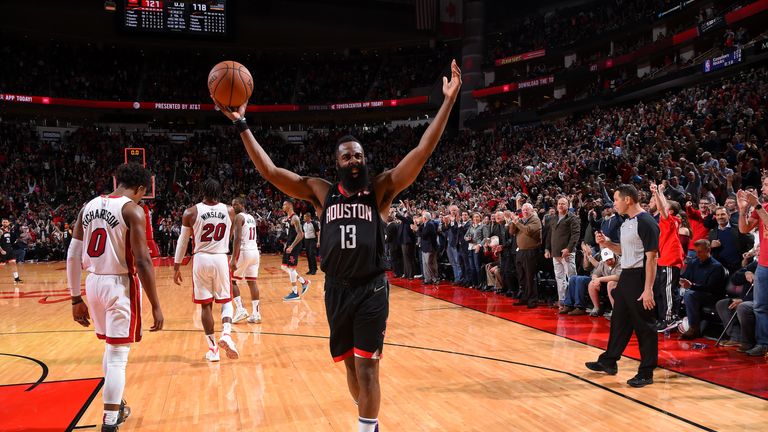 Other than two of Wilt's campaigns in the early 1960s, the next fattest mark belongs to Kobe Bryant who notched 10 such games in 2006/07. Harden has one more chance to equal that with a 50-plus outing against his former team the Oklahoma City Thunder in the Rockets final regular season game.
Almost more points than minutes - The Beard scored 2818 total points in 2867 minutes played. Only Wilt has ever averaged more than a point for every minute played over a season.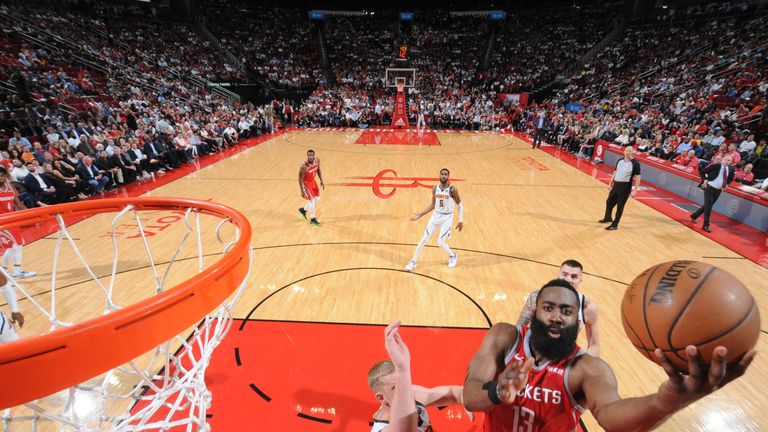 And a couple more things... Harden had six games with at least 57 points this season, the most of any player in NBA history other than Chamberlain. He also had 28 games with 40-or-more points during the current campaign - incredible production.
Voluminous shooting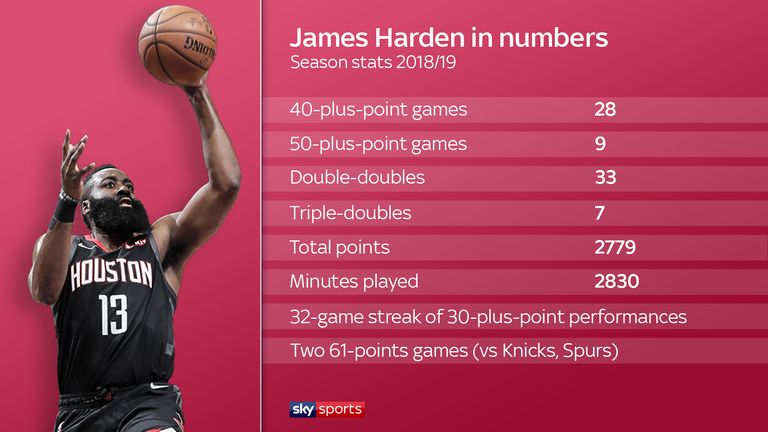 Field goals - Harden leads the league in the number of field goals attempted and number of field goals made (843/1909).
Three-pointers - Again the Rockets star leads the league in both pertinent categories from beyond the arc, with 1,028 three-pointers attempted and 378 made.
That number of makes already has him second on the all-time list for a single season, behind only Steph Curry's 402 in his second MVP campaign in 2015/16.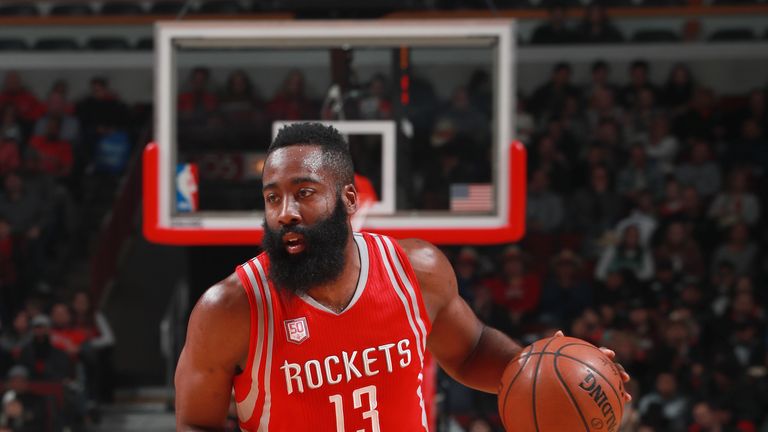 Free throws - Harden is the outright league leader across the bases in free throws, averaging 9.7 foul shots made per game. In total, he made 754 free throws of 858 attempted.
Perhaps even more incredibly, Harden drew more than 150 fouls more than MVP rival Giannis Antetokounmpo and msde 87.9 per cent of his free throws.
Wednesday night's playoff games
Indiana Pacers @ Boston Celtics - Game 2, 12am
Detroit Pistons @ Milwaukee Bucks - Game 2, 1am
Utah Jazz @ Houston Rockets - Game 2, 2:30am, live on Sky Sports Arena
Streaks and other notable records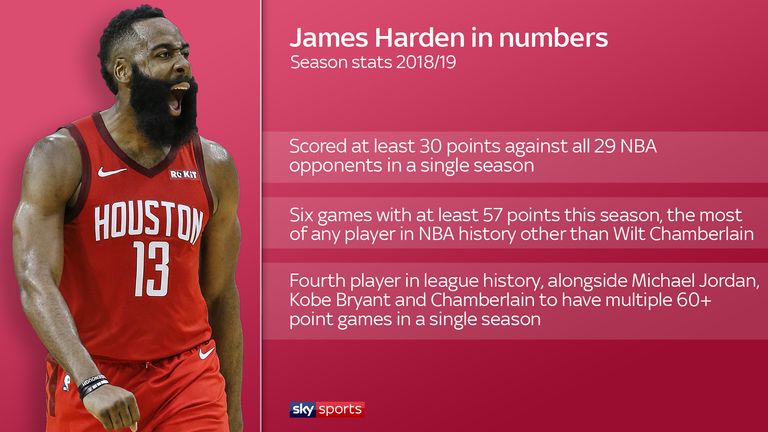 Scored at least 30 points against all 29 NBA teams in a single season - Earlier this month, Harden became the first player to drop at least 30 points against all 29 teams since the league swelled to its current size. He tallied 31 points in the Rockets' 121-105 win over the Atlanta Hawks, who were the final team remaining on the list.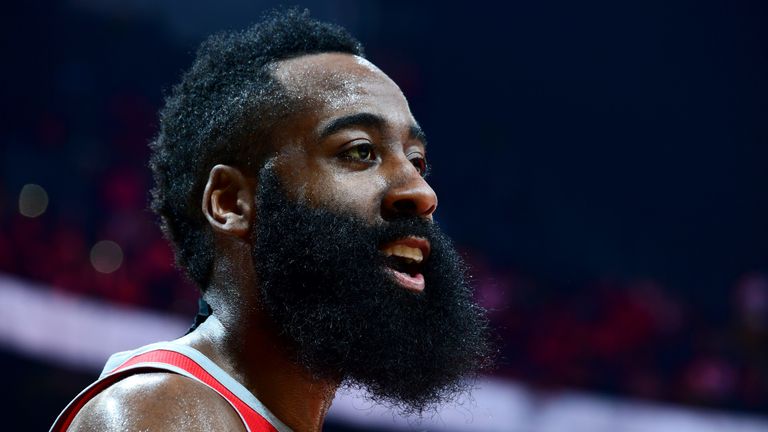 32-game streak of 30-plus point performances - Harden has a total of 56 30-plus points games overall this season, and that includes a 32-game streak of them which is the second longest in NBA history.
Two games of 60+ points - Having managed to score 61 points on both the New York Knicks at Madison Square Garden and at home against the San Antonio Spurs, The Beard became the fourth player in league history, alongside Jordan, Bryant and Chamberlain to have multiple 60-plus point games in a single season.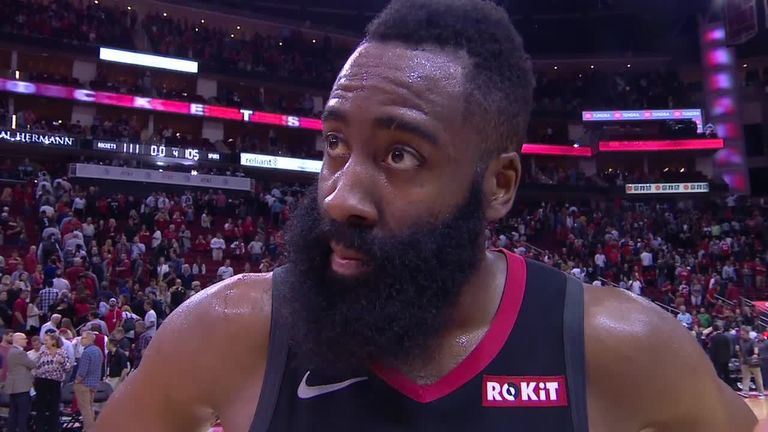 33 double-doubles and seven triple-doubles - And just to finish off with, Harden is not just an amazing scorer. His record of double-doubles and triple-doubles this season shows he also has a superb all-round game.
He finished in the top 20 for double-doubles for the season and is joint fifth (with Luka Doncic) for the season in triple-doubles for the campaign. His 42 career triple-doubles is the ninth-most of all time in the NBA.
All stats listed sourced from basketball-reference.com and true as of April 11, 2019.
Want to watch the NBA but don't have Sky Sports? Get the Sky Sports Action and Arena pack, click here.