LeBron James misses out as his injury-ravaged Los Angeles Lakers visit Blake Griffin and the stuttering Detroit Pistons, live on Sky Sports Arena on Friday night at 11pm.
Live NBA: LA Lakers @ Detroit
Times are tough for the Lakers (31-37). They didn't come close to defeating a Toronto Raptors team missing starters Serge Ibaka and Kyle Lowry on Thursday night thanks to their lack of offensive firepower.
As a team, Los Angeles put up just 98 points after shooting a miserable 7-of-31 from behind the arc. While it was only the seventh time the Lakers have failed to score at least 100 points this season, their lack of offensive production has been a consistent problem as of late.
Those problems have been exacerbated after the Lakers announced on Friday afternoon that James will miss the Pistons clash to rest his still-recovering groin (load management).
Over their last six games, the Lakers are averaging just 106.8 points per game, good enough for 25th in the NBA. And that figure is boosted by their 123-point effort against the lowly Chicago Bulls earlier this week.
Fortunately for Los Angeles, that may be all they need to score in order to defeat the Pistons (34-33), as Detroit are suffering an even worse offensive slump.
Over their last two games, the Pistons have scored a grand total of 149 points; 75 against the Nets followed up by 74 against the Heat.
These woeful performances came after a stretch where Detroit were playing the most efficient offensive basketball in the entire league.
Now, over their last three games, the Pistons have shot a combined 54-of-174 from the floor. They have been ice cold from long range too, shooting 16-of-71 (22.5 per cent) from behind the three-point line.
Fortunately for the Pistons, it hasn't cost them too much, as they are still in the playoff places by the fairly comfortable margin of three-and-a-half games.
For the Lakers, the status Josh Hart (right knee tendinitis), Lance Stephenson (left foot, second toe sprain) and Tyson Chandler (neck stiffness) will be decided prior to tip-off. Brandon Ingram (DVT, right arm) and Lonzo Ball (left ankle sprain) are out for the season.
Bruce Brown (right ankle discomfort) is probable for the Pistons while starting point guard Reggie Jackson (right ankle discomfort) is questionable.
Key battle: Kyle Kuzma vs Blake Griffin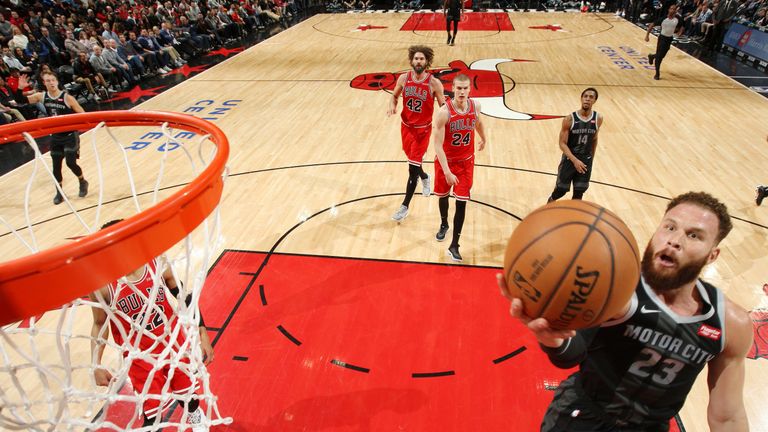 Blake Griffin ranks among the NBA's top 15 in scoring. Capable of getting buckets from most any spot, Griffin is fourth in the NBA in post-up scoring and second among big men in three-pointers.
It's worth noting that LeBron James he and Griffin didn't often match up in their previous outing.
That job fell upon Kuzma, who executed a game plan that involved encouraging Griffin to shoot jumpers and trusting that his team-mates would react quickly and double-team Detroit's star at the right moments.
The strategy worked, with Griffin needing 14 shots to reach 16 points, while also going without a rebound for the only time in his career.
Last time out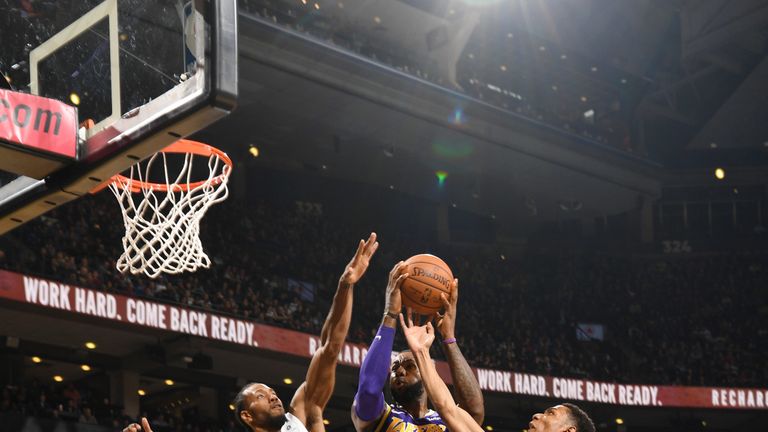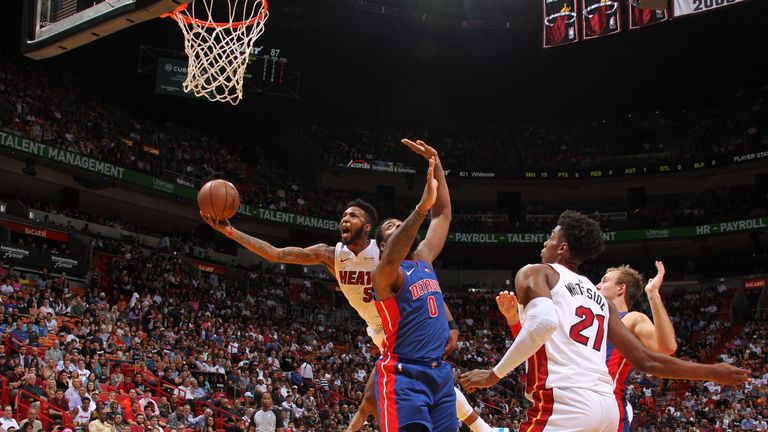 Numbers game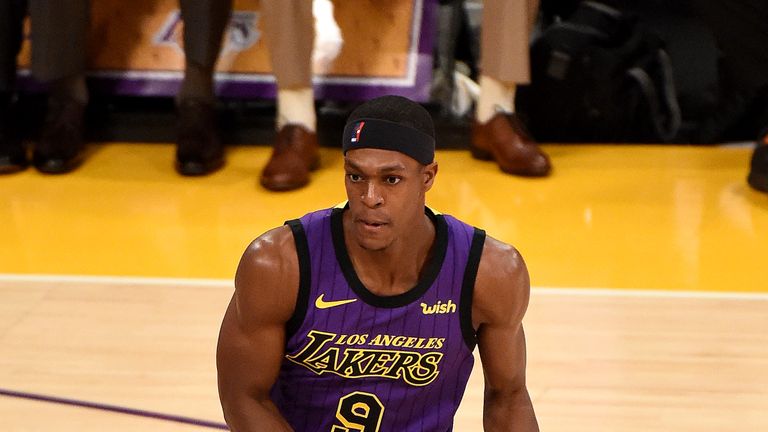 98.0 - That figure is Detroit's average number of possessions per 48 minutes. In terms of pace, they are the fourth-slowest team in the NBA.
Will the Lakers' look to exploit the Pistons' penchant for slow, deliberate offense by paying at a high tempo themselves?
That's very possible, as for the season the Lakers average 103.4 possessions per 48 minutes making them, in terms of pace of play, the fourth-fastest team in the league.
Friday night's games
Los Angeles Lakers @ Detroit Pistons, 11pm, live on Sky Sports Arena
Sacramento Kings @ Philadelphia 76ers, 11pm
Charlotte Hornets @ Washington Wizards, 11pm
Milwaukee Bucks @ Miami Heat, 12am
Phoenix Suns @ Houston Rockets, 12am
Portland Trail Blazers @ New Orleans Pelicans, 12am
New York Knicks @ San Antonio Spurs, 12:30am
Chicago Bulls @ Los Angeles Clippers, 2:30am
One of watch (Lakers): Kyle Kuzma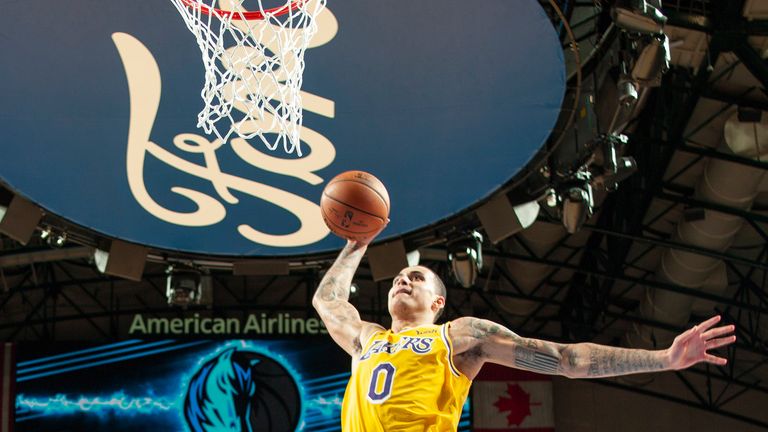 The Lakers' annual trip to Michigan holds extra significance for Flint native Kyle Kuzma, who hopes to duplicate his scorching night against the Pistons in January.
Two months ago the sophomore erupted for a career-high 41 points - despite not playing a single second of the fourth quarter against his childhood team, shooting 11-of-13 in the paint along with five three-pointers.
One to watch (Pistons): Andre Drummond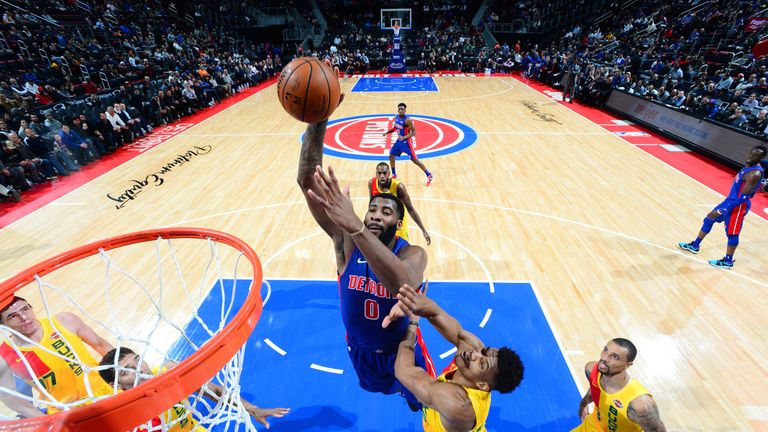 Keeping Andre Drummond in check will be one of the Lakers' top priorities in this encounter.
The 6ft 11in center leads the NBA in rebounding (15.2 per game) and has been on a tear since the All-Star break, scoring 17.0 points and pulling down 16.2 rebounds per game.
Drummond has posted 55 double-doubles in 64 starts this season.
Want to watch the NBA but don't have Sky Sports? Get the Sky Sports Action and Arena pack, click here.