Severn Stars beat Sirens in final match of Vitality Superleague Round 16
Manchester Thunder draw level with Wasps and Loughborough after second win in three days
By Paul Prenderville
Last Updated: 12/06/18 2:13pm
Severn Stars completed a double over UWS Sirens, with an impressive 55-36 victory that consolidates their sixth place spot in the Vitality Superleague.
With both teams out of the mix for the top four it was a case of pride on the line at the University of Worcester and after a keenly contested first quarter it was the hosts who powered away over the remaining three quarters.
In the night's other match, Manchester Thunder drew level with Loughborough and Wasps on 39 points with a 68-48 win over Celtic Dragons.
Having beaten Sirens by 20 goals in Glasgow a few weeks ago it was another comprehensive win for Sam Bird's team who have now won three of their last four games to improve on their total in last year's debut campaign.
"It was a really good win for us, I told the players it was about being clinical in every quarter," said Bird.
"The top teams in the league are strong in every quarter and win every quarter and that is what we are trying to emulate and we did that well.
"Our defence were amazing - really clean and the timing was excellent - and we played through the court really well."
Too many errors cost Sirens who are still chasing their fourth win of the season but get the chance to bounce back when they travel to Dragons next weekend.
Vitality Superleague - Round 16 Fixtures
| Team Bath | 42-43 | Loughborough Lightning | |
| --- | --- | --- | --- |
| Celtic Dragons | 42-83 | Wasps | |
| benecos Mavericks | 47-52 | Manchester Thunder | |
| Surrey Storm | 52-51 | Team Northumbria | |
| Severn Stars | 55-36 | UWS Sirens | |
| | | | |
| Manchester Thunder | 68-48 | Celtic Dragons | |
A nervy start saw both teams making errors with turnovers and interceptions more common than goals in the opening minutes.
Ellie Cardwell and Vanessa Walker traded missed opportunities while Claire Brownie and Sara Bayman kept Sirens competitive, while Sam Cook and Jodie Gibson impressed defensively for the hosts.
With Cardwell finding her range, the shooter sank a fine shot from long range to give Stars an 11-7 advantage which Phumza Maweni ensured stayed in tact with a superb piece of defending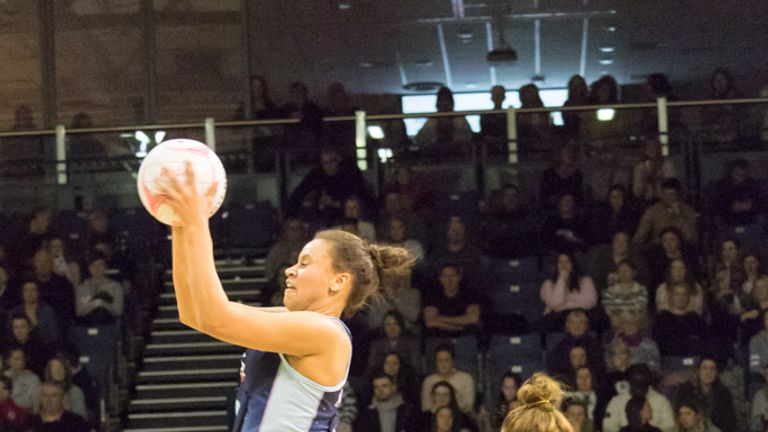 A fast opening spell ensured Stars started to pull away, Maryka Holtzhausen joining Cardwell in making few errors under the post as a four-goal advantage quickly became six.
Walker and Shantel Slater began to up their game, and the Sirens shooting percentage, to ensure they remained in the game until the crucial final moments of the quarter.
Every error from Sirens was punished by Cook and Gibson turning the ball over and they were doubly punished as Cardwell continued to make no mistake in giving Stars a 14-goal half-time lead.
Trailing 28-14, Sirens stayed competitive and the gap did not grow too wide and both teams traded goals before Stars again punished their visitors towards the end of the quarter.
The half-time lead extended to a 19-goal advantage going into the last 15 minutes and while the final quarter was even, Stars were able to see out the game with a fightback never likely to materialise and a performance that left the losing coach searching for answers.
"It was really disappointing and when we didn't do our job with our starting line-up we knew we could be in for a long day," said Sirens lead coach Gail Parata.
"Our basics and our fundamentals were really poor, we thought we were ready and we really wanted it but when we came out we just didn't follow up on it."
Vitality Superleague - Round 17 Fixtures
| Friday | | | |
| --- | --- | --- | --- |
| Team Bath | v | Wasps | |
| Saturday | | | |
| Celtic Dragons | v | UWS Sirens | |
| benecos Mavericks | v | Loughborough Lightning | |
| Severn Stars | v | Team Northumbria | |
| Surrey Storm | v | Manchester Thunder | |
| Monday | | | |
| Wasps | v | benecos Mavericks | Round 11 |
Our live coverage continues next Monday with a top of the table clash from the penultimate round of the season as Wasps entertain benecos Mavericks host Sirens live on Sky Sports Mix, channel 121, which is free for all Sky customers, Main Event and Action from 7pm.
You can now receive all the latest Vitality Superleague news and more on your personal devices. The Sky Sports mobile app will keep you up to date with the latest news from your favourite sports, including netball - here's how to receive the alerts you want.