England Roses and Loughborough Lightning's Beth Cobden ruled out of 2018-19 International Season
Last Updated: 10/07/18 12:40pm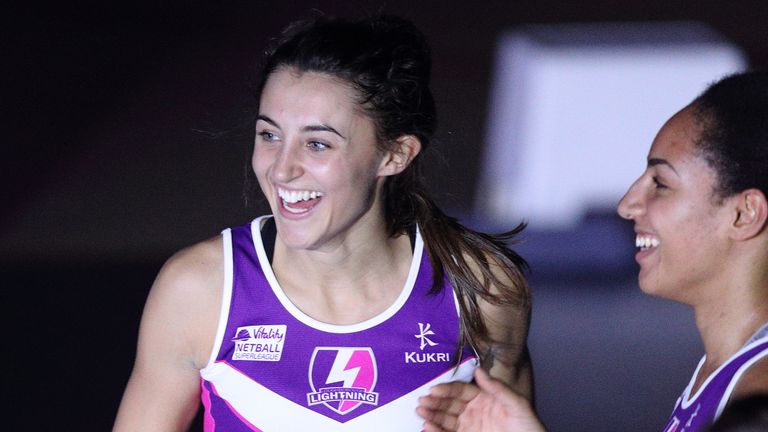 England Roses and Loughborough Lightning's Beth Cobden has been ruled out of the 2018-19 International Season due to a ruptured ACL.
The highly influential mid-court player sustained the injury while playing for Lightning in the 2018 Vitality Netball Superleague Grand Final against Wasps.
Cobden was forced off towards the end of the first quarter and her side were unable to overcome their rivals, despite storming back from a four-goal deficit to level the match in the final quarter.
The 25-year-old made her Commonwealth Games debut on the Gold Coast where the Roses made history by winning Gold.
She has also been named as one of the 21 players selected by England Netball to be part of their full-time programme building towards next year's Netball World Cup in Liverpool.
Sums it up ❤️ devastating end to what could have been a perfect season! overwhelmed with messages, thank you all so much it means the world!! The netball family is the BEST! I love this sport and what ever has happened I will get myself back 💪🏼👊🏼✌🏼#thankyou #igotthis pic.twitter.com/xI0vEw4zim

— Beth Cobden (@BethCobs1) July 8, 2018
England Netball Performance Director, Sara Symington, said: "Beth has had an incredible season in 2017-18 - both contributing to England Commonwealth Games gold and being instrumental in Lightning's journey to the VNSL Grand Final.
"The best treatment and rehab will be sought to ensure Beth makes a full recovery.
"All of the Roses will rally around Beth to support her through her recovery and we look forward to having her back in an England dress as soon as possible."
Stick with us through the off-season as we reflect on the campaign, track the England internationals and the latest player movements ahead of a huge 2019 which will feature another thrilling Superleague season and the 2019 Netball World Cup.
You can now receive all the latest Vitality Superleague news and more on your personal devices. The Sky Sports mobile app will keep you up to date with the latest news from your favourite sports, including netball - here's how to receive the alerts you want.