Los Angeles Rams looking to replicate Super Bowl success of 'Greatest Show on Turf'
Watch Dallas Cowboys @ Los Angeles Rams, live on Sky Sports USA (channel 407), Sunday from 1.15am
By Owen Davis
Last Updated: 16/01/19 5:02pm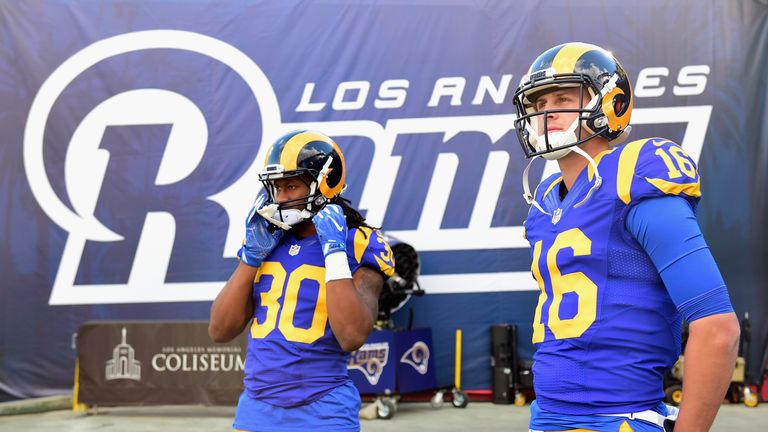 It has been nearly 20 years since the then-St Louis Rams won Super Bowl XXXIV at Atlanta's old Georgia Dome.
Famously nicknamed 'The Greatest Show on Turf', their explosive, record-breaking offense was a precursor to today's high-scoring league. Led by Hall of Fame quarterback Kurt Warner and star running back Marshall Faulk, they defeated the Tennessee Titans on the game's final play to earn their first Vince Lombardi trophy.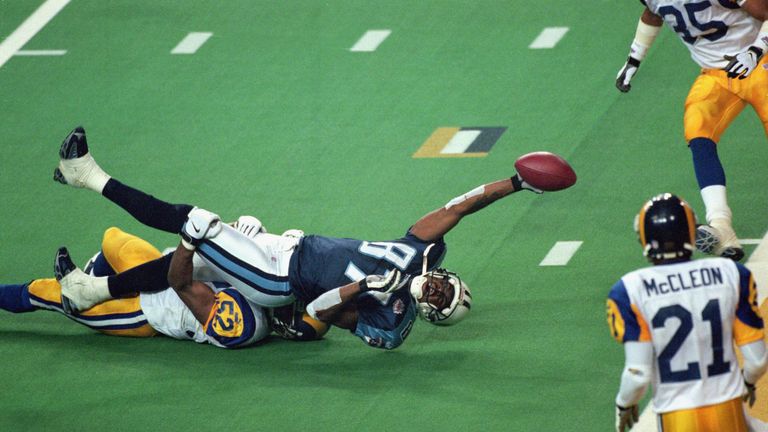 Now, as the Super Bowl heads back to Atlanta - this time to the ultra-modern Mercedes-Benz Stadium - the new Los Angeles Rams are trying to repeat history.
It has been a while in the making. Before their 2016 return to L.A, the Rams made the playoffs just twice in the intervening years, one ending in a Super Bowl defeat to the New England Patriots in 2002 - Tom Brady and Bill Belichick's first championship - and the other a 30-point thrashing by the Atlanta Falcons in 2005.
Then followed 11 torrid seasons in which the franchise did not have a single winning campaign, falling as low as 1-15 in 2009. As time went by the team started to amass talent, including Aaron Donald and Todd Gurley (more on them later), but still failed to win consistently.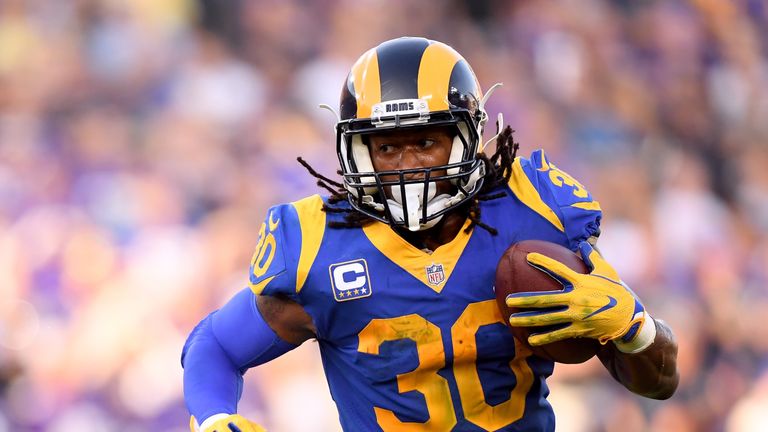 The return to Los Angeles closed the book on that chapter. After a sluggish first season, the turnaround began with the hiring of Sean McVay as head coach in 2017.
The move was understandably criticised. McVay was just 30 years old, and had no head-coaching experience. He had been impressive in his previous role as offensive coordinator for the Washington Redskins, but surely it was too soon for such a promotion?
He has emphatically proven the doubters wrong. McVay's youth, dynamism and offensive expertise has revitalised the Rams, and the past two seasons have seen a remarkable turnaround. Consider this stat: in 2016, Los Angeles were the league's lowest-scoring team. In McVay's first season, they became the highest.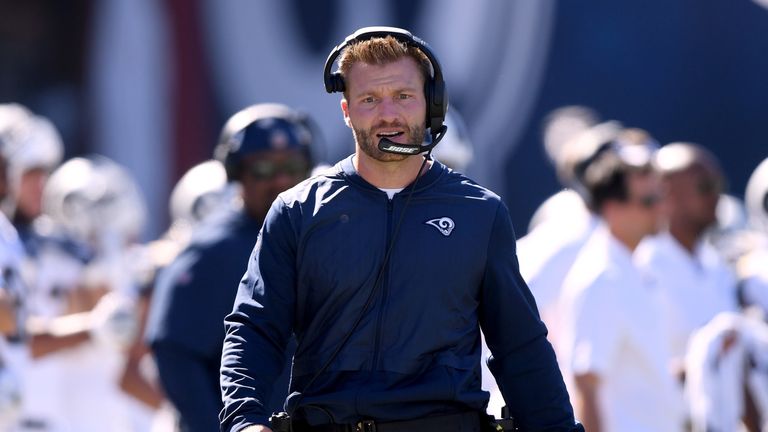 The resurgence was most obvious in his key players. Under McVay, running back Gurley bounced back from a sophomore slump to become NFL touchdown leader.
Then there is Jared Goff. The former No 1 draft pick was feared as a potential bust after a miserable rookie campaign, but is now a Pro Bowl quarterback who has thrown 60 touchdown passes in two years.
McVay's success has been so impressive that teams across the league are now searching for coaching talent in his mould, they all want 'the next Sean McVay'.
However, while McVay's Rams have won 24 regular-season games, they have yet to win in the playoffs. Last year's team went one-and-done, slipping to a 26-13 defeat against the Atlanta Falcons in the Wild Card round
Which begs the question, while youth and dynamism may work in the regular season, can it win a championship? We should see some answers this Saturday night, when they host the Dallas Cowboys in the NFC's Divisional round.
Battle of the Backs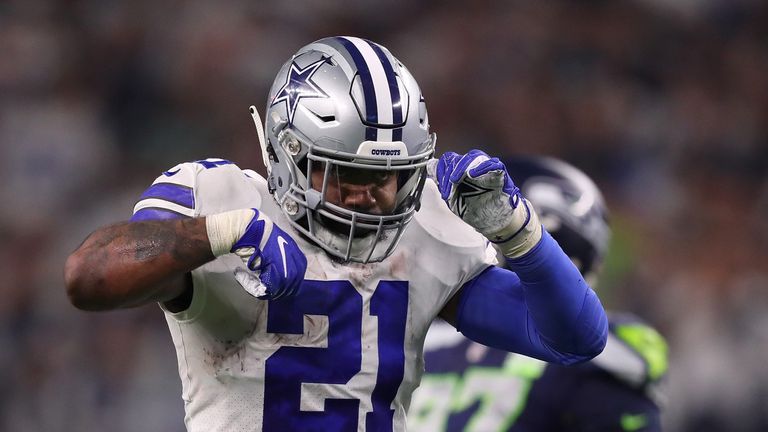 The NFL as a whole may see teams run the football less than ever, but the ground game will be pivotal in this contest.
The headline match-up, of course, is between Gurley and Ezekiel Elliott of the Cowboys. There is little to separate their skill-sets: both are strong, fast and equally adept at carrying the ball or catching passes.
The difference is their current physical condition, for while Elliott has recently dominated on the field, Gurley has not played since mid-December due to injury.
His fitness is a concern for the Rams, who will have noticed the Dallas defense restrict Seattle's league-leading ground attack to just 73 yards last week. Gurley's value is not just about his own yards or touchdowns - as important as they are - but also in drawing defensive attention and opening the field up for the Rams' deep-passing attack.
While the Rams figure out their own ground game, they must also contain Zeke, who posted a 137-yard, one touchdown game against Seattle. Troublingly, the Rams gave up a league-worst 5.1 yards per carry against the run this year. They cannot afford to give up those numbers to Elliott.
On or Goff?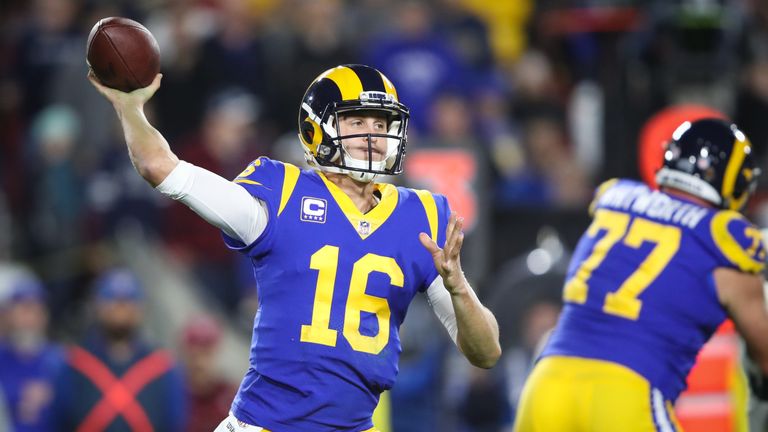 As Gurley gets back to speed, the pressure is on Goff and the rest of the offense to carry the burden.
They have been formidable this year, ranked second for points and overall yards per game, and fifth in passing yards. The receiving trio of Brandin Cooks, Robert Woods and the sadly-injured Cooper Kupp have been a nightmare for defenses, while the stellar offensive line has protected Goff well, giving him time in the pocket.
However, there are questions over Goff's recent form. While he has largely excelled, a three-game span in Weeks 13-15 saw him struggle against strong opposition such as the Chicago Bears and Philadelphia Eagles, as he threw just one touchdown to six interceptions.
Then there is the experience factor. It has been a tough postseason so far for the league's new quarterback generation, with Deshaun Watson, Lamar Jackson and Mitchell Trubisky all falling in their playoff debuts.
The bright side is that Goff has the advantage of one playoff appearance under his belt, and with an extra week for he and Rams to prepare, he should be well equipped to take on the Cowboys' defense.
A Championship defense?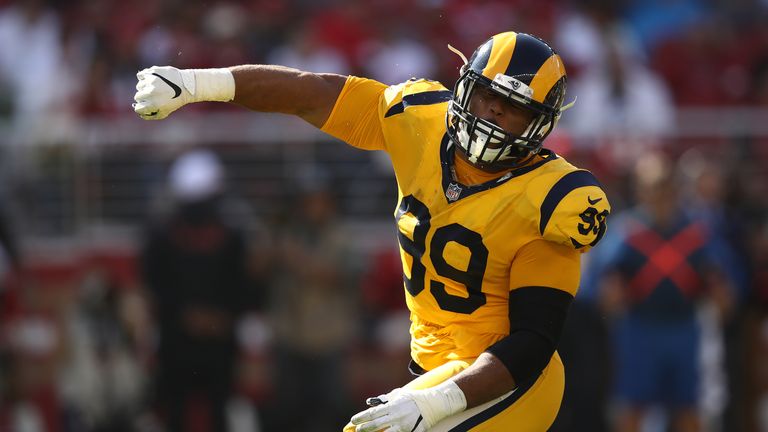 Whisper it, but the Rams' defense has not been very good.
They boast a stacked depth chart, with a legion of current and former All-Pro players, from linemen Donald and Ndamukong Suh, to linebacker Cory Littleton and defensive backs Aqib Talib and Marcus Peters.
But, despite all this talent, the Rams finished in the bottom half of the league for both total yards allowed and points conceded.
Donald is unquestionably their biggest defensive star and has a serious case to be the league's MVP. He led the NFL with 20.5 sacks, an all-time season record for a defensive tackle. It is also the same number as the rest of the team combined.
He will be overjoyed to go against Dallas' struggling offensive line. No longer the force of old, the Cowboys gave up 56 sacks this year. Only the Houston Texans gave up more, with 62.
Pressuring Dak Prescott will be vital for the Rams. While the Dallas QB can be erratic, he has a knack for game-winning drives, and his passing has steadily improved throughout this year. Zeke may be the number one priority, but Prescott cannot be overlooked.
The pressure is on for Los Angeles. The Rams are primed to build something special, but that starts with a win this weekend.
Follow the 2018-19 NFL playoffs with us on Sky Sports and throughskysports.com/NFL also our app for mobile devices and iPad, or follow our Twitter account @SkySportsNFL.