The Green Bay Packers beat the Seattle Seahawks 38-10, as Russell Wilson threw a career-high five interceptions. Jordy Nelson scored two touchdowns for the home side, who looked dominant on both sides of the ball.
In 140 Characters...
Rough night for Seattle, who turned the ball over six times. Green Bay haven't missed play-offs since 2009 and this win keeps them in the hunt.
MVP
Aaron Rogers is crucial to this Green Bay team, and he proved it once more against the Seahawks. Three touchdown passes, averaging 10.7 yards per throw, was enough to control the game from start to finish.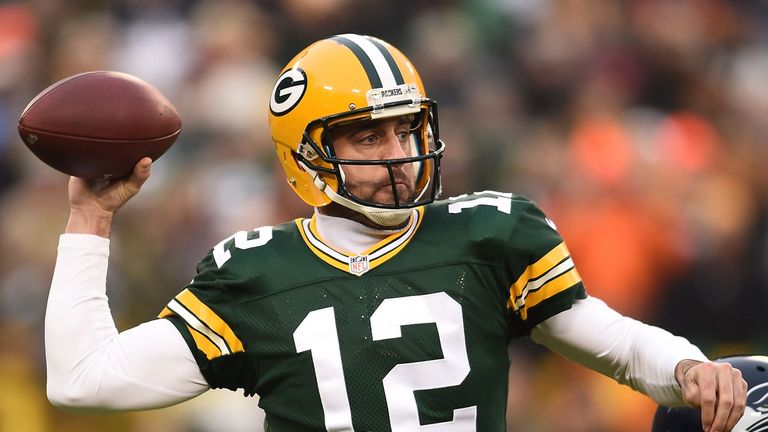 Game-changer 
With the Seahawks down 21-3 at half time, Russell Wilson threw two interceptions early in the third quarter. The Packers scored their fourth TD after the second, extinguishing any chance of a Seattle fightback.  
Stat of the night
Seven - In the Aaron Rodgers era, the Packers have never lost a home game when they've led by more than seven points.  
Scoring Summary
| | | |
| --- | --- | --- |
| 1st Quarter | | |
| SEA 0-7 GB | TD - D. Adams 66 yd pass - A. Rodgers | Extra Point - M. Crosby |
| SEA 3-7 GB | FG - S. Hauschka 28 yd | |
| 2nd Quarter | | |
| SEA 3-14 GB | TD - T. Montgomery 1 yd rush | Extra Point - M. Crosby |
| SEA 3-21 GB | TD - J. Nelson 9 yd pass - A. Rodgers | Extra Point - M. Crosby |
| 3rd Quarter | | |
| SEA 3-28 GB | TD - J. Nelson 3 yd pass - A. Rodgers | Extra Point - M. Crosby |
| 4th Quarter | | |
| SEA 3-31 GB | FG - M. Crosby 38 yd | |
| SEA 10-31 GB | TD - T. McEvoy 21 yd pass - R. Wilson | Extra Point - S. Hauschka |
| SEA 10-38 GB | TD - J. Janis 19 yd pass - B. Hundley | Extra Point - M. Crosby |
The game
On the opening drive, Rodgers escaped the pocket, finding Davante Adams on the right hand sideline for a 66-yard touchdown throw. The Seahawks responded, but after a positive early drive, could only manage a 28-yard field goal. 
It was a dominant display by the Green Bay offence, who used a range of receivers and running backs to break down the Seahawks' defensive unit. The loss of safety Earl Thomas was evident as Seattle struggled to deal with versatile wide receiver Ty Montgomery.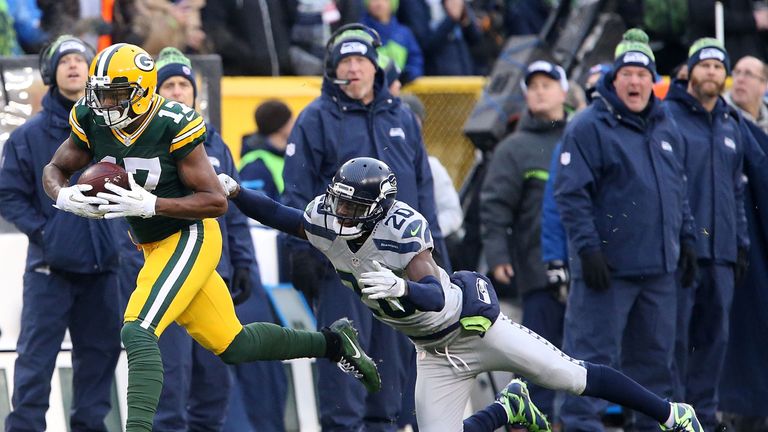 It was Montgomery who stretched Green Bay's lead, taking advantage of Russell Wilson's interception. Rodgers took the ball at the opposition's 26-yard line, and after gains by Jared Cook and Jordy Nelson, Montgomery forced his way into the end zone from a yard out.
The Packers made it 21-3 on their next possession. Following a poor punt from Seattle, Rodgers began from his own 48-yard line, and took just five plays to make the score, as Nelson caught the nine-yard pass in the end zone. 
It was a tough night for Wilson, who threw a career-high five interceptions, was sacked three times and had difficulty connecting with his passers.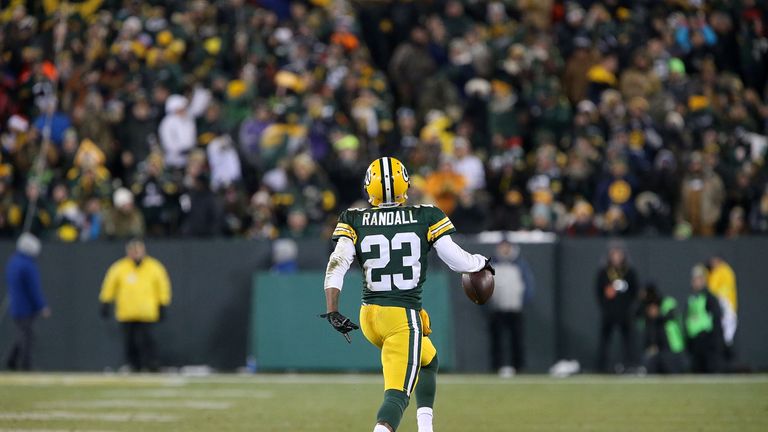 Following two more Wilson interceptions early in the third quarter, Green Bay made it 28-3. Picking the ball up at the 32-yard line, Rodgers used Adams and Montgomery before a three-yard pass out left to Nelson for his second score of the night. 
Mason Crosby added a 38-yard field goal, before Seattle scored a consolation touchdown eight minutes from time. Wilson found rookie Tanner McEvoy, who showed great agility and awareness to get his feet down inside the end zone before tumbling out of bounds. 
However, the Packers had the final say, capitalising on Wilson's fifth pick of the night. With Brett Hundley playing quarterback in relief of Rodgers, Green Bay took over on the 19-yard line and took just one play to find the end zone. Hundley tossed the ball to tight end Jeff Janis, who ran around his offensive line for the home side's fifth touchdown.
It was the Packers' third consecutive victory and, at 7-6 keeps them in the hunt for a play-off place. The Seahawks slip from second seed to third, behind the Detroit Lions, but maintain a three-game cushion over their division rivals which will secure their spot in the post-season.
A concern for Green Bay will be the health of quarterback Rodgers, who was seen limping on the field. Head coach Mike McCarthy took him out of the game in the fourth quarter, and fans will be hoping he can return to full fitness before long.