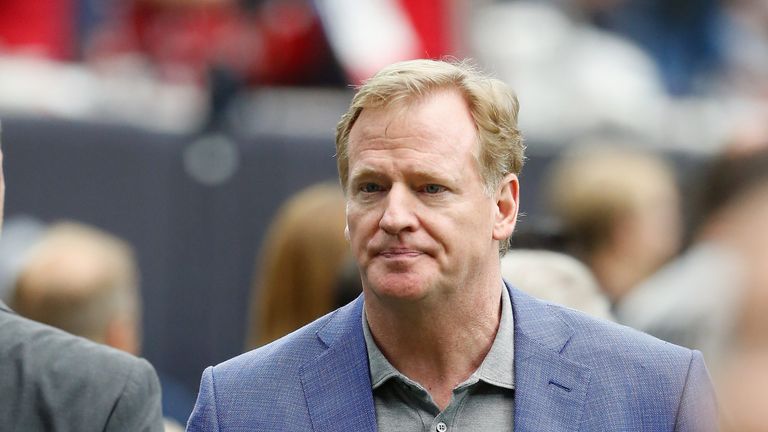 Roger Goodell is reported to have signed a new five-year deal, extending his tenure as NFL Commissioner which began in 2006, through to 2024.
The 58-year-old's position had been an expected formality until the last few months when a number of issues brought him into under closer scrutiny than any point since he succeeded Paul Tagliabue in the role.
Player safety issues and the continuing wave of national anthem protests, started by Colin Kaepernick in 2016 and now regularly including comments from US President Donald Trump, have come into the spotlight alongside a number of positives under Goodell's tenure.
Huge revenue growth and the expansion into overseas game, including the International Series in the UK and Mexico, are notable success stories for the league whose Compensation Committee sent a memo to the 32 team owners on Wednesday and seen by Pro Football Talk, NFL Network Insider Ian Rapoport and The Associated Press.
Cowboys owner Jerry Jones had been the most vocal of the owners, his initial opposition to the deal came back in August as the NFL handed out a six-game ban to Cowboys star running back Ezekiel Elliott for his involvement in a domestic violence case.
Jones has always denied his comments on Goodell's future were related to the Elliott case and the Cowboys owner is one of six men on the Compensation Committee, chaired by Atlanta Falcons owner Arthur Blank, who outlined their 'unanimous support' for the contract extension.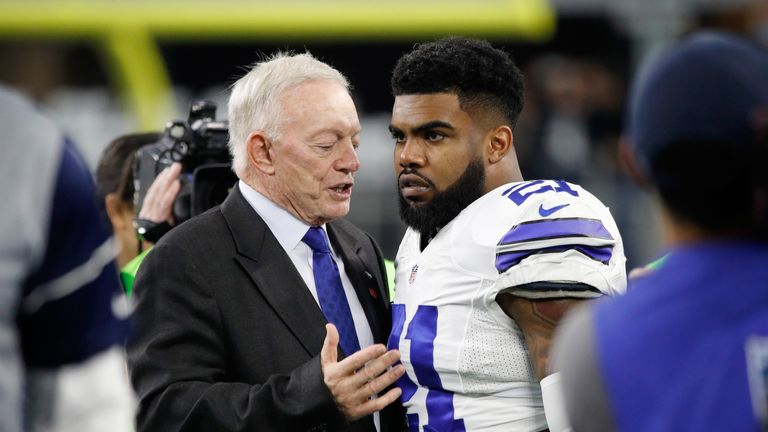 In May all 32 owners approved the committee's power to negotiate and sign a deal with Goodell, and The Associated Press quoted Black's memo to the franchises.
"Our committee unanimously supports the contract and believes that it is fully consistent with 'market' compensation and the financial and other parameters outlined to the owners at our May 2017 meeting, as well as in the best interests of ownership.
"We also have expressed in those conversations our strong and unanimous belief that we should proceed to sign the agreement now, consistent with the unanimous May resolution and to avoid further controversy surrounding this issue.
"We are pleased to report that there is a nearly unanimous consensus among the ownership in favor of signing the contract extension now."
The owners next meet in Dallas next Wednesday and Jones is yet to comment on news of Goodell's extension, which is reported to be worth $200m (£149m) over the next five years, but unlike his current contract is believed to be more incentive and target based.
Follow the 2017-18 NFL season with us on Sky Sports and through our website skysports.com/NFL also our app for mobile devices and iPad, or follow our Twitter account @SkySportsNFL