Can the Super Bowl favourites, the New Orleans Saints, be stopped?
The Saints host the Philadelphia Eagles, live on Sky Sports USA, 9.40pm Sunday
By James Simpson
Last Updated: 13/01/19 9:41pm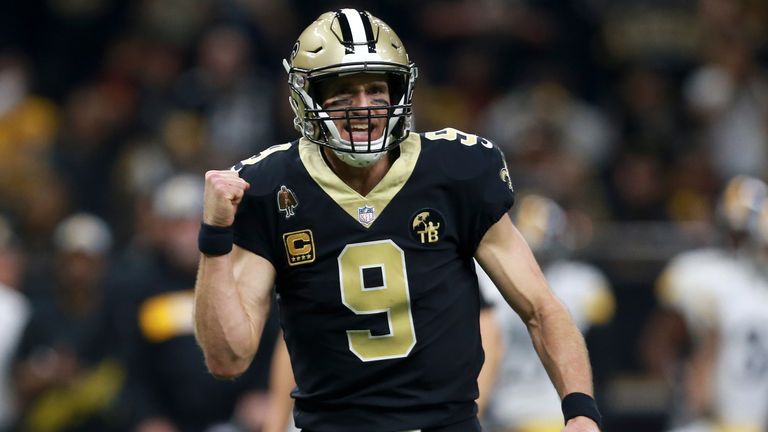 In a era when offensive, high-flying football leads the way, the New Orleans Saints have been ahead of the curve.
Behind head coach Sean Payton and quarterback Drew Brees, the Saints have occupied the first or second spot in total offensive yardage on six occasions in the last eight years. In terms of points scored, they have not dropped out of the top 10 since 2010.
Whoever the personnel, whatever the new trend is around the league, New Orleans continue to be a well-oiled machine; a factory of attacking football.
This season was no different. They ranked third in points scored, ninth in total yards per game, sixth in rushing and 12th in passing.
Brees completed 74.4 per cent of his passes, top in the league ahead of Philadelphia's combined QBs (70.5). The Saints allowed just 20 sacks (second in the league). Their 26 rushing touchdowns ranked No 1, and importantly, they protected the ball: Just 16 giveaways all season - only Green Bay and Seattle turned the ball over less.
Once again, this team is primed to make noise in the playoffs and add another Super Bowl trophy to their name after Payton and Brees delivered the city's first title in the 2009 season.
But we have been here before. Can the Saints get over their recent playoff disappointments and finally make it back to the big dance?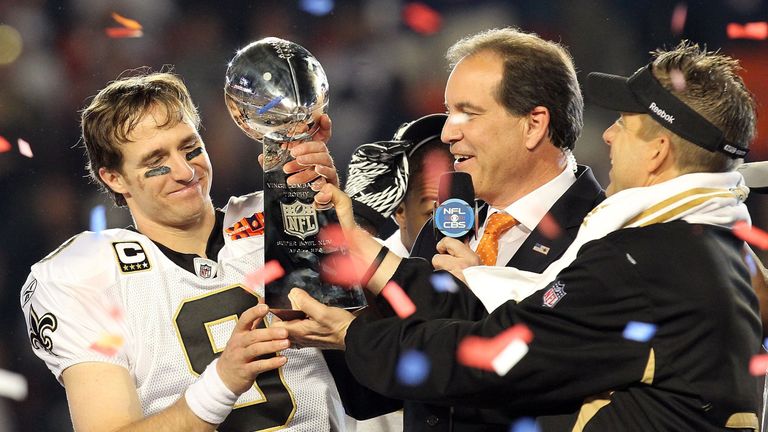 For a long time, the Saints were known not just for scoring points, but for having a notoriously bad defense.
After 11-5 and 13-3 seasons in 2010 and 2011, respectively, they were bounced from the playoffs despite scoring 36 and 32 points in those postseason losses.
In 2012, despite having the second-most offensive yards and scoring the third-most points in the league (28.8 per game), the team still fell to 7-9. Their defense was one of the worst ever, allowing an insane 7,042 yards (440.1 per game) - almost 1,000 more than the second-worst D - and giving up 28.4 points per game.
Fans had hope in 2013 when the team defeated the Nick Foles-led Eagles in Philadelphia in the Wild Card round, but they were ousted by a dominant Seattle Seahawks' defense the next time they took the field.
Last year's finish was perhaps the most crushing, as their Divisional Round game with the Vikings ended with Stefon Diggs' famous 'Minneapolis Miracle'.
New Orleans' place in the NFC Championship game - in Philadelphia, against Foles and the Eagles - was all but booked after the Saints came from behind to take the lead twice in the final five minutes, including scoring a go-ahead field goal with just 25 seconds left. What happened next will live long in the memory of both fanbases.
Ten seconds on the clock and 61 yards from the end zone. Case Keenum launched the ball to Diggs, and he did the impossible - took it to the house as time expired to give the Vikings a jaw-dropping win.
Minnesota's season promptly ended in Philly while the Saints watched on, feeling they would have had a much better chance against the eventual champs. Brees has beaten Philly on four of the last five occasions, including this year's 48-7 stomping.
That brings us to this season, where anything less than a Lombardi Trophy win will be a deep disappointment for the Saints, partially because the road to the Super Bowl 'comes through New Orleans'. Under Payton, the Saints have won all five of their home playoff games while they are 1-5 on the road.
Gone are the days of 5,000-yard seasons for Brees, but he has replaced bulk with more efficient brilliance. His 74.4 per cent completion rate this season set a new NFL record. In fact, he owns four of the best five seasons - and he threw just five interceptions (a career low) on 489 passes.
Even then, the offense does not revolve around their veteran quarterback, who will celebrate his 40th birthday on Tuesday. New Orleans' outstanding offensive line both protects their prize asset and punishingly paves the way for running backs Mark Ingram and Alvin Kamara.
Ingram, a first-round pick in 2011, was regarded as a 'bust' early in his career, averaging under 500 yards through each of his first three seasons. In his most recent three, he has been fantastic, bruising his way to 3,717 scrimmage yards and 29 total touchdowns. He runs north and south, wearing defenses down before departing for his speedy partner-in-crime Kamara to step in to cause chaos.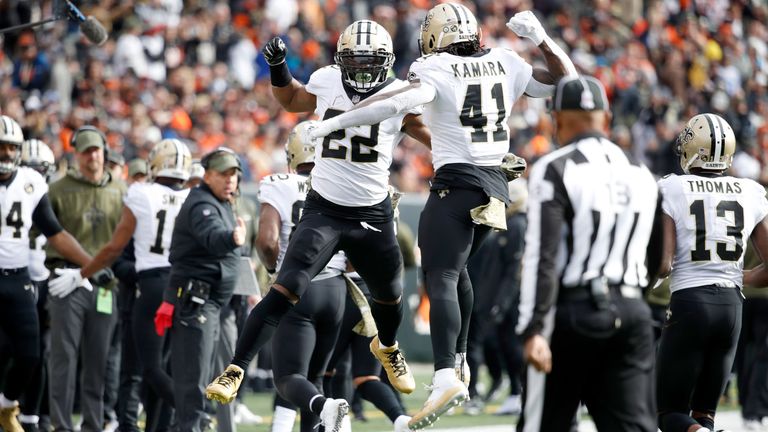 "It's genuine, it's love, it's unconditional love," Ingram said of his relationship with his backfield mate. Off the field, they do locker room interviews together and seem inseparable. On it, they are the perfect pairing.
Last year's Offensive Rookie of the Year winner Kamara has been unstoppable through two seasons. He broke rookie records with a 1,554-yard, 14-touchdown first season, then replicated it with 1,592 and 18 scores.
Both players are capable of breaking free on the ground, but Kamara is the better with his hands, racking up exactly 81 catches in each of his first two seasons. Brees looks his way often, but always has an eye on his top target; third-year pro Michael Thomas.
An elite route-runner and big body, Thomas has amassed insane stats so far in his young career. Year-by-year, his receptions have increased from 92 to 104, to 125. Yards? 1,137 in his rookie campaign, 1,245 in year two, and 1,405 in 2018. He has averaged a touchdown every other game (23 in 47 games).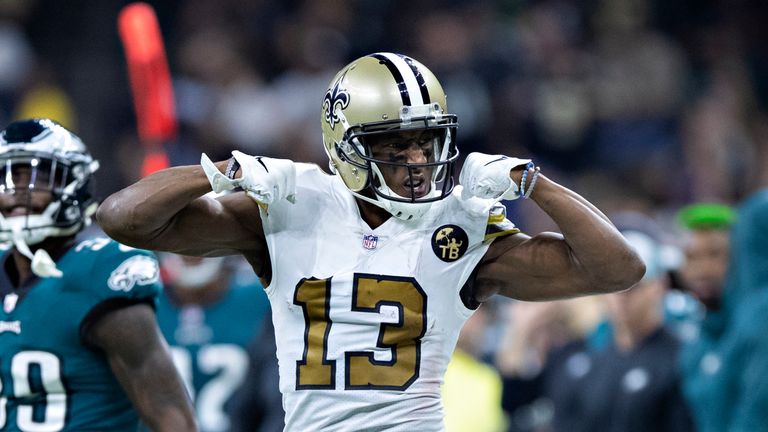 The 'multiple' attack is hard to slow down, and the defense is, at the very least, improved from those woeful days early in the decade. Last season they ended 10th in points against and followed it up at 14th this time around. They don't need to shut out opponents, merely keep them in check.
So can the Saints be stopped? Already this season, Brees has broken NFL records for career completions, all-time passing yards and became just the third QB in history to beat all 32 teams, and fourth to reach 500 career touchdown passes. Can he add one more Lombardi Trophy to his long list of accomplishments?
The Saints took care of business against the defending Super Bowl champions the first time around, and they will have to start this year's postseason campaign by doing it all over again. Tune in to Sky Sports USA this Sunday at 9.40pm to see if they can move one step closer to the title.
Follow the 2018-19 NFL playoffs with us on Sky Sports and through skysports.com/NFL also our app for mobile devices and iPad, or follow our Twitter account @SkySportsNFL.