Dallas Cowboys 22-30 Los Angeles Rams: Rams run over Cowboys to advance to NFC Championship
By James Simpson
Last Updated: 13/01/19 11:07am
The Los Angeles Rams ran for 273 yards against Dallas's fifth-best run defense to advance to the NFC Championship game next Sunday, winning 30-22.
C.J. Anderson ran for 123 yards and two touchdowns, while Todd Gurley had 115 and one score. It was the first time the Rams have had two 100-yard rushers in their postseason record, and the 273 total rushing yards were also a franchise playoff record.
Dallas's offense did not get going all night - they converted just one of 10 third-down attempts - and had only 40 yards rushing at the half despite taking an early lead through a Dak Prescott throw to Amari Cooper.
Game's key stats
| | | | |
| --- | --- | --- | --- |
| DALLAS | | LOS ANGELES | |
| Passing | C/A Yds TD Int | Passing | C/A Yds TD Int |
| Dak Prescott | 20/32 266 1 0 | Jared Goff | 15/28 186 0 0 |
| Rushing | Att Yds TD | Rushing | Att Yds TD |
| Ezekiel Elliott | 20 47 1 | C.J. Anderson | 23 123 2 |
| Dak Prescott | 2 3 1 | Todd Gurley | 16 115 1 |
| Receiving | Rec Yds TD | Receiving | Rec Yds TD |
| Michael Gallup | 6 65 1 | Robert Woods | 6 69 0 |
| Dalton Schultz | 1 20 0 | Brandin Cooks | 4 65 0 |
| Ezekiel Elliott | 2 19 0 | Tyler Higbee | 2 30 0 |
| Total yards | 308 | Total yards | 459 |
Los Angeles started fast, making their way down the field on their opening possession, before Dallas's usually stingy defense held them to three points on a 25-yard Greg Zuerlein kick.
The Cowboys answered with a long drive of their own, and capped it with a touchdown. After a personal foul penalty on Marcus Peters had added 15 yards to an Ezekiel Elliott fourth-down conversion, Prescott hit Cooper in the middle of the field and he raced 29 yards for a touchdown.
Despite a 16-play drive and taking over seven minutes off the clock, the Rams again turned to Zuerlein to make it 7-6, but after forcing a Dallas punt, they finally found the end zone.
The Rams became rampant in the first half, as Anderson and Gurley combined for 158 yards and two touchdowns on 22 carries. Anderson, who already had four runs of at least 10 yards, capped off a 76-yard drive with a one-yard dive into the end zone. Jared Goff had hit Brandin Cooks, Robert Woods, and Tyler Higbee for first downs but the running game finished the drive off.
After forcing another punt, the Rams ran wild on the ground again. This time, Gurley broke free and raced 35 yards for a score, following tremendous blocking upfront from his offensive line. Although Zuerlein missed a long 63-yard field goal as time expired on the first half, the Rams looked in control with 291 yards of offense and 20 minutes of possession.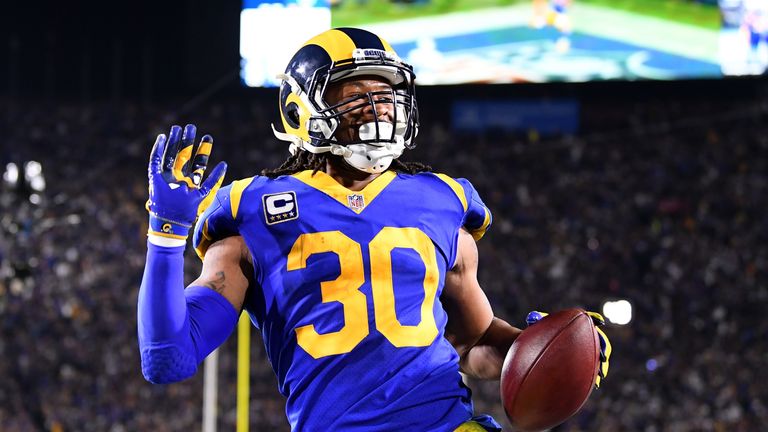 However, Dallas kept it tight, first by holding LA to another field goal, and then driving 75 yards down the field, scoring through a one-yard Elliott touchdown and making it a one-score game at 15-23. Rookie Michael Gallup was the key man on the drive, hauling in four catches for 80 yards, including a spectacular over-the-shoulder grab.
The Cowboys got the ball back immediately, and were putting together a strong drive, but the game's turning point may have been the first play of the fourth quarter. Having reached LA's 35-yard-line and faced with a fourth-and-one, Dallas handed the ball to Elliott. Tackle Ndamukong Suh dove in front of him, and safety Lamarcus Joyner stood up the runner, not allowing him to fight for the first.
Los Angeles essentially ended the game with their next drive, taking over seven minutes off the clock in 12 plays, capping it off with another Anderson run. Faced with a fourth-and-goal from one yard out, Sean McVay rolled the dice, and his offensive line paved the way for the team's third rushing score of the day.
Dallas fought until the end, and Prescott drove his team 75 yards to bring the game to within one score with two minutes left. The QB kept the ball at the goal line, and bowled over a defender to finish the 12-play drive.
With three timeouts remaining, Dallas elected not to onside kick, and with possession, the Rams finished the game off. On third-and-seven, Goff rolled right and scrambled for 11 yards, all but sealing the result. Two plays later, Anderson did just that by powering forward and diving to the floor for another first.
The Rams head to next Sunday's NFC Championship game, where they will either visit the New Orleans Saints or host the Philadelphia Eagles.
FIRST QUARTER
Cowboys 0-3 Rams: Greg Zuerlien 25-yard field goal
Cowboys 7-3 Rams: Dak Prescott 29-yard pass to Amari Cooper (extra point good)
SECOND QUARTER
Cowboys 7-6 Rams: Greg Zuerlien 23-yard field goal
Cowboys 7-13 Rams: C.J. Anderson 1-yard run
Cowboys 7-20 Rams: Todd Gurley 35-yard run
THIRD QUARTER
Cowboys 7-23 Rams: Greg Zuerlien 44-yard field goal
Cowboys 15-23 Rams: Ezekiel Elliott 1-yard run (Dak Prescott pass to Amari Cooper good)
FOURTH QUARTER
Cowboys 15-30 Rams: C.J. Anderson 1-yard run
Cowboys 22-30 Rams: Dak Prescott 1-yard run