NFL preview: Minnesota Vikings v Green Bay Packers in Thursday Night Football live on Sky Sports
Last Updated: 02/10/14 7:33am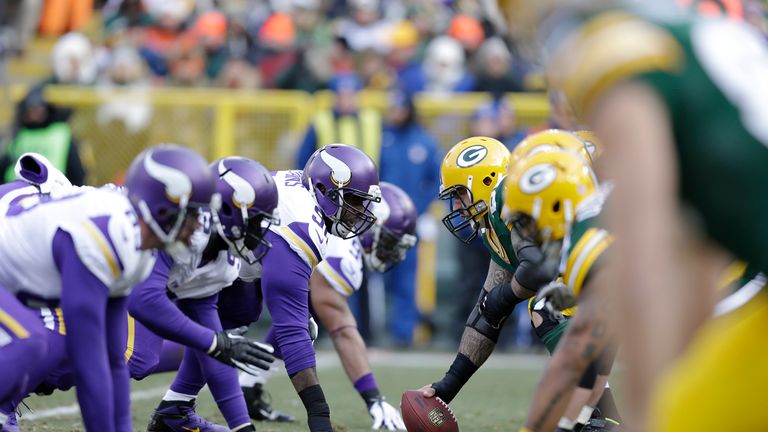 Another Thursday night and another strong divisional clash coming your way live on Sky Sports as traditional NFC North rivals Minnesota and Green Bay clash at Lambeau Field.
The Packers and Vikings have met 107 times, including two playoff games, with Green Bay holding a 56-49 advantage and enjoying a good recent run with just two losses in the last ten.
Their last meeting in November proved to be a memorable affair as they played out a 26-26 tie after overtime failed to separate them – with the Packers missing star quarterback Aaron Rodgers through injury.
Divisional battles are always crucial but especially now in the NFC North with both teams sat alongside Chicago on 2-2 just behind leaders Detroit on 3-1.
Teddy worry
Rookie quarterback Teddy Bridgewater had a sparkling first NFL start last week with an impressive 317 yards passing and 27 yards rushing including a touchdown run in the Vikings' rousing 41-28 win over Atlanta on Sunday, but it came at a price.
Bridgewater sprained an ankle in the fourth quarter of that game, where he led Minnesota to the fourth bets yardage total ever with 558 yards of total offence. An MRI came back clear and although he's sat out practice he hopes to be able to line-up on Thursday night. If not, Christian Ponder will come back into the side.
Ground and pound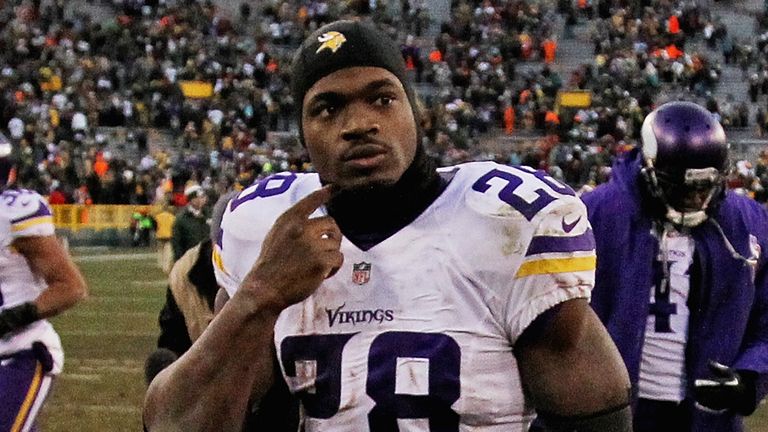 No Adrian Peterson? No Problem for the Vikings it seems after they rolled over the Falcons to the tune of 241 yards with Matt Asiata being complemented by rookie Jerick McKinnon in a powerful one-two punch.
Sky Sports Prediction
Packers 27 Vikings 17
Home sides on a short week usually do well. Bridgewater's injury is a worry but the Vikes will run more than pass, but in any case if Rodgers and his receivers are still in the groove it'll be hard to keep them in check.
Minnesota will likely lean on the run heavily against the Packers as well, given that Green Bay's lucky run defence has surrendered 176 yards a game so far this season – the worst record in the NFL. So Stopping Asiata and McKinnon will be a priority for the hosts.
Rodgers return
Aaron Rodgers was out with a broken collarbone when Minnesota tied at Lambeau Field last season, but the QB is back this time and in top form going on their win over Chicago on Sunday when the threw for 302 yards and four TDs. He'll face a big test on Thursday against a Vikes defence that is yet to allow a 300-yard passing game.
With running back Eddie Lacy struggling this season and yet to break 50 yards in a game, the Packers may well stick to the aerial route that proved so successful against the Bears, as they're not scared of riding on the back of Rodgers' talented arm.
Jennings stirring it up
It didn't sound like he was deliberately trying to wind up the home crowd, but former Packers receiver Greg Jennings' comments ahead of his second return to Lambeau has almost ensured he gets the full boo-boy treatment.
Jennings stated he was happy in Minnesota because of a better way of life, including the local school system for his children, perhaps suggesting it was below par back in Wisconsin. Either way, the press love a good story of a returning player having a go, so the crowd will be extra spicy when Jennings is on the ball.  
Watch the Green Bay Packers v Minnesota Vikings LIVE on Sky Sports 2 HD on Friday morning at 1.25am.