Britain's Jermaine Eluemunor invited to play at 2017 NFL Scouting Combine
Jermaine Eluemunor got into NFL after watching NY Giants playing at Wembley on Sky
By Raz Mirza
Last Updated: 15/02/17 9:04pm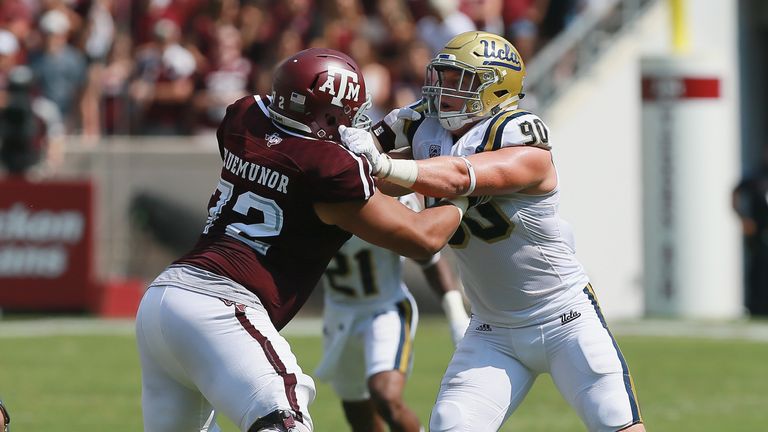 Londoner Jermaine Eluemunor has been invited to the 2017 NFL Scouting Combine after being spotted playing for college side Texas A&M's.
The 6ft 4in, 325-pound offensive tackle failed to make an impression playing football and rugby in England, but found NFL to be to his liking after watching Scottish kicker Lawrence Tynes helped the New York Giants beat Miami Dolphins in the first-ever regular-season match to be played at Wembley in 2007, which was screened live on Sky Sports.
Eluemunor said: "It's funny, the way I got into it was this: I went home one night, I flipped on TV and I saw the Miami Dolphins and New York Giants playing. Eli Manning- he must have been so young. That game was at Wembley. I loved the way they were hitting each other, the intensity.
"I began googling American football and got more into it. I first wanted to be a quarterback because I learned about Sam Bradford on the internet and I liked him when he was at Oklahoma. But I was a 5' 11", 300-pound kid so...."
Eluemunor, who moved over to America when he was 14, sent emails across the country, along with a promo video, which caught the eye of Florida State.
"They [Florida State] offered me right there on the spot. And from there, it just took off. I ended up with about 35 offers from top teams in the country," he said.
The Briton eventually opted for Texas A&M due to the "family atmosphere and tradition" where he felt at home.
God is amazing y'all keep faith and never stop dreaming

— Jermaine Eluemunor (@TheMainShow_) February 14, 2017
And Eluemunor is looking forward to taking part at the Scouting Combine where he will be up against stiff competition with more than 300 draft prospects, but he hopes to make an impression.
"Being invited was such a highlight," he said. "I was checking my email 24/7. They told me they'd reach out by Jan 31st. I checked my email every single day before then, and on January 30 I was driving, and there it was: my Combine invite. I pulled over and just needed a moment. It meant so much to me. I want to go there and show how powerful I am."
Don't forget to follow us skysports.com/NFL, our app for mobile devices and iPad or our Twitter account @skysportsNFL for news, reports and expert analysis.