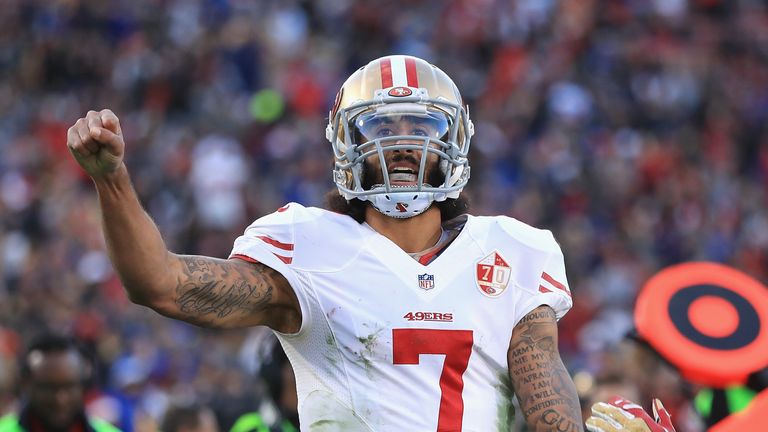 Baltimore Ravens head coach John Harbaugh has admitted quarterback Colin Kaepernick is being considered as a back-up to the injured Joe Flacco.
Kaepernick has been a free agent since opting out of his contract with the San Francisco 49ers in March. There has been much speculation as to why he has not been signed, most of it centred around his decision to kneel during the pre-game playing of the national anthem to raise awareness for social injustices.
But with starting quarterback Flacco out for up to six weeks with a back injury, Kaepernick is now in the frame.
"I've known Colin through my brother for many years," said Harbaugh, whose brother Jim coached Kaepernick in San Francisco.
"He and I have been talking throughout the summer a number of times. We had some great conversations on the phone and it's really been a pleasure to talk to him and get to know him. I like history and politics too, and we've had some debates, and it's been fun. And he's a great guy.

"He's a guy right now that's being talked about. We'll just see what happens with that. It's only speculation right now. He's a really good football player and like I said, I do believe he'll be playing in the National Football League this year."
Ryan Mallett is currently the Ravens number two quarterback with Dustin Vaughan the only other option on the team's roster. This lack of depth has meant assistant coaches have been required to stand in at quarterback during practice drills this week.
"We found out yesterday what Flacco has been dealing with - I guess it's something that's been bothering him for a week or two. He didn't say anything about it. It wasn't really that bad," Harbaugh said.
"It flared up a little bit. He went to a back specialist. They're recommending about a week of rest. They're saying that should take care of it. I guess with a back, you can always say 'we'll see.' All indications from the back specialist are that he should be fine in about a week, and that's what we're hoping for and praying for."
Kaepernick was on the losing side in Superbowl 47 when the Ravens beat the 49ers, but went 1-10 as a starter last year with 2,241 passing yards, 16 passing touchdowns and four interceptions. He also ran for 468 yards and two touchdowns.
Follow the 2017-18 NFL season with us on Sky Sports and through our website skysports.com/NFL also our app for mobile devices and iPad, or follow our Twitter account @SkySportsNFL
The regular season of home and away matches run from September to December 2017, culminating in PlayOffs from January 6, 2018 and the Super Bowl on February 4, 2018 at the U.S. Bank Stadium in Minnesota to determine the world champion.