NFL set to announce London 2018 games schedule at Tottenham
By Sky Sports News
Last Updated: 11/01/18 4:13pm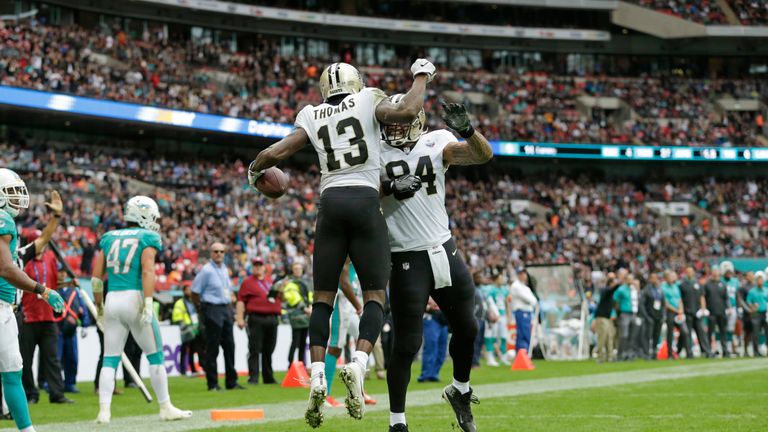 British NFL fans will find out the 2018 schedule for the regular-season games played in London on Thursday.
The National Football League has been playing matches in the capital since 2007, and has now staged 21 games - 18 at Wembley Stadium and three at Twickenham Stadium.
In all, 26 different NFL teams have participated in those games with over 1.6 million fans attending.
Ahead of the announcement that will be made from Tottenham, Alistair Kirkwood, managing director of NFL UK, said: "We are very excited, especially coming off the back of such a successful 2017.
"Not only did we sell 40,000 season tickets across the games, but we enjoyed terrific experiences at both Wembley and Twickenham, with our best-ever feedback from fans attending games at the two venues."
All four winning teams in the NFL's London Games series in 2017 went on to win their divisions, having missed out on the playoffs in the previous season.
The Jacksonville Jaguars (AFC South) and New Orleans Saints (NFC South) won their games at Wembley on their way to divisional titles.
The Los Angeles Rams (NFC West) and Minnesota Vikings (NFC North) went on to top their divisions after success at Twickenham, while the winners of all three Twickenham games over the past two years have gone on to reach the playoffs.
Of those four teams, three remain in the hunt for Super Bowl LII as the season goes into the Divisional Playoff round this weekend.
Jacksonville beat the Buffalo Bills in the Wild Card round, New Orleans overcame the Carolina Panthers, while the Minnesota Vikings earned a first-round playoff bye.