Tom Brady ready for battle of quarterback generations with Marcus Mariota
By Andy Charles
Last Updated: 13/01/18 11:09am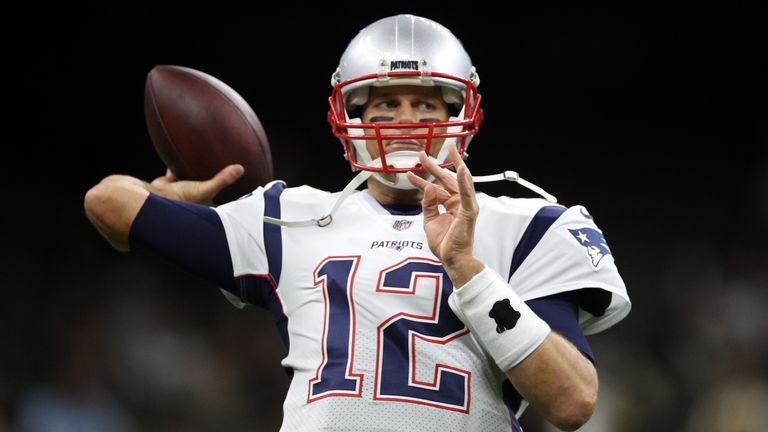 Tom Brady says experience makes little difference as he prepares to begin his quest for a sixth Super Bowl victory as New England Patriots quarterback.
The 40-year-old will lead the offense on Saturday night when the Patriots host the Tennessee Titans in their AFC Divisional Playoff round clash at Gillette Stadium, live on Sky Sports Action.
Brady won his fifth ring just under 12 months ago when he engineered a record-breaking comeback from 28-3 down to beat the Atlanta Falcons 34-28 in overtime at Super Bowl LI.
But he comes into Saturday's game in a rare run of less-than-stellar form, having thrown interceptions in five straight games before ending that unwanted streak in New England's regular season finale against the New York Jets.
"I think it just comes down to how well you play," Brady said. "At the end of the day, it's not like the old guys are going to win [or] the young guys are going to win or the home team or road team.
"It's really going to come down to execution. No one's going to be able to do it for you. You're out there, you're in the position to succeed - your coaches have put a lot on you. The team's really relying on you.
"You've got to make the plays. You've got to make the tackles. You've got to make the throws, the catches, the blocks, the runs, whatever it takes.
"Whoever does that better is going to win the game over the course of 60 minutes. Again, all these plays matter. Got to go out there and got to make sure everyone of them count."
Titans quarterback Marcus Mariota is near the other end of the experience scale, having only played his first post-season game last week.
It proved a memorable night for the 24-year-old, in his third NFL season, who was at the centre of a remarkable comeback himself, throwing a touchdown pass to himself as the Titans rallied from 21-3 down to beat the Kansas City Chiefs 22-21.
"I just try to carry myself the same way week in and week out," he said. "I feel like that if keep that even keel, guys can look to me to make a play. That's what I like. I just want to go out there and do my best for these guys and just try to win games.
"This winning attitude, this group of guys that we've created, it's totally different from what I experienced my rookie year.
"This is what I've worked hard for, it's to get into these situations, to get in these kinds of games. To see where it's come, to be a part of it, I think is very gratifying. Obviously, it's not the end of the road, but this is what you want to do and this is who we want to be consistently."