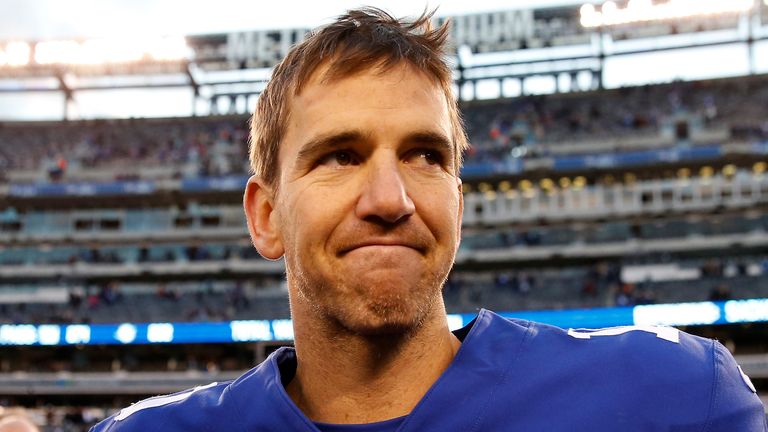 New York Giants quarterback Eli Manning is retiring from the NFL after 16 seasons.
The 39-year-old led the Giants to two Super Bowl wins, both against the New England Patriots, in 2007 and 2011.
Manning was named MVP in both games, one of five players in NFL history who have earned that honour. The others are Joe Montana, Bart Starr, Tom Brady and Terry Bradshaw.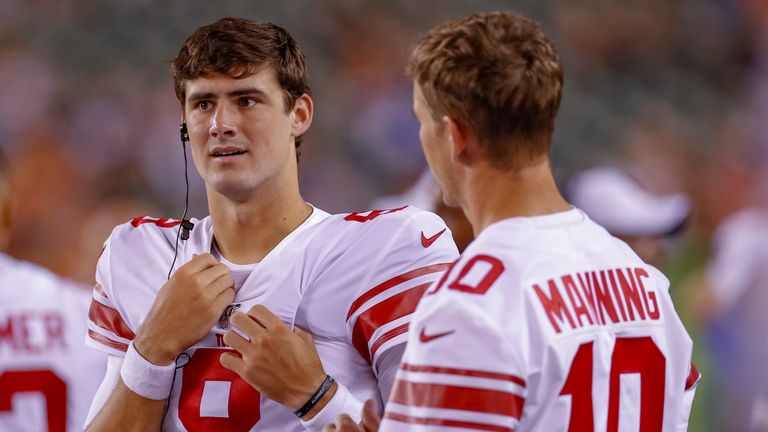 The four-time Pro Bowler was benched this season in favour of rookie quarterback Daniel Jones and was set to become a free agent in March. Manning has decided to retire as a Giant rather than play elsewhere.
"It's impossible to explain the satisfaction, actually the joy I've experienced being a Giant," he said at his farewell media conference on Friday.
"From the very first moment I did it my way. I couldn't be someone other than who I am. Undoubtedly I would have made the fans, the media, even the front office more comfortable if I was a more 'rah-rah' guy but that's not me. Ultimately I choose to believe that my team-mates and the fans learned to appreciate that. They knew what they got was pure, unadulterated Eli.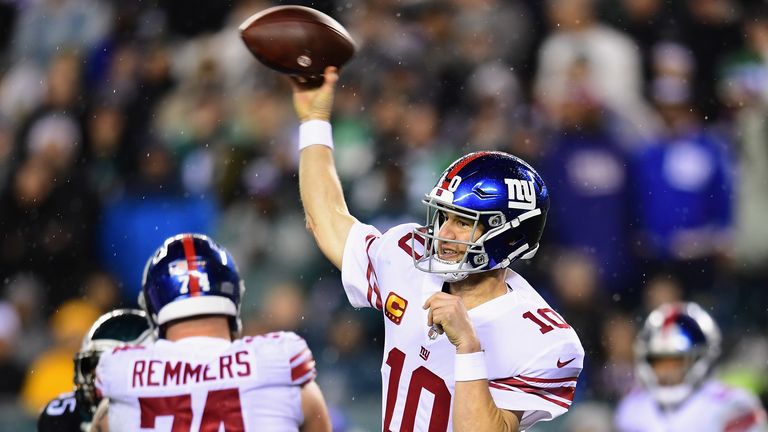 "It's rare to have the privilege of playing an entire career with one organization. I'm proud to be one of the few, but even moreso that it was as a Giant. For most of my life people have called me 'Easy.' Believe me, there is nothing easy about today. Wellington Mara always said, 'Once a Giant, always a Giant.' For me, it's only a Giant. Thank you so much."
He added: "The fans, this organization, this family with the Giants has been so remarkable. I think it was the right thing to call it a career and to end it instead of trying to uproot my family and leave and try somewhere else. This was the right decision, I know it is, and I'm at peace with it. I think that's what made this day a little bit easier.
"I look forward to a little down time. I look forward to spending time with my family, coaching Ava's third-grade basketball team - assistant coach - and just being involved with my kids and Abby and getting to do some things that I've missed out on because of this job and occupation and dedication I gave to it. So, I think I'm going to take some time and just enjoy it and then figure out what my next steps are."
Manning also spoke about his relationship with Tom Brady and beating his Patriots counterpart in the Super Bowl twice.
"I've been around Tom a number of times and see how competitive he is and we joke around it a little bit but I think it's not real funny to him," he said.
"And, so, those are obviously, when you think about the great moments in your career those are at the top of the list, when you win championships and both of them, two minute drives to go down there and win it and won against an undefeated team that hadn't lost all year.
"So I think those are special. I think everybody wants to make it me against Tom Brady. It was the Giants versus the Patriots, our defenses played outstanding, guys made plays, David Tyree, Mario Manningham, Plaxico Burress in the corner of the endzone ... like I said, you just cherish those moments, you cherish those relationships that you have with those team-mates and coaches when you win those games and that's obviously what you play for."
John Mara, the Giants' president and chief executive officer, was full of praise for Manning's achievements.
"For 16 seasons, Eli Manning defined what it is to be a New York Giant both on and off the field," he said.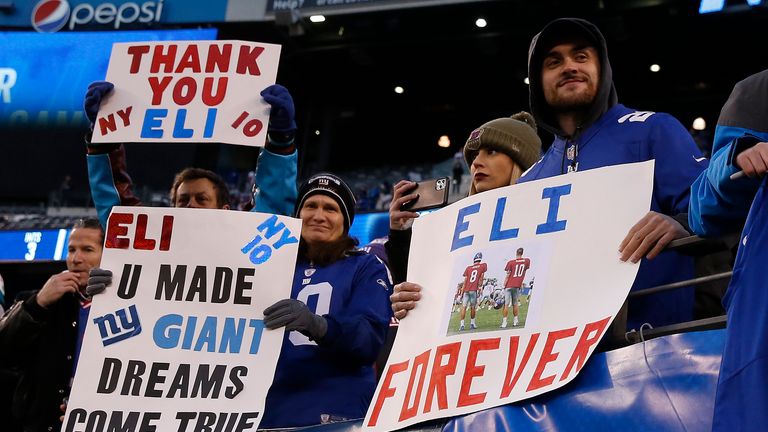 "Eli is our only two-time Super Bowl MVP and one of the very best players in our franchise's history. He represented our franchise as a consummate professional with dignity and accountability.
"It meant something to Eli to be the Giants quarterback, and it meant even more to us. We are beyond grateful for his contributions to our organisation and look forward to celebrating his induction into the Giants Ring of Honour in the near future."
Manning finishes his career 57,023 career passing yards and 366 touchdown passes, which are both the seventh most in NFL history.
His record as a starter in the regular season is 117-117. His record in the playoffs stands at 8-4, with five of those wins coming on the road.
"We are proud to have called Eli Manning our quarterback for so many years," said Steve Tisch, Giants chairman and executive vice president.
"Eli was driven to always do what was best for the team. Eli leaves a timeless legacy with two Super Bowl titles on the field and his philanthropic work off the field, which has inspired and impacted so many people.
"We are sincerely thankful for everything Eli has given our team and community. He will always be a Giant among Giants."