What's wrong with the Patriots? Is dynasty set to end against Titans?
Watch the NFL divisional round - including Tennessee @ New England - live only on Sky Sports this weekend
By David Currie
Last Updated: 13/01/18 8:01am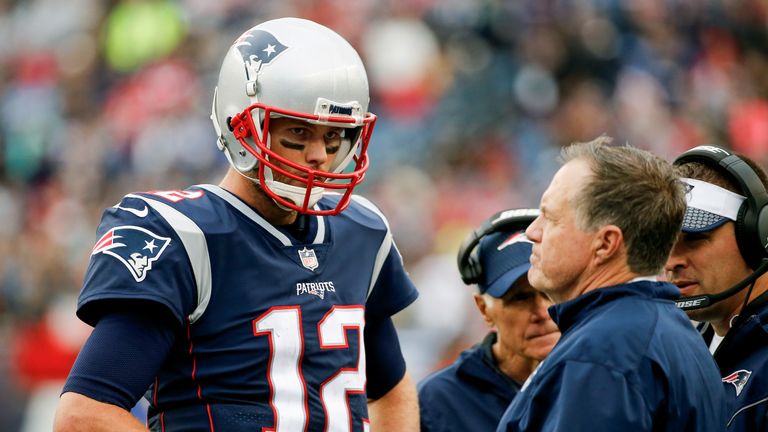 What is wrong with the New England Patriots?
Nothing, right? With five Super Bowl rings won over the last 15 years, and chasing a record-equalling sixth this year, everything is typically Patriots and perfect...
Well, a Sport Illustrated article released this week has suggested that might not actually be the case, with the three most powerful people in the franchise, owner Robert Kraft, head coach Bill Belichick and quarterback Tom Brady reported to have clashed over a number of decisions this season, and that it might be the last year the holy triumvirate of the New England dynasty are together.
Supposedly the disagreements have ranged from the role of Brady's trainer and business partner Alex Guerrero, the trade of backup quarterback Jimmy Garoppolo and Belichick's tough-love coaching style.
On the field, you wouldn't know it. The Patriots won 11 of their final 12 games of the season to clinch a ninth-straight AFC East division title (an NFL record), a first-round bye for the eighth-straight year and the No 1 seed.
However, there have been hints at cracks. For one, Brady lost his cool on the sidelines with offensive coordinator Josh McDaniels during a Week 13 win over the Buffalo Bills. It was the second game of five straight in which Brady threw an interception - the longest such run of his career since 2002, during his second year as a starter in the league.
Having said that, Brady is likely to secure a third league MVP award for his generally remarkable play at 40 years of age. His 4,577 yards passing led the NFL.
"Anybody at that age in the NFL, you really shouldn't be playing," says Sky Sports' Jeff Reinebold. "So, as soon as Brady has even a little bit of a dip, everybody is quick to say 'here comes the end'.
"But, people are all too quick to write his obituary."
Brady's success this season is what seemingly helped persuade New England to part with both of their back-ups - third-stringer Jacoby Brissett sent to the Indianapolis Colts and even more notably, the apparent heir to the throne in New England, Garoppolo, gone to the San Francisco 49ers.
It's a deal supposedly driven by Kraft, one which left Belichick 'furious and demoralised', as the coach viewed Garoppolo as the franchise's future. His subsequent 5-0 run as 49ers starter not helping ease tensions.
Kraft and Belichick have both come out denying the reports, Kraft calling it "flat-out inaccurate". While, Belichick, in true Belichick style, said he hadn't read the article, adding that he'd "absolutely" be with the team in 2018 and that they were just "getting ready for Saturday against Tennessee".
And that's precisely what the Patriots are doing. They're back in action after a week off, on Saturday, hosting the Tennessee Titans in the divisional round of the playoffs - live on Sky Sports Action, 1.15am, Sunday morning.
And wouldn't it be so New England if they were to use the current swirling controversy as extra fuel, motivation to answer their critics?
"When things like this happen to New England, they're unique in how they respond to it," says Reinebold. "Whether it's Spygate, or Deflategate, or anything deemed to be controversial, they use it as emotional fire.
"We talk about 'Fortress Patriots', well when these things go on, the walls of the fortress go up and they seem to come together."
But, for once, will all the talk be a distraction? A team that prides itself on keeping egos in check, a story about the three biggest in the franchise clashing doesn't fit their narrative.
If anything, it's amazing they have lasted so long without such rifts - who deserves the credit, who deserves more money, control etc - throughout the team's continued success.
"The reality is that that's the everyday, at every level, of pro sports," adds Reinebold. "The sport is so high profile, and the egos so big - there's always going to be friction, disagreements.
"But the great teams - and this is one of the greatest teams of all time - have the ability to put that kind of stuff behind them."
The Patriots have consistently found a way to do that, but are they set to be challenged this Saturday? Maybe a changing of the guard is coming?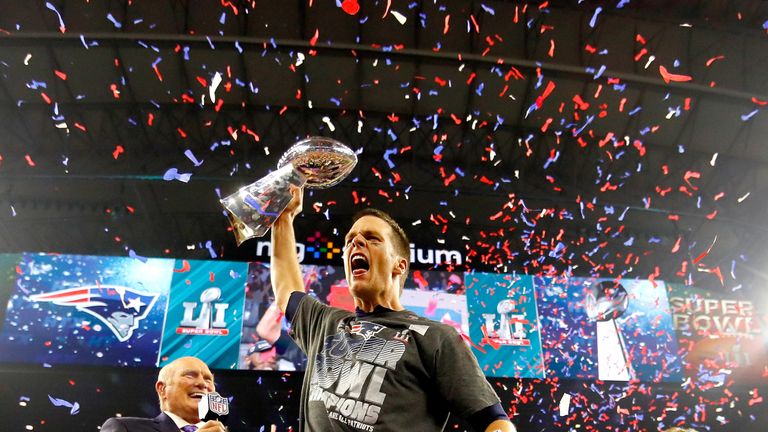 Only four quarterbacks have represented the AFC in a Super Bowl since 2003, with future Hall of Famers Brady (six), Peyton Manning (four) and Ben Rothlisberger (three) accounting for the bulk of those, on top of Joe Flacco's solitary successful effort five years ago. By comparison, 12 different QBs have represented the NFC over those 14 years.
Brady and Roethlisberger are again in with a chance of adding to their tally. But could Blake Bortles or Marcus Mariota be the guys to end that dominance and signal a new era?
Bortles' 87 passing yards in the Wild Card round last week would suggest he's not the man to take up the mantle, even if his Jacksonville Jaguars do make a run to the Super Bowl. But Mariota could.
Seen as one of the most promising young signal-callers before the season, off the back of a strong 2016 where he threw 26 touchdowns to nine interceptions, he seemed to regress somewhat this year (13 TDs, 15 INTs), only for his star to shine brightly once again in Tennessee's shock win over the Kansas City Chiefs last week.
Mariota led the Titans back from a 21-3 half-time deficit to a stunning comeback win, even catching one of his own passes for a TD, dubbed the 'Mariota Miracle' in the Sky Sports studio.
There's also Derrick Henry for the Patriots to worry about. The second-year back ran over the Chiefs for 156 yards and a TD off 23 carries, and New England have struggled stopping the run all year - their 4.7 yards per rush attempt allowed is second-most, behind only the Los Angeles Chargers (4.9).
So, can the Titans cause another upset?
"If Tennessee are to have any chance on Saturday, they need keep Brady on the sidelines and run the football," says Reinebold. "Henry is a big strong back and New England have had their problems against the run.
"They'll also need a fair few more miracles from Mariota."
See if Mariota and the Titans can pull off a miracle when they take on the Patriots live on Sky Sports Action from 1.15am on Saturday night.
Follow the 2017-18 NFL season with us on Sky Sports and through our website skysports.com/NFL also our app for mobile devices and iPad, or follow our Twitter account @SkySportsNFL