Rob Gronkowski 'steals' Tom Brady's jersey at Red Sox opening day
By Mark Crellin
Last Updated: 04/04/17 6:22pm
Tom Brady's jersey went missing once again on Monday, stolen for a joke by New England Patriots team-mate Rob Gronkowski in front of 37,000 cheering Boston Red Sox fans.
Brady's jersey was stolen from the locker room in Houston after he had guided the Patriots to an amazing comeback win over the Atlanta Falcons in February's Super Bowl.
The jersey has now been found and returned to Brady, and the quarterback showed it off at Fenway Park on Monday, in a pre-game ceremony ahead of the Boston Red Sox home opener.
The Patriots brought all five of their Vince Lombardi trophies out for the first pitch ceremony, coming out from behind a giant American flag draped over the Green Monster.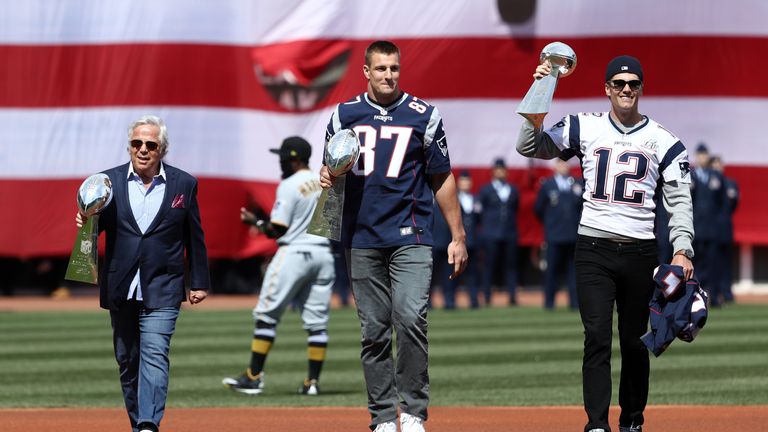 Joining Brady, Gronkowski and owner Robert Kraft were James White, who memorably scored the winning touchdown in the Super Bowl in overtime, and his fellow runningback Dion Lewis.
The other players wore their blue uniform tops, but Brady walked out in the white one from the Super Bowl before he pulled it off and began waving it around, only for Gronkowski to race up and steal it away.
Brady then chased the tight end around the infield and playfully tackled him in right field, before throwing out the ceremonial first pitch to Red Sox star Dustin Pedroia.
The Patriots tweeted a video earlier on Monday showing Kraft presenting his star with two No. 12 Super Bowl jerseys that had been missing (another had disappeared after the 2015 Super Bowl).
Kraft thanked the authorities, who found the jerseys while searching the property of Mexican media executive Martin Mauricio Ortega. He has not been charged.
Once the baseball started, Boston outfielder Andrew Benintendi hit a three-run homer to propel the Red Sox to a 5-3 win over the Pittsburgh Pirates in a rematch of the first World Series, in 1903.
Asked about the opening ceremony, Benintendi said: "That was awesome seeing those guys out there.
"I grew up watching them and still do. It was cool to see them all out there."
Red Sox outfielder Jackie Bradley Jr., who started the winning burst with a fifth-inning triple, also enjoyed the entertainment.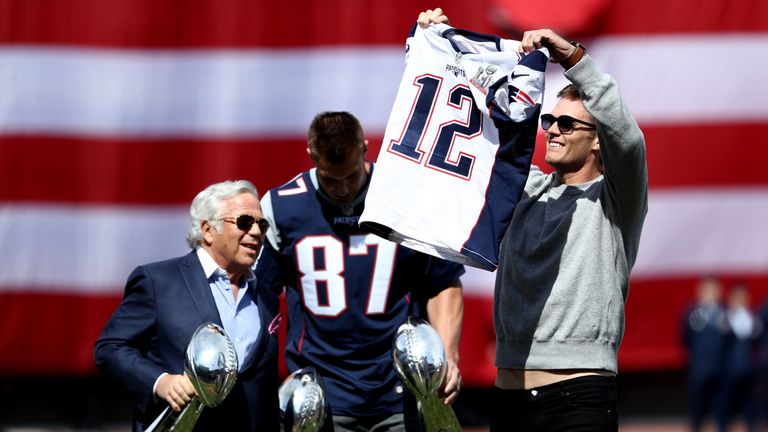 "It was fun," he said. "They were kind of making fun of the whole jersey-taking thing.
"It was good seeing some champions out there. They definitely know a lot about winning."
Sky customers can now upgrade to Sky Sports and get 12 months for just £18 per month. Upgrade now!