Cleveland Browns seeking rare road win over Pittsburgh Steelers in Monday Night Football
The Cleveland Browns take on the Steelers in Monday Night Football having lost 23 of their last 25 trips to Pittsburgh; watch live on Sky Sports Action from 1.15am, with the New Orleans Saints at the Carolina Panthers live on Sky Sports Mix from midnight
Last Updated: 18/09/23 9:17pm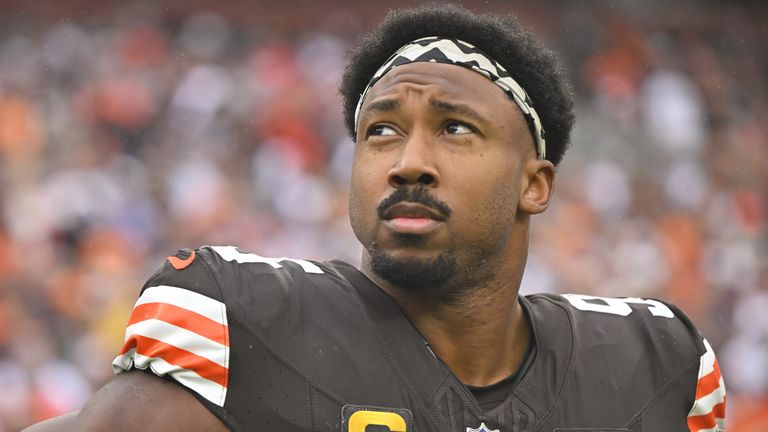 The Cleveland Browns haven't started a season with two straight victories since the franchise returned to the NFL in 1999.
The Browns (1-0) look to end that dismal streak when they visit the Pittsburgh Steelers (0-1) in an AFC North clash on Monday night.
Cleveland didn't have a team from 1996-98 after the franchise moved to Baltimore and became the Ravens. The last 2-0 start in Cleveland was in 1993 when Bill Belichick was head coach and Nick Saban was defensive coordinator. That team started 3-0.
Cleveland traditionally struggle in Pittsburgh and have dropped 23 of their last 25 visits. Ironically, one of the Browns' two victories during the stretch came in the AFC wild-card game after the 2020 season.
"That's a very impressive stat for them," Browns quarterback Deshaun Watson said last Thursday. "But when we go in there, we can't think about that stat.
"It's the 2023 year and we can't focus on the past. We got to try to break that tradition they have going. It's not going to be easy. It's definitely going to be a tough task. I think we have the team that can go in there and do it."
The Browns opened this season with a stunning 24-3 home win over the Cincinnati Bengals. Meanwhile, the Steelers struggled offensively during a 30-7 home loss to the San Francisco 49ers.
Pittsburgh will need to be vastly better against a Cleveland defense that limited Bengals quarterback Joe Burrow to 82 yards passing.
The Steelers didn't pick up a single first down in their first five possessions over the first 28-and-a-half minutes against the 49ers before putting together their lone scoring drive with the hurry-up offense.
"Five three-and-outs is not what we expected," Pittsburgh offensive coordinator Matt Canada said. "Once that occurred, probably the only high point of the game for us was the two-minute drive.
"We were always playing from behind, did not get into our routine, our plan. So disappointing. You can't score seven points, can't do all those things. No secret about that."
Second-year quarterback Kenny Pickett passed for 232 yards, one touchdown and two interceptions.
"We just didn't execute, honestly," Pickett said. "I think it was more us than them. I felt comfortable with what I was seeing, what they were doing. We just didn't execute."
The brightest spot was the play of outside linebacker T.J. Watt, the NFL Defensive Player of the Year in 2021. He had three sacks to tie James Harrison as Pittsburgh's all-time leader with 80.5, and he also forced two fumbles.
Watson passed for 154 yards, one touchdown and one interception in his season debut, while Nick Chubb rushed for 106 yards on 18 carries.
But it was a matchup in which the defense carried the load for the Browns.
Still, middle linebacker Anthony Walker Jr. said Cleveland does not want to place too much emphasis on what happened in Week One.
"We don't want to look at our film and think too highly of ourselves and look at their film and think too lowly of them," Walker said. "We have to approach this week as its own week."
Both teams had key injury losses in Week 1. The Browns lost two-time All-Pro offensive tackle Jack Conklin (knee) to a season-ending injury, while the Steelers lost six-time Pro Bowl defensive tackle Cameron Heyward (groin) for approximately six weeks and receiver Diontae Johnson (hamstring) for multiple weeks.