Her Huddle Presenter & NFL Reporter
Super Bowl LVII Diary: Hannah Wilkes takes you behind the scenes in Arizona for Kansas City Chiefs' win over the Philadelphia Eagles
Sky Sports' Hannah Wilkes rounds off her daily behind-the-scenes diary from Super Bowl week in Arizona with a look back on the Kansas City Chiefs' thrilling 38-35 win over the Philadelphia Eagles at State Farm Stadium on Sunday
Last Updated: 14/02/23 9:07pm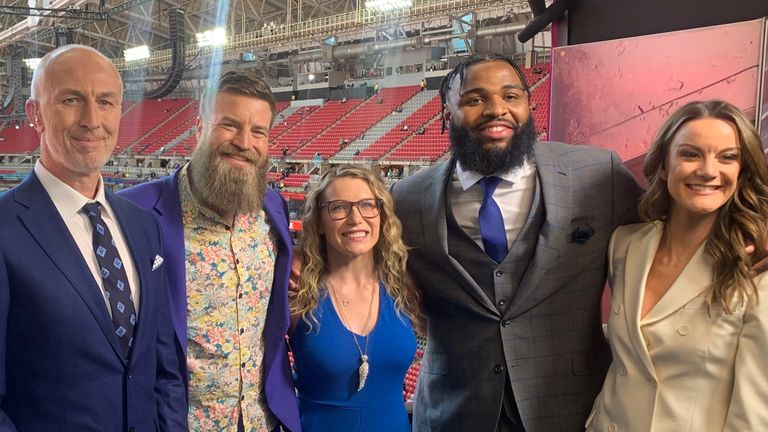 Sky Sports NFL's Hannah Wilkes was in Phoenix for Super Bowl LVII between the Kansas City Chiefs and Philadelphia Eagles, bringing you her daily diary with all of the best nuggets from behind the scenes in Arizona...
Super Bowl Sunday, baby!
The amazing thing about Super Bowl Sunday is that, even after a jam-packed week's build-up - working really hard and very long days - you wake up with a huge buzz ready for the game!
We were up early, to give ourselves plenty of time to get over to the stadium. Traffic is obviously very busy on game day and you end up having to park a huge hike away from the TV compound (which itself is then another long walk from the stadium).
We got there, got made up - shout out to our wonderful make up artist Annie, who took incredible care of us all day - and then, after a live hit with Sky Sports News, Phoebe Schecter and I headed pitchside - and soaked up every last second of it.
Our Super Bowl lineup was incredible. Neil Reynolds was in the studio with former NFL quarterback Ryan Fitzpatrick (the nicest man on the planet) and current Miami Dolphins star Christian Wilkins (nicest man on the planet x2); Phoebe stayed down on the sideline with superman cameraman Scott; I was up in another studio spot just along from Neil and the gang, with another of the nicest humans ever, Washington Commanders defender and the UK's very own Efe Obada.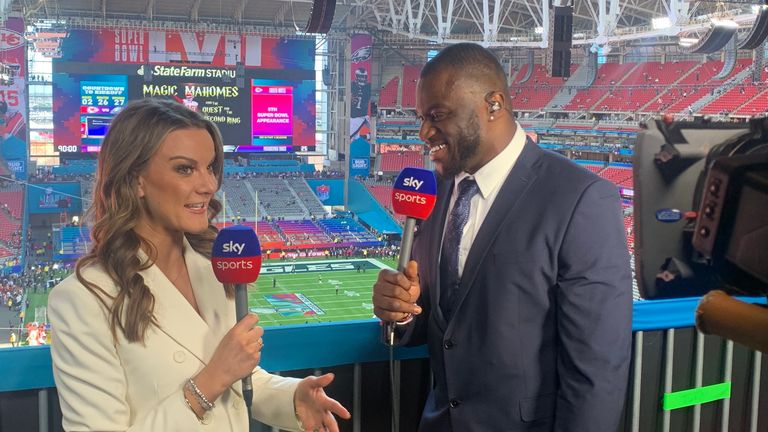 We had an hour and a half's build up before kick-off, so lots of chat, lots of great content that the guys had been working on all week and then it was game time, baby!
The game, let's be honest, was just incredible. From start to finish. Also, it was loud! The fans were living every second of it.
My only slight negative is, we were robbed of overtime. You have got to feel for Jalen Hurts and the Eagles, given the way they played in the first half especially. It's heart-breaking for them.
But what a performance by the Chiefs, and MVP Patrick Mahomes in particular. He put that team on his back!
When we finally got back to the hotel at around 11pm, our whole crew gathered for some drinks (including some particularly questionable margaritas in a can!), just to celebrate an incredible week and a job well done. You really do become a little family on these trips.
We just had so much fun, which is what this is all about. We are very fortunate to be able to call this work. Till next year!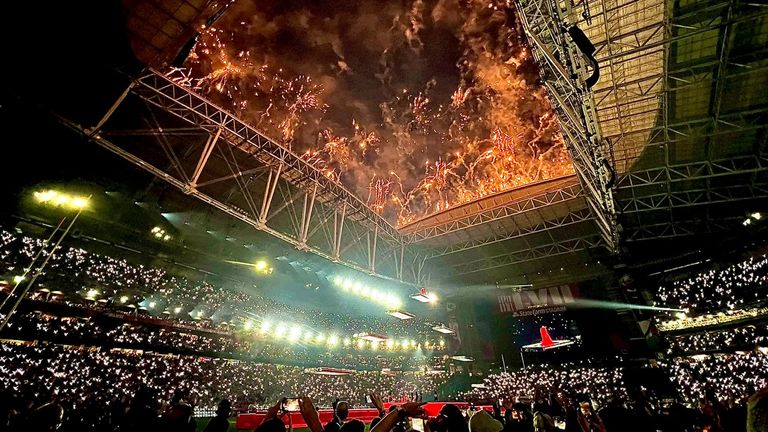 Saturday: Flag football's moment and the Super Bowl's youngest fan
We headed out to State Farm Stadium bright and early.
Now one of my favourite things about this job is seeing stadiums (stadia?) when no one else is in them. This one is impressive - it feels big, the stands properly vertical, making it feel like a cauldron - and the position of our Sky Sports studio is great, just behind the Chiefs end zone.
Also, Phoebe down at pitchside might have the best sideline position any of us have ever had. Her and cameraman Scott might be in danger of going viral if there's touchdown passes near their position.
In the afternoon we headed back downtown and caught up with Diana Flores, who is an NFL global flag football ambassador and the quarterback for the Mexican flag football team. She is absolutely incredible - flag football is having a real moment right now, when you consider the Pro Bowl was a flag game this year and they are really pushing for it to become an Olympic sport.
Diana is a great ambassador for the game, and to the power of flag football for women and young girls.
We also caught up with some fans ahead of the big game, including who I believe to be the youngest attendee at this year's Super Bowl, eight-month old Tory who was there with her Eagles-supporting parents and was fully decked out in Eagles green already.
On Saturday night, we went out for a team dinner. It was really nice to have our whole crew there, sharing in some pizzas and some beers and just having a good old catch up.
Just the big game to go now... And it should be an epic. There is nothing to separate these two teams; the Eagles maybe have the slight advantage, with the bookies and even anecdotally, talking to other media outlets and fans around Phoenix.
I cannot wait!
Friday: Riding in a champagne-coloured Maserati
The day started back on Radio Row, with still plenty going on, plenty of people buzzing around - a shout out to Stefon Diggs and George Kittle's agents who shot down any attempts of mine to talk to them. Busy boys!
You have to be fairly thick-skinned when operating on Radio Row. You will encounter rejection.
I did, however, manage to have a catch up with our friend Kay Adams, who has been hosting her 'Up and Adams' show all of Super Bowl week. It was great to see her. She asked after the whole Sky Sports NFL crew - and was giving out free bobble hats as well. Winner!
I also saw her take on the aforementioned Stefon Diggs in, not exactly Beer Pong, but a sort of Tequila Pong, which is a bold move at 9am in the morning, it has to be said.
Once the latest Super Bowl Daily was filmed, I grabbed Jeff and Phoebe and we headed off to the Super Bowl Experience and we broke down one of the key matchups of the game. This is Jeff in his absolute element; we talked the Eagles pass rush and just how Haason Reddick would be able to get past the Chiefs O-line and to Mahomes.
Coach being coach, having Phoebe there to act as Reddick was not enough for him. He instead enlisted the delightful, Berkley, a 10-year-old Chiefs fan, who was at the Super Bowl Experience with her family. We later found out that Berkley is a published author, having written a book about the NFL.
We also got Jeff and Phoebe involved in a TikTok challenge, and we bore witness to the red mist that comes over Pheebs when competition is involved. It was actually terrifying, and I fear for anyone who comes up against her on the football field - including the Swedish team who Great Britain are playing come April (you are welcome for the plug, Pheebs).
A slightly quieter afternoon was followed by a little bit of schmoozing at the NFL International party, which included all of our pals from the NFL UK office and a host of international players as we enjoyed some rooftop cocktails in Phoenix. All very civilised.
Also, the highlight of Friday… (how could I forget?) It's safe to say that the fans have arrived on mass now as we get closer to Super Bowl Sunday, thus making getting any kind of Uber or taxi a real challenge. So you can imagine our joy when on Friday night a champagne-coloured Maserati pulled up?! Our new bestie, Charity, is driving for Uber in her Maz (that's what all the cool kids call it). It was the fanciest Uber ride of our lives.
And, as it turns out, it's a real blessing we did meet Charity, as we have ended up enlisting her services to help get some of our studio guests on Sunday to and from State Farm Stadium… Miami Dolphins defensive star Christian Wilkins will be making quite the entrance - you just love to see it!
Thursday: A bumper Her Huddle pod and NFL Honors
It has been a very busy week, so there is A LOT to catch you up on after a few fun days in the desert.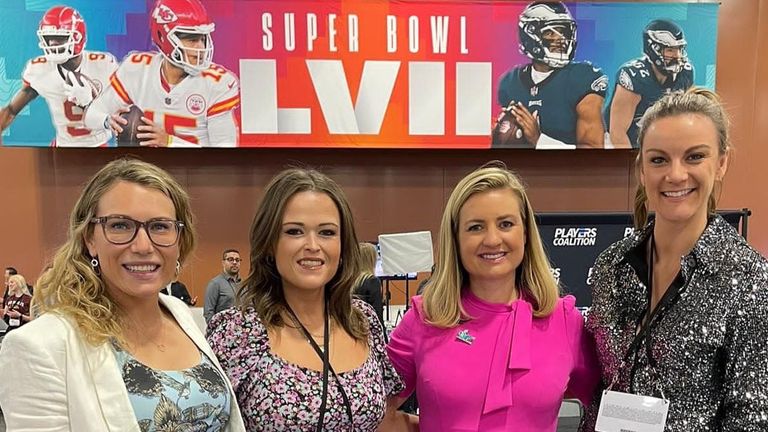 Thursday was a marathon, not a sprint; the 'Radio Row' delirium reached fever pitch, with so many stars in town now ready for Super Bowl week. We spent most of the day in this vast, noisy, bustling, spotlight-filled room. I decided to dress for the occasion as a giant human disco ball as I wore my best sparkly jumpsuit, ready for night interviewing the stars of the game on the red carpet at the NFL Honors awards ceremony.
Firstly, it was time to record a second Her Huddle podcast of the week - which you can listen to below - with Ash Byrne-Hansen (@ashandthenfl) - who is living her best life out here in Arizona, by the way - joining myself and Phoebe along with a special guest. The mayor of Phoenix, Kate Gallego (she was wonderful) joined us after, mid-record, her PR person asked if we wanted to speak to her on the show. We did!
Thursday night of Super Bowl week is reserved for NFL Honors, the very swanky end-of-season awards, where league MVP is named (a certain Patrick Mahomes of Super Bowl LVII's Kansas City Chiefs), defensive and offensive players of the year, coach of the year AND the new Hall of Fame class is announced.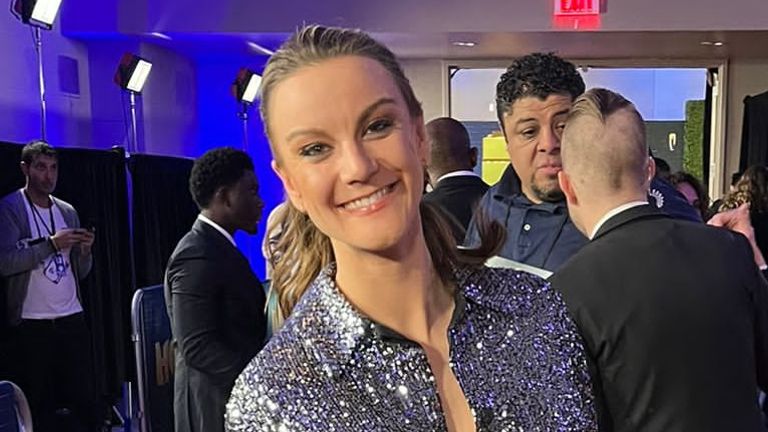 Simon the cameraman and I were set up in 'international corner' on the red carpet, alongside broadcasters from Germany and Mexico. It was a great opportunity to speak to some of the biggest stars of the game, and get some little nuggets from them.
Dion Dawkins from the Buffalo Bills came over, as did Seattle Seahawks receiver Tyler Lockett (I love him), as well as recently-retired former Cincinnati Bengals and Los Angeles Rams offensive lineman Andrew Whitworth, who prompted Pittsburgh Steelers running back Najee Harris to even exclaim: "Wow, I didn't realised how big you are!"
We also spoke with Green Bay Packers running back Aaron Jones, and the brand new Walter Payton Man of the Year, Dak Prescott, who was so lovely.
After that, it was straight to a dinner date with some of the most incredible women in the sport, the newly-christened 'Phoebe Schecter girl gang'. There were coaches and team owners at dinner, as well as even a cameo from Pittsburgh Steelers cornerback Levi Wallace. I sat there in awe as these incredible women talked about football, soaking up every last moment.
Wednesday: 'It's nearly over!'
The day started at the 'Super Bowl Experience', having a sneak peak behind the scenes. It's basically a giant NFL theme park and museum combined, spread out over three HUGE floors of the Phoenix Convention Center.
From there, we hot-footed it back to Radio Row where Efe Obada was there to say hello, allowing us to work on that rapport ahead of our stint together as part of the Sky Sports Super Bowl coverage on Sunday.
The whole crew then dashed out to the desert to go see the Philadelphia Eagles for their media availability for the day. They have got a very nice hotel - very remote, very calm and very quiet. It's also very hard to get into, and one member of our team - who will remain nameless (*cough: 'Jeff!') - managed to forget their credentials and so was forced to wait outside.
The rest of us headed in to speak to AJ Brown, Jordan Mailata and hear from head coach Nick Sirianni and quarterback Jalen Hurts.
On Mailata, what a lovely, lovely guy. It was great to talk to him about his incredible journey to get to Super Bowl LVII. Five years ago, he had never played a single snap or a single down of American Football, growing up in Australia and playing rugby league. He admitted to the assembled press that it was not until two years ago that he even started liking the sport... because, and I quote, "that was when I got good at it".
Then came one of the funniest car rides of the whole trip so far. Producer Paddy Crowley was in the front of the car, Jeff Reinebold sat behind. They had been having a good old chinwag until, unbeknownst to Paddy, Jeff had picked up the phone and answered: "Give me the good news?" Paddy replied: "It's nearly over!"
You had to be there, maybe?! But the mid-week hysteria of Super Bowl week meant we all had a good laugh.
Then, reunited with Phoebe for the evening, we and the rest of the crew went out for some pizza. Just as #FreeJeff has become a theme on this trip, so too has #FeedPheebs.
Tuesday: Travis Kelce and jet-lagged delirium
This entry is brought to you by jet lag!
Tuesday in Phoenix and it was an early trip over to the media centre for Neil Reynolds, Jeff and Phoebe to film the first of our Super Bowl Daily shows - (Wednesday to Saturday, Sky Sports NFL, 7am and repeated daily). Then our whole crew piled into two cars and headed out to Scottsdale (which seems very nice from the tiny bit we drove through) for the Kansas City Chiefs' media availability for the day.
After the scrum that was 'Opening Night', there are three further chances to speak directly to the coaches and star players throughout the week, with this being the first of them, and it's all much calmer and much more football-focused. Each player has a podium and the unspoken rule is that you ask a maximum of three questions so that all the assembled media can get their chance throughout the hour.
I made a beeline for Chiefs tight end Travis Kelce, Neil went in for quarterback Patrick Mahomes and, British politeness be damned, we both got in there first. Go team!
Mahomes and Kelce are on track to make some history on Sunday as one of the most productive quarterback-receiver duos in NFL history so, naturally, I had to ask Kelce the secret to their great relationship. Turns out, like all solid friendships, their closeness stems from copious beers shared. Superstars eh, they are just like us.
In all seriousness though, he was great in explaining that it's all the time they spend together and how much they enjoy each other's company that translates to their almost telepathing understanding and on-field success. With just two touchdowns on Sunday, they will tie Tom Brady and Rob Gronkowski for the most touchdowns by a QB and receiver the history of the playoffs (Super Bowl era). Based on how these guys are playing, and how they're feeling (palpably chilled, by the looks of it) I fancy them for a three-TD day…
Next stop was the Fox Sports media event. Where, actually, Gronkowski was in attendance. Small world. He's part of the Fox team who are the host broadcasters for Super Bowl LVII and Sky Sports NFL is the only place in the UK and Ireland where you can hear the game called by their excellent commentary duo of Kevin Burkhardt and Greg Olsen (we have also got the game in UHD, if you like your football crystal clear).
I had a chance to chat to Greg, although I did temporarily have to put him on pause for a quick chat with sideline-reporting superstar Erin Andrews (Greg was fine about it, "we love her too" he said).
It turns out Erin is a big fan of Sky Sports, and I'm a big fan of Erin, so after some mutual appreciation and a future Her Huddle appearance nailed down (whoop!) back to Greg….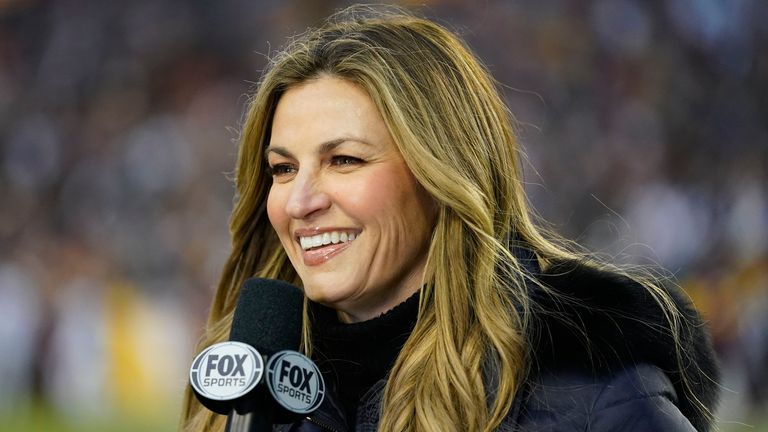 Greg was a great player and he has been a fantastic addition to the broadcast booth. The seven-time-Super Bowl-winning-elephant in the room though, is that Brady is picking up the mic come 2024, essentially taking Greg's spot. He was asked about it a lot and was very gracious in saying he knew what the situation was when he took the gig. In the meantime, he's preparing for Sunday in a similar way to how he prepared for his Super Bowl appearance with the Carolina Panthers seven years ago... ("hoping this goes a little differently though!") and doing the best job he can.
I suggested he had set the bar pretty high for TB12 coming in, and he was far too diplomatic to really comment. He is all class that Greg Olsen.
Phoebe and I then grabbed a quick chat with Charissa Thompson (if she says "round the houses" on TV in future, I'm taking all the credit), who was, of course, delightful. We compared notes on podcasting, how to say "Rihanna" correctly, and British accents (as you do) and you can hear a snippet from Charissa on a brand-new Her Huddle podcast later this week.
Speaking of Her Huddle, Pheebs and I had a chatty ramble through the first couple of days here in Arizona for the pod and, on listening back, it's clear that one of us (me, obviously) was at peak jet-lagged delirium at the time of recording. If the Gilmore Girls ever does a reboot I can definitely talk fast enough to warrant a part.
We ended the day with a quick, and very well-behaved, outing to the Super Bowl week party held for all of the assembled media organisations - a giant food and drink festival out on an Arizona farm under the stars. 10/10 for the Jalapeno Pickled Pear Margaritas (seriously, wow), but 1/10 for the collective skill level when it came to playing Cornhole.
Turns out not even Phoebe Schecter can be good at everything.
Opening Night in Arizona
Having arrived in Phoenix on Sunday afternoon, our Sky Sports crew is jet-lagged, over-caffeinated and ready to go!
After a totally remote Super Bowl two years ago, and a skeleton crew on the ground in Los Angeles last year amid the ongoing Covid-19 pandemic, it's absolutely brilliant to have a full team back for the week in Arizona as we build up towards Super Bowl LVII on Sunday.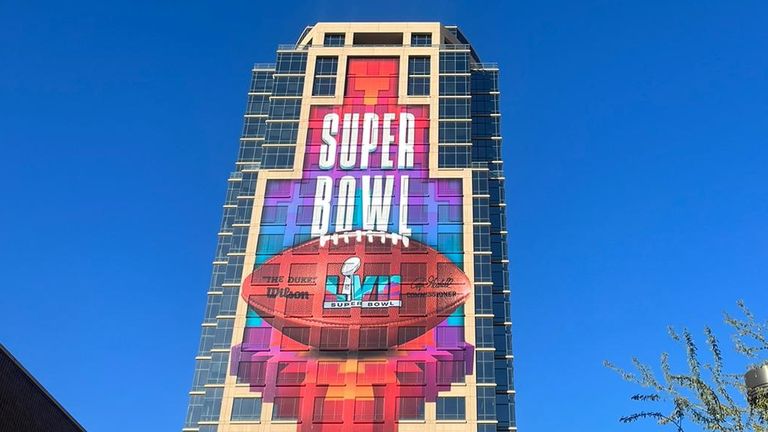 Neil, Jeff and Phoebe are all here, along with a couple of producers keeping us all on track and a duo of excellent camera guys making it all work for TV (which is quite important, all things considered).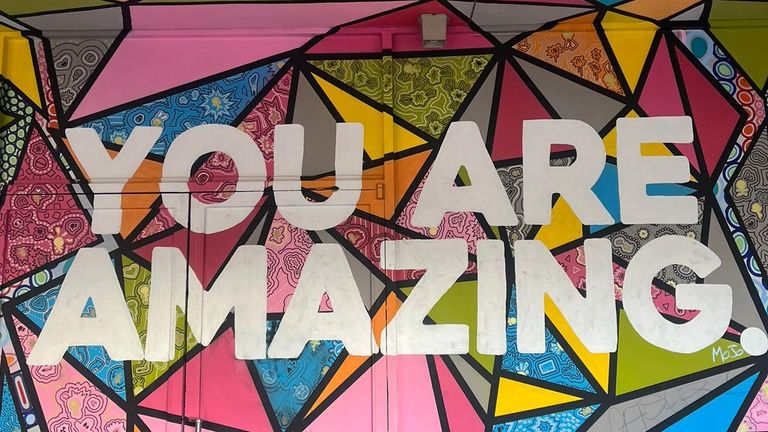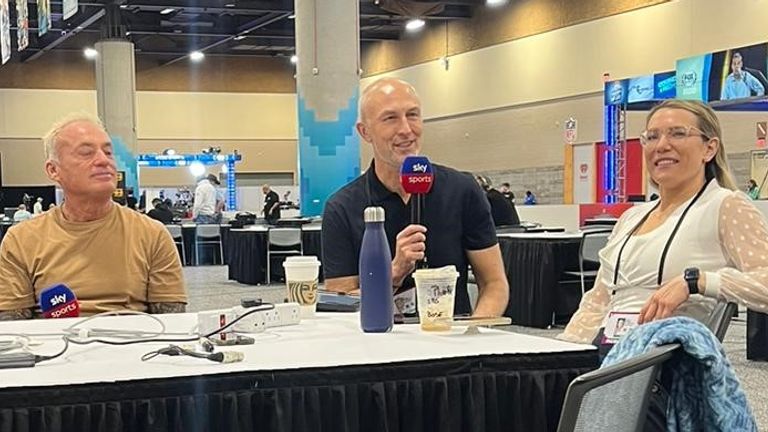 After a fairly low-key first night, one though that did involve a rather epic game of Cards Against Humanity with some of the crew, the first stop on Monday morning was 'Radio Row', where all of the world's media reside for the week, for an Inside the Huddle podcast recording, before seven intrepid explorers then braved the harsh landscape of the Arizona desert in search of TV gold... well, we went to a National Park to film Neil's opening link for Sunday.
The trip did have some scenes of mild peril though. Mostly the obvious lesson that cactus nettles can do some harm. Who knew? (Everyone, you fools).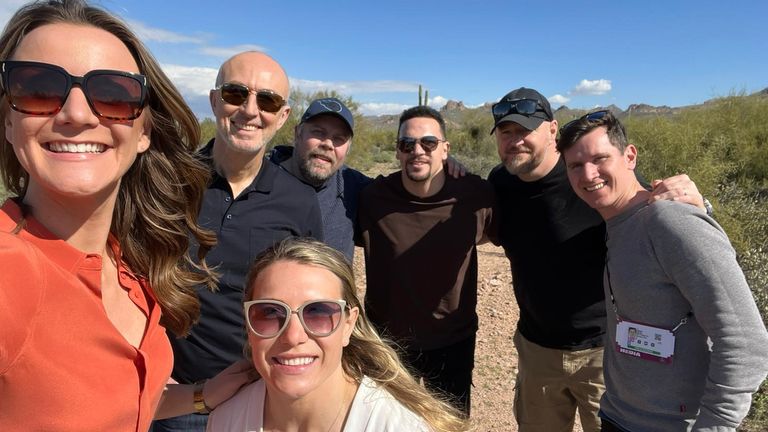 Next up, 'Opening Night'. For the first time since before the pandemic, the chaotic kick-off to the whole Super Bowl week spectacular was back in all its glory. A slight hiccup with credentials, however, meant that, initially, we couldn't get in.
Coach Reinebold was the first to get the "access denied" message on the scanners, and oh how we we laughed at him being put in a holding pen... that is until we all joined him.
Crisis averted by Producer Mase, courtesy of a sprint over to the credential centre, and we were soon in and among the chaos of opening night.
All of the players from both teams were paraded on stage, there were thousands of fans in the stands, and a media scrum to get to the biggest names.
Things I learned; it turns out Eagles safety C.J. Gardner-Johnson is quite good at pin the tail on the donkey, while the Chiefs players are really into Madden.