Bomb disposal experts carry out controlled explosion near men's road race in Rio
Last Updated: 07/08/16 7:25am
A controlled explosion was carried out by bomb disposal experts near the finish line of the men's road race at the Rio Olympic Games.
Team GB's Chris Froome is targeting gold in the event, but no riders were nearby when the explosion was detonated on Copacabana beach, not far from where the gold medal winner will cross the line.
Reports suggest a number of controlled explosions took place across Rio on Saturday. 
And on a dramatic day in Rio, a bullet struck the media centre at the Olympic Equestrian venue, fuelling fresh security fears at the Games.
Reports suggested that a bullet narrowly missed a New Zealand team official who was badly shaken by the incident.
Alice Collins of Horse and Hound magazine was in the media centre at the time. 
It shows the level of tension here in Rio and the high alert the security forces are on here.
SSNHQ's Orla Chennaoui
She told Sky Sports News HQ: "The first we knew of it was a sort of clattering noise as the bullet landed towards the edge of the room of the media centre which is a very large building which is tented. 
"Then we realised the bullet had come through the side of the tent. I can see now the hole it made and the light coming through it. Luckily no-one was injured."  
Sky Sports News HQ's Orla Chennaoui was at the scene of the controlled blast and suggested that security forces were maintaining a vigilant approach at the Games.
She said: "We saw one fully suited bomb disposal expert there, coming out of the scene, wondering around fairly relaxed at the stage. That leads us to believe it was a controlled explosion.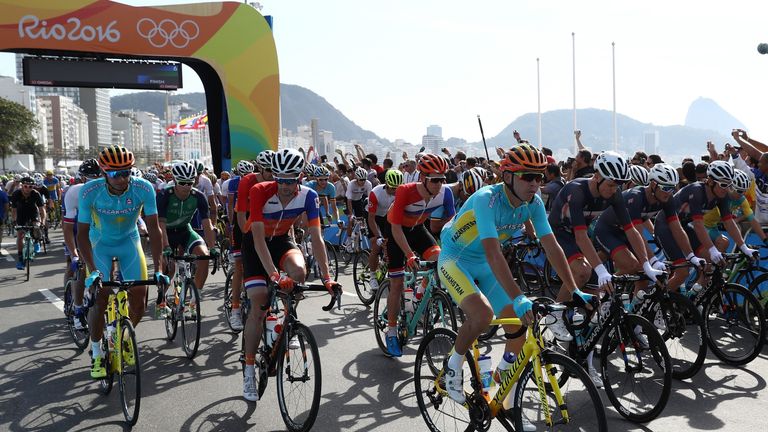 "He then took off his protective suit and was given a bit of a slap on the back by a colleague, presumably for a job well done. We were positioned just 50 metres away at the time and heard the loud bang.
"I have to say there wasn't too much of a panic at the time and you can see that the military and the security personnel weren't too panicked at the time either, which leads us to believe they had been fully alerted about possibly a suspect package.
"It shows the level of tension here in Rio and the high alert the security forces are on here.
"They are aware this is a high-profile event and a high-profile location. We hope this is the end of the situation."
Rio 2016 communications head Mario Andrada said the authorities are investigating the bullet incident and can "clearly determine this area was not the target, it was a stray bullet".
Andrada added: "It has nothing to do with the games but they cannot be more precise at the moment."