Riner only sees gold
French judo star Teddy Riner is still chasing the medal that matters most as he goes for gold in 2012.
Last Updated: 11/04/12 12:26pm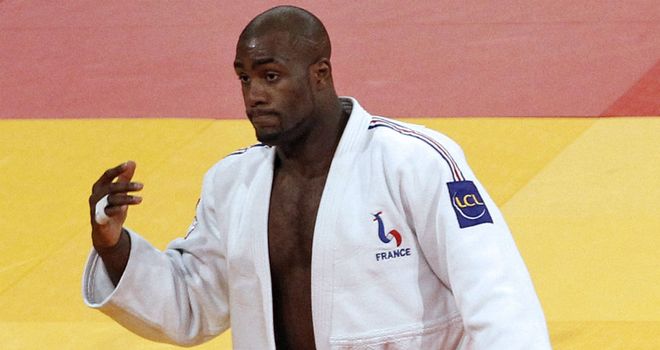 Even with five world titles to his name, French judo star Teddy Riner is still chasing the medal that matters most.
His chance will come again at the London Olympics, where the 2.08 meter (6-foot-8), 140 kilogram (310 pound) heavyweight hopes to turn his bronze from 2008 into gold in 2012.
Riner, who has also won two European titles and is ranked No. 1 in the world, said: "It is the only medal I want. I've been preparing for this for four years."
Riner is only 22 years old, but he has already been called a legend in the Japanese martial art. Ahead of the Olympics, he's just trying to stay at the top of his game.
"I'm just working on little details now, like being a bit faster and perfecting my grips," Riner added. "It's too late to start anything completely new."
Ippon
Judo, the art of throwing your opponent on their back, depends heavily on getting the right grip. Flipping an opponent can happen within seconds of securing the correct grip and automatically wins the match by ippon, judo's equivalent of a knockout.
Many say that Riner is the man to beat this year.
Fergus Dullaghan, the 2012 Commonwealth Judo silver medallist said: "Teddy is absolutely the best judoka who's currently active. He moves like a cat."
Heavyweight judo fighters are not usually known for their agility, but Riner's explosive speed often allows him to secure a dominant grip on his opponents' jackets.
Riner credits much of his success to his psychological approach.
"I never drop my eyes," he said. "That's the first victory you have on the mat and if you want to win, you can't drop your eyes."
Speed
Dropping weight could be a problem, however. Although Riner is a heavyweight, he went on a diet last year to improve his speed. He may need to lose more to be in top shape for the Olympics.
"I had to change my training and then cut out soda, fast food and crepes with Nutella," said Riner, who was born in Guadeloupe but now is a student in Paris. "It was terrible."
Riner must also overcome the stigma of an incident at the 2010 World Championships in Tokyo.
After losing to Japanese fighter Daiki Kamikaw, Riner was in tears on the mat and refused to bow or shake Kamikawa's hand- a major violation of judo etiquette.
"I was robbed," said Riner, who was criticized by International Federation of Judo President Marius Vizer for not showing his opponent adequate respect and setting a bad example for the martial art.
But with only about three months to go before the London Olympics, Riner said he does indeed respect his competition. That attitude may come from lessons he learned as a child.
Years ago, facing his older but physically smaller brother Moise when they were boys, Riner would get thrown almost immediately.
That didn't last long.
"It would be impossible to beat him at judo today," Moise Riner said. "Maybe at Playstation."