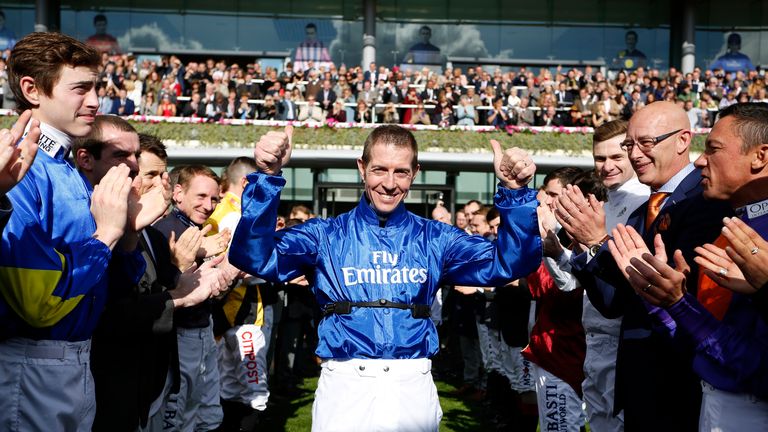 Jim Crowley was officially crowned Stobart Champion Flat Jockey in a presentation ceremony before racing at Ascot.
The former National Hunt rider clinched the title earlier this week once it become numerically impossible for reigning champion Silvestre de Sousa to bridge the gap.
Crowley has enjoyed a fantastic recent run of form which included breaking the record for the number of winners in a calendar month after securing 46 victories in September.
That is by no means an anomaly on his record, though, as he had 38 winners in August and is on course for something similar in October.
The 38-year-old was presented with his champion jockey trophy by show jumping great and Rio 2016 gold medallist Nick Skelton.
Crowley - afforded a guard of honour by his weighing-room colleagues - said: "It feels amazing and it is beyond my wildest dreams. To come from jumping and do this is just madness.
"A lot of people have helped me along the way. It is not just me, it is a team effort. I could not have done it without my agent Tony Hind, and Hugo Palmer has been a massive help as well.
"Big and small trainers have all helped along the way. I've spent more time with my driver Guy Stevens this year than my family.
"It's been a lot of hard work and it is just a dream come true. Every jockey dreams of being a champion at one point in their career and to have done it in a more unorthodox way makes it more special."
Looking to the future, he added: "I think obviously I want to try get on better horses, but it's a great feeling being champion jockey and I would not rule me out being here for another crack next year."
De Sousa did not relinquish his title without a good tussle and paid tribute to his conqueror in typical fighting spirit.
"Jim will be crowned champion jockey and I want to congratulate him again," the Brazilian told Betway.
"He has ridden so well this season and deserves all the credit he is getting.
"I look forward to both shaking his hand and renewing our rivalry again next season."
Josephine Gordon claimed the apprentice title, ending the season on 48 winners, four clear of last year's champion Tom Marquand.
Gordon said: "I didn't expect it to go this well. It's just amazing really and I've enjoyed every minute of it. I think it has made it more exciting that Tom and me have been so tight throughout.
"This time last year I was probably having my 10th winner or something like that. I never expected this at all. It is a dream come true and I didn't expect it to happen.
"Everybody says it gets harder, but I'm just going to have to work harder than ever. I made a lot of contacts over the last winter ready for this turf season and if I keep going this winter hopefully I can make more connections.
"My agent Phil Shea got my name out there. I think if you keep riding winners you are looked at more. I'm going to keep going through the winter and make more contacts.
"I'm riding for the likes of Hugo Palmer and Sir Michael Stoute. Is there any bigger than that?"
She added: "The aim is to ride as many winners as I can. I'd like to be in the top 10 jockeys and ride 100 winners in the year. That's the aim. I think you have got to set yourself goals and push yourself."
Ribchester's second to Minding in the Queen Elizabeth II Stakes was enough to guarantee champion owner honours for Godolphin ahead of Coolmore. Minding's trainer Aidan O'Brien was champion handler by a long way from John Gosden.
Agent Hind does it again
If ever proof was needed that an agent was the key to a successful jockey then step forward Tony Hind, who transformed Jim Crowley from an also-ran to being the top of the tree.
Hind's ability to make champions is unquestioned with Ryan Moore and Richard Hughes winning the Flat title three times each in the last 10 years.
When the latter retired halfway through the 2015 campaign, Hind was approached by several riders desperate to utilise his talents.
He chose Crowley after realising he had the right qualities for the task ahead.
"It's been a fantastic year, absolutely wonderful," said Hind.
"Jim called me and asked if I'd take him on when Richard Hughes retired.
"I said I'd have to think about it as I'd had other jockeys enquiring. I said 'what's your goal?' and he said he'd never finished in the top five before'.
"I told him that's no good to me. If you don't want to win it, there's no point coming to me.
"He said that I didn't mess around, but I didn't want to take a jockey on who didn't want to win. He said 'oh no, I want to win it'.
"I said OK. If you're willing to win it, don't think about the title until the day after Glorious Goodwood.
"He asked what I meant by that and I said if I looked at every day, I'd just be going round in circles. I told him I'd just go along with the flow, do what I do and get my jockeys as many winners as I can.
"Then the day after Goodwood I look at the jockeys' table and if any of my jockeys are within striking distance, I go for it.
"This year, I saw he was 17 behind Silvestre de Sousa. I said to Jim, 'how would you like to be champion jockey' and he said I was mad.
"Jim said he'd catch him and I said I will, so he said 'go for it'.
"He thought I was completely bonkers and I agreed, but added 'let me know what you think in nine weeks' time'.
"I make sure I get him on the best rides. I have to know in my own brain that the product I've got has to be good enough to do it and willing to put the hours and the work in.
"I knew he had the right attributes.
"He's only been with me a year, but I knew after about a month if he had a chance of winning the title, he'd do it.
"I knew he wanted it, like I wanted it. If he was within 25 of the leader after Goodwood I'd go for it. When I saw he was 17 behind I went for it. Credit to Silvestre. He's like a boxer who when you try to knock him down, he comes back up again.
"I knew I had the quality to do it again and now I've had seven champions in 11 years.
"Ryan was my first in 2006. He won it in 2008 and 2009, but would have it won it six years running but for being injured.
"I had the tussle Richard Hughes had with Paul Hanagan in 2010 and then I won it with him in 2012, 2013 and 2014.
"I knew I had the product that was good enough to do it, which was why I chose him over the other jockeys that wanted to come to me."
Five things you might not know about Jim Crowley
1 Crowley was born near Ascot racecourse, where his parents trained point-to-pointers and reared him on a diet of hunting and show jumping.
2 His first two jobs were with trainers John White and Ron Hodges and though he first made an impression as an amateur on the Flat, he soon switched his attention to jumping when attached to Grand National-winning trainer Sue Smith's West Yorkshire stable.
3 Crowley's only ride in the Grand National did not last very long. His mount, Art Prince, trained by Martin Pipe, fell at the first fence in the 2001 Aintree spectacular, won by Red Marauder.
4 After riding around 300 winners over obstacles, he switched to the Flat. His first job was for his sister-in-law, Amanda Perrett, before signing as stable jockey to Ralph Beckett in 2010. He has been freelance since August 2014.
5 He opened his British Group One account on Robert Cowell's Prohibit in the King's Stand Stakes at Royal Ascot in 2011, but he is still seeking his first domestic Classic after two second-placed finishes in 2013 on Secret Gesture in the Investec Oaks and Talent in the Ladbrokes St Leger.
Crowley steps out of the shadows
Jim Crowley can bask in the glory of being champion jockey just 10 years after his gamble of switching from the jumps to the Flat.
Spurred on by the efforts of his agent for the last 15 months, Tony Hind, Crowley went from 66-1 outsider at the start of the campaign to win the title thanks to an amazing run of winners from July onwards.
And it is fitting that Crowley was crowned champion at Ascot, where he was born 38 years ago.
Two months into the season, he was not in contention after a slow start, but 38 winners in July put him within striking distance of defending champion Silvestre de Sousa, who was hot favourite to retain the title with Crowley an unconsidered 66-1 chance.
Crowley hit the front on August 28 with a Windsor treble and was turbo-charged in September when his record 46 successes beat the previous best for a jockey of 45 wins shared by legendary names of the Turf - Fred Archer and Sir Gordon Richards.
Crowley's name will now be on a champion roll of honour that also includes Lester Piggott, Steve Cauthen and Pat Eddery amongst his illustrious list.
Though Crowley was destined to become a jockey, being the best of the lot on the Flat seemed an impossible dream.
As his parents trained point-to-pointers, he grew up hunting and show jumping before pursuing a career as a National Hunt jockey.
He had a stint at the successful jumps stable of Sue and Harvey Smith in Yorkshire and had one ride in the Grand National for Martin Pipe.
It was a brief encounter as Crowley and his mount Art Prince parted company at the first fence in 2001.
With Tony McCoy dominating the jumps scene year after year, Crowley increasingly felt the need to change direction.
A career-high of 47 winners in the 2004-05 season was simply not enough for him.
Up stepped his father-in-law, retired trainer Guy Harwood of Dancing Brave fame, to encourage Crowley to switch paths, which he did in 2006 after riding more that 250 winners during his stint over jumps.
With trainer Amanda Perrett, sister of his wife, Lucinda, supplying enough decent rides, Crowley was on his way in the highly-competitive world of Flat racing.
It has taken him just over a decade and, at the age of 38, a conscious decision saw his focus intensify.
Crowley had never been in the top five in previous years, but by joining up with agent Hind, who steered Richard Hughes and Ryan Moore to their titles, he showed he meant business.
He got to the top with hard work and pure dedication to the task in hand.