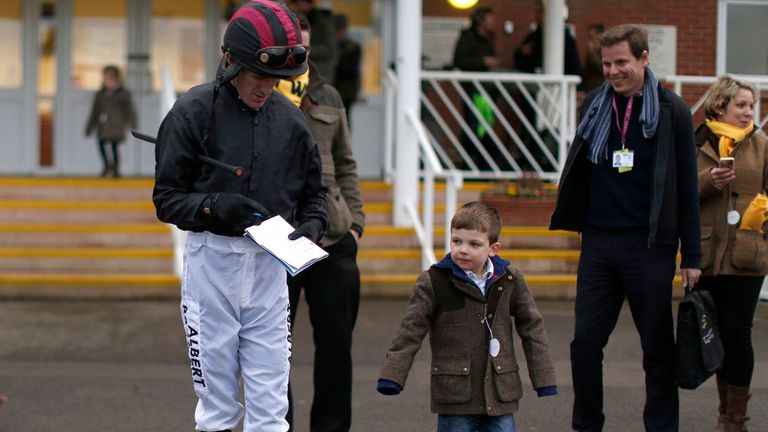 Champion jockey Tony McCoy announced his decision to retire by the end of the season, after riding his ninth double-century, but revealed his "broken heart" at not being able to ride 300 winners this season.
Just minutes after Mr Mole gave McCoy his 200th winner of the season after favouriteSire De Grugy unseated three out in an incident-packed Betfair Price Rush Chase at Newbury, the champion jockey told Channel 4 Racing of his intention to stop riding.
Not seen since following up his Champion Chase success at Sandown last April, the Gary Moore-trained Sire De Grugy was sent off at odds-on but made a bad mistake four from home before parting company with Jamie Moore at the next.
That left a simple task for the JP McManus-owned Mr Mole, who will test his credentials at the top level in the two-mile championship next month.
All that was overshadowed, however, when McCoy revealed his retirement plan.
"It's going to be the last time I ride 200 winners," he said.
"Having spoken to Dave (Roberts, agent) and JP McManus, I am going to be retiring at the end of the season."
McCoy said: "I want to go out at top, I want to go out as champion jockey and it will be my 20th year if I can win the jockeys' championship.
"I want to go out while I still enjoy riding and am still relatively at the top."
His wife Chanelle said: "It's a decision he's battled with very much, some days he's at peace with it and some days he's sad. It will be great for him to go out on a high and hopefully we will get him out in one piece."
She went on: "It's a very big decision and a decision like that he has to live with, so he has to make it himself.
"He knew my preference for him to retire at the end of the season, but I never pushed him. He's very much his own man and he makes up his own mind."
Richard Johnson has long had to play second-fiddle to McCoy in the jockeys' championship, and he said: "It wasn't the biggest shock in the world I suppose, but it's more set in concrete now.
"There'll be a few people relieved and will have a few more chances, but it's a great loss to lose him from the weighing room.
"We all know we'll get to that point sometime. It will be an even bigger shock after Sandown (end of the season) I suppose, but I'm sure we'll still see him around the racecourse and his achievements will live on for a long time."
McCoy said he will "really miss" riding when he retires at the end of the season, adding: "Time waits for no man, so it's not going to wait for me."
He explained that after speaking to McManus, he had called Roberts to the house for a meeting and talked things through. "I hadn't even told Chanelle at that stage," he said.
He went on to admit that he had nearly decided to quit last April, but had decided to wait and see if he could ride 300 horses this season.
"I probably, believe it or not, had actually spoke to JP about it in April, that it was a possible," he said. "I got a real thing about going out in a blaze of glory and I thought through the early part of the season that I was going to ride 300 winners.
"Then I got injured at Worcester and I went back riding a few days after having been in a lot of pain. That probably wasn't the brightest thing to do, but I thought I had to - if I was going to ride 300 winners, I thought I had to keep riding.
"That kind of broke my heart a little bit. I thought that I could ride 300 winners and the fact that was taken away broke my heart a little bit.
"It's emotional because I'm retiring from something I like doing. That's tough.
"I have been very lucky to have a great way of life for the last 25 years.
"It was something that was always in the back of my mind, I wanted to retire while I was champion jockey and I thought 20 championships was a good number. Time waits for no man in sport. It's not going to wait for me.
"I think all of the decisions in my life I have made myself, I'm lucky that I've had really good people to bounce things off.
"I think to become a jockey was the best decision I made. I've had a great way of life.
"My Mum and Dad have no idea, I think they wanted me to retire so I thought they'd get more satisfaction hearing about it on the television.
"I love riding and the thrill of it, it's what has challenged me for the last 25 years so I will miss it.
"I'll never find anything that will replace that buzz, but I'm aware in sport that you can't go on forever.
"There's so many people to thank - my mum and dad, the late Billy Rock, the late Toby Balding and his wife, Jim Bolger, JP and Noreen (McManus) have been fantastic.
"All the horses, the stable lads, all the ambulance drivers and the doctors that have picked me up so many times over the years.
"The lads in the weighing room who have been great colleagues, the lads that have driven me around the country and the valets that have looked after me every day.
"There's so many people for me to thank, and obviously Dave Roberts who has been with me from the day I've been here. A lot of people have made it possible."
Watch Sporting Heroes: AP McCoy on Sky Sports 2 at 5pm on Sunday.
AP McCoy Facts & Figures
Champion jockey: 1995-6, 1996-7, 1997-8, 1998-9, 1999-2000, 2000-1, 2001-2, 2002-3, 2003-4, 2004-5, 2005-6, 2006-7, 2007-8, 2008-9, 2009-10, 2010-11, 2011-12, 2012-13, 2013-14
Best season: 289 winners in 2001-2
1,000th winner: Majadou, Cheltenham, December 11, 1999.
2,000th winner: Magical Bailiwick, Wincanton, January 17, 2004.
3,000th winner over jumps in Britain and Ireland: Restless D'Artaix, Plumpton, February 9, 2009.
4,000th winner over jumps in Britain and Ireland: Mountain Tunes, Towcester, November 7, 2013.
Champion Hurdle winners: Make A Stand 1997, Brave Inca 2006, Binocular 2010.
Cheltenham Gold Cup winner: Mr Mulligan 1997, Synchronised 2012
Champion Chase winner: Edredon Bleu 2000.
King George VI Chase winner: Best Mate 2002.
Grand National winner: Don't Push It 2010.
:: McCoy started working with horses at the age of 13, working full-time from leaving school at 15. His weight rocketed after some time off with a broken leg following a fall whilst employed at Jim Bolger's and this was the deciding factor which drove McCoy from Flat to jumps racing.
:: McCoy's riding injuries have included: broken middle and lower vertebrae, both shoulder blades, both collarbones, ribs, ankle, cheekbones, wrist, ankle and leg plus a dislocated thumb and chipped teeth.
:: It took McCoy 15 attempts before sealing an elusive first victory in the Grand National aboard the gambled-on Don't Push It in 2010. Bookmakers recorded a loss of around £50million on the race.
:: McCoy has been the retained jockey for owner JP McManus for 10 years.
:: In 2003 McCoy was awarded an MBE in the Queen's Birthday Honours and an OBE in 2010.
:: He became BBC Sports Personality of the Year in 2010, beating Phil Taylor and Jessica Ennis-Hill to the coveted trophy. It was the first time a jockey had been awarded the honour.
:: His first novel 'Taking the Fall' was published in November 2013 by Orion. Its central character is Duncan Claymore, a super-talented conditional jockey who is nonetheless struggling.
:: AP spends at least two hours a day and six days a week sweating in the bath or sauna (equivalent of 1.3 years of his life). On average AP sweats off 2-4Ib per session.
:: McCoy was crowned champion conditional jockey at 21 after riding 74 winners in the 1994/1995 season, when attached to the yard of trainer Toby Balding.
:: McCoy has been crowned champion jockey 19 times.
:: McCoy was 17 when riding his first winner, Legal Steps, to victory for Jim Bolger at Thurles in 1992.
:: McCoy rode his first winner in England aboard the Gordon Edwards-trained Chickabiddy at Exeter on September 7, 1994.