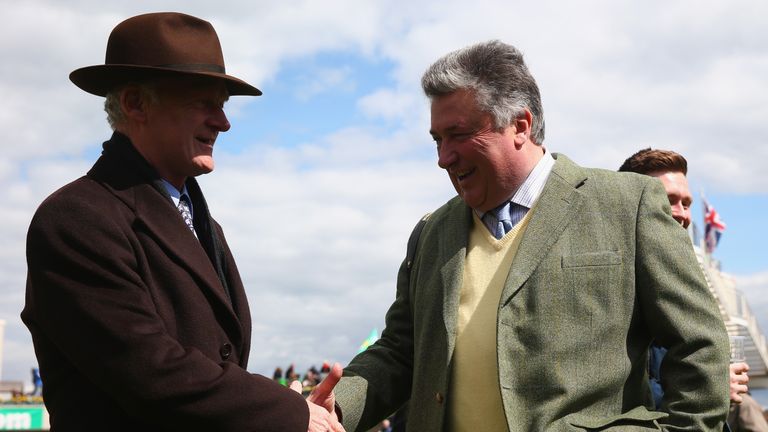 Paul Nicholls retained his champion trainer title after saddling the second and the fourth in the bet365 Gold Cup.
Final standings
Paul Nicholls - £2,439,559 
Willie Mullins - £2,341,734
1805pm: Willie Mullins does get his Sandown win, but it's all too little too late. McKinley wins the last race of the UK jumps season, pocketing his handler £18,768 and that will pay for the Vroum Vroum Mag fine and some.
1740pm: A sixth place for Some Buckle in the 5.20 gets another £348 in the kitty for Nicholls ahead of the final race.
Back to Vroum Vroum Mag and the title. Here's the thoughts of Mullins: "We came over here to win the championship and we have had a fantastic reception. In the light of the Bet365 Gold Cup we can't win the championship and we are taking Vroum Vroum Mag home and she has a valuable couple of races to run in at Punchestown.
"She was only here for the championship and Mr (Rich) Ricci very kindly let me bring her over to run in a race of much less value. Now we will do what we were aiming to do all winter. I will probably get fined - there's no such thing as a free lunch.
"We have had a fantastic year. I'm just sorry for punters who came to see Vroum Vroum Mag. But the championship was over and we had to take a different view."
The stewards took a dim view of Vroum Vroum Mag being taken out, fining Mullins £1,000 and ruling he had "shown a wilful disregard for the interests of racegoers and punters".
1700pm: The bandwagon for Nicholls rolled on with Ptit Zig taking full advantage of Vroum Vroum Mag's late defection to pocket another £28,475. For good measure, stablemate Silsol was second (£10,685) and also San Benedeto fifth (£1,340). So what started as a £53,000 plus lead can now be counted at a whopping £116,245.04.
1650pm: More from a jubilant Nicholls: "Tom (Jonason, assistant) is leaving today and he didn't want to leave with us getting beaten.
"It's great for the whole team, everybody involved - it's not about me. It's a big team effort, always has been, always will be.
"It's been a tough season for lots of reasons, we had a bit of a flat spot and all sorts of gossip and rumours that things weren't right, but you have to dig deep and keep going.
"We've just kept trying to win as many races as we can. If you get in a position to do so, then great."
He went on: "It's been brilliant. I thought we had no chance after Aintree and I knew Willie would dig deep and keep finding plenty to run and we needed a few miracles. Vicente in the Scottish National last week gave us a big day and the others have been running well.
"The first one was special and this one is far and away the best, probably, we've had to fight and you don't want to give it up easily.
"When Kauto Star and Master Minded were winning, you'd win the trainers' championship by Christmas. Those horses carry you and possibly it doesn't have that much interest then, but the interest from the public and racing people in this has been good.
"There's been a lot of pressure for all of us, but hopefully it's been good for racing to get more interest in it.
"Willie is a fantastic trainer with fantastic horses, I have huge respect for him."
1640pm: Maybe the gap won't change too much - Vroum Vroum Mag has been taken out of the Select Hurdle.
1639pm: More money to be played for and the margin is likely to change, but after the efforts of Just A Par and Southfield Theatre (fourth, earning £7950), Nicholls took firm control by £75,745.04 and that's unassailable. Congratulations to all involved, in both camps.
1635pm: Precise details of winning margin to come later, but £31,800 picked up by Just A Par for his second to The Young Master means it's all over - Nicholls is confirmed as champion trainer once more. Swift bit of reaction from the Ditcheat maestro: "To get Just A Par back from where he finished in the National (15th) - Harry (Cobden) gave him an awesome ride. That's been the toughest one because of the ammunition we've had. It's been a big team effort. It's been brilliant for racing."
1623pm: And PAUL NICHOLLS is Champion Trainer! He's just beaten in the bet365 Gold Cup as The Young Master beats Just A Par, but with that second place and Southfield Theatre's fourth he can't be caught now.
350pm: Wow. That was sensational by Sprinter Sacre. Un De Sceaux second and Dodging Bullets third, but really the winner was in another parish. After some totting up, Mullins now trails by £35,995.04, so it's still all to play for as Mullins can still look forward to Vroum Vroum Mag. But before that it's the big one of the day, the bet365 Gold Cup. Nicholls is represented by Southfield Theatre and Just A Par. Mullins needs big efforts from Sir Des Champs and Measureofmydreams.
325pm: Sounds like Mullins might have thought that was the one, too: "It would have been nice to win, but we didn't. We'll have to wait and see." Could be a game changer next - the bet365 Celebration Chase (£125,000). Nicholls going with former two-mile king Dodging Bullets plus Solar Impulse and Ulck Du Lin. Mullins sends Un De Sceaux into battle - but Cheltenham conqueror Sprinter Sacre looms large.
315pm: Another thriller - and another race without a Nicholls/Mullins winner. Mullins comes closest as Valseur Lido just finds old stager Menorah too strong - ridden appropriately by newly-crowned champion jockey Richard Johnson. With placed horses for both trainers, it's a net gain of £4,665 for the Irish champion. But that might have been a big chance gone. Regardless, bringing the pennies into play, the gap is now down to £44,307.54.
240pm: Next up is the bet365 Oaksey Chase, worth a total of £50,000. For Nicholls it's Saphir Du Rheu, Rocky Creek and Wonderful Charm. Mullins has Valseur Lido and Ballycasey. The testing nature of Sandown might play to the strengths of Valseur Lido and he looks well treated by the conditions of the race. First prize is £28,475.
235pm: If that's a sign of things to come it will be exciting - no winner for the big two as Wolf Of Windlesham takes top spot, but he's flanked on either side by Tommy Silver and Voix Du Reve.
Voix Du Reve gets the nod for second, picking up £9,240, with Tommy Silver third for £4,620.
That makes it a reduced lead of £48,972 for Nicholls. Game on?
2pm: The battle for the National Hunt trainers' championship has come right down to the final afternoon of the season at Sandown, with Paul Nicholls (£2,329,252) holding an advantage of £53,592 over Willie Mullins (£2,275,660).
The latter is bidding to become the first Irish-based trainer since the great Vincent O'Brien in 1953-4 to lift the British title and has a host of major chances, although he might need them all to win.
Getting things under way at 2.20 is the bet365 Juvenile Handicap Hurdle, worth £50,000 and in which Nicholls fields Tommy Silver and Mullins calls on Voix Du Reve, who looked sure to go close when coming to grief at the final flight in the Fred Winter at Cheltenham.
                       The final total for Nicholls stood at #2,439,560.26 to Mullins on #2,341,735.22 - meaning the margin of victory ended at #97,825.04.Shall we do it all again next year, gents?