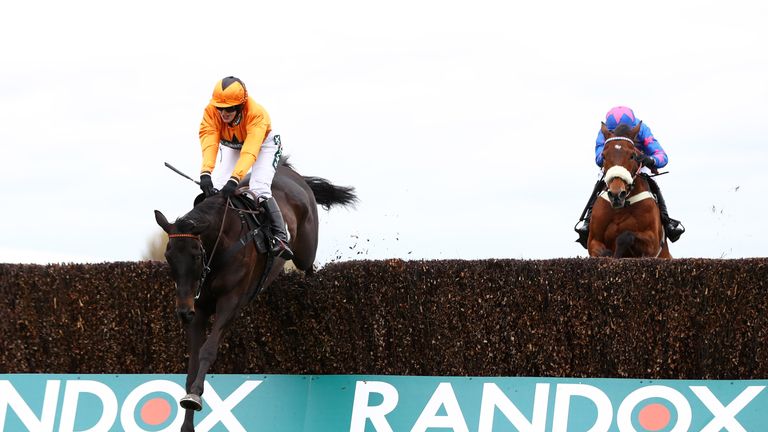 Tea For Two atoned for his early departure from the Cheltenham Gold Cup after bouncing back to winning ways in the Betway Bowl Chase.
After unshipping Lizzie Kelly at the second fence in the blue riband event at the Festival, the eight-year-old produced a career-best display to take top honours in the Grade One feature on the first day of the Grand National meeting at Aintree.
Content to bide her time in the early stages of the race, which were dominated by Bristol De Mai and Silviniaco Conti, Kelly gradually moved her mount into a challenging position as the contest developed.
But just like 12 months ago it looked like Cue Card would claim the spoils having fallen in the Gold Cup on his previous start, after opening up a lead over the fourth-last with a bold leap.
That advantage was soon closed down by the Nick Williams-trained 10-1 winner with little to separate the pair over the penultimate fence in the three-mile-one prize.
It was on the run down the last that the younger legs of Tea For Two asserted and after meeting the final fence on a good stride, Kelly kept her willing partner up to the task to defeat the rallying Cue Card by a fast-diminishing neck.
Kelly said: "That was fantastic. We were quietly confident going into the Gold Cup when our dreams were taken away from us.
"He's a horse that has produced time and time again for me and my family, everyone else puts in more work than I do but I get the opportunity to ride him. He was a dream ride."
She added: "This means more than winning the Grade One at Kempton on him, I didn't really appreciate that at the time but this is special."
She went on: "We didn't let on how confident we were coming here today, we were always more confident about him handling this better than Cheltenham because he's done all his winning on flat tracks.
"To start off with I wasn't happy as I didn't feel he was travelling, but then he started to pull my arms out so I took him back.
"My jockey coach Rodi (Greene) had told me how long the run-in was and I ran the track and we agreed on that.
"I got to Cue Card and we were half a length down when realistically I wanted to be half a length up because I didn't think his jumping would stick with Tea's. My lad was brave at the last, I didn't ask him he did that himself.
"It's fantastic for the yard, I missed our winner at Cheltenham this year but I've had my reward today.
"My mum deals with him on a day-to-day basis. It was hard what hapenned in the Gold Cup after all the build up and he has been different at home.
"She said to me she didn't know what I'd find today, he'd had a long season, but she's done a lot of hard work with him.
"Next year's Gold Cup dream is still alive."
Assistant trainer Jane Williams, Kelly's mother, said: "I spent three-quarters of the race in the car park, trying to hide.
"Obviously we had such a disappointment at Cheltenham. I felt I had him absolutely spot-on that day and we were expecting a big run, so you can imagine how we felt.
"I always feel you have to enjoy the journey, so I don't mind the press coverage, but it was so hard when you're expecting a big run to come crashing down at the second fence.
"Obviously Lizzie fell on her head and had a bad fall. The horse was fine, but mentally you want to go home and give up. We had a quiet couple of days.
"We scraped ourselves off the floor after that and it was 50-50 whether I came here today because I sort of felt he'd done enough.
"But he's been doing a bit of dressage and has been really well and very flamboyant, so we thought we'd give it a shout.
"Today was a Grade One and not just a Grade One novice. You're taking on the best and we've beaten them.
"You'd have to say the horse was brave as he had to dig very deep.
"Lizzie has done a lot of work with the horse and it's a massive family effort. This is for everybody."
Cue Card's assistant trainer Joe Tizzard scotched any retirement talk for the 11-year-old.
"Absolutely not," he said. "He's won two Grade Ones this season and been beaten a neck in another.
"I think that is up there with one of his best runs, there was not much between them in the King George and there wasn't again.
"I think that will be it for this season and we'll come back at Haydock (Betfair Chase) next season."