Racing Expert & Columnist
Alex Hammond: Power couple
Last Updated: 04/05/17 9:45pm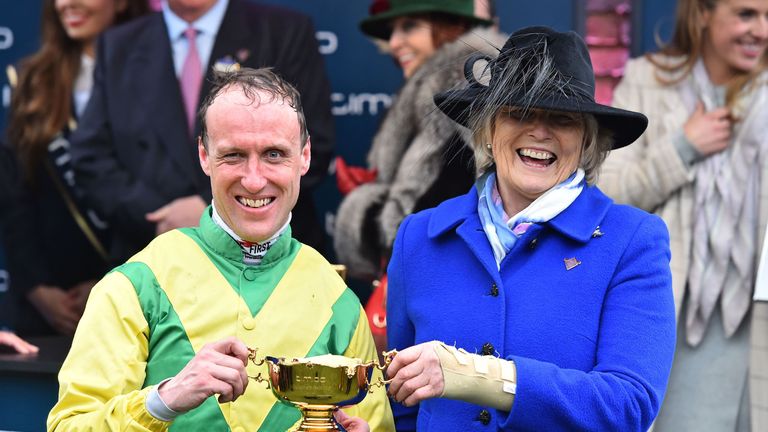 Find out who our racing guru Alex Hammond fancies for this weekend's QIPCO 2000 and 1000 Guineas at Newmarket!
The National Hunt season ended with an appropriately thrilling feature race at Sandown, but what was your race of the season and why?
It was a real rollercoaster of a season with the usual mix of highs and lows.
We were treated to a final furlong battle in both the UK and Ireland for their respective trainers' championships and it was hats off to Willie Mullins for pulling off the great escapeafter a dramatic week at Punchestown and to Nicky Henderson for hanging onto his slender lead with Paul Nicholls throwing everything him.
Richard Johnson continues to be the consummate professional with a well-deserved second jockeys' championship and Harry Cobden is incredibly young with the ambition and drive to continue to build on his conditional title.
As for my race of the season, it's hard to narrow it down to just one, but I think the win of Sizing John in the Timico Gold Cup at the Cheltenham festival will be one I remember for some time.
In the months running up to the race (which is my favourite of the year bar none) so many of the horses who looked set to be key players were ruled out. Poor old Many Clouds was no longer around, Thistlecrack sustained a tendon injury and 2015 winner Coneygree was already sidelined with a hairline fracture.
However, despite that, the race itself was epic - proof that while there are always some which work out better, there is no such thing as a bad Gold Cup in spectacle terms.
There were doubts surrounding Sizing John's stamina for the trip combined with the hill at Prestbury Park, but he stormed up it to beat Minella Rocco and Native River in the hands of Robbie Power, who has grasped the opportunity handed to him when he was appointed jockey to Ann and Alan Potts.
In the process Jessica Harrington became one of the most successful female trainers at the Cheltenham Festival. Oh, and I backed him!
Harrington and Power haven't had a bad season have they? Given a fair wind and following seas the staying chase division should be a vintage one next season.
Sizing John should be even better with another summer on his back as he is still only seven; Thistlecrack will hopefully be back by Christmas, let's hope Coneygree stays sound and Native River is another serious talent for the Tizzards.
Add to that the exciting young horses coming through the ranks like Our Duke, who made light work of winning the Irish National and will be one of the biggest threats to stablemate Sizing John.
Might Bite is an enigma but a talented one, the same comments apply to Yorkhill and then there's the small matter of Douvan, who will hopefully come back from injury and could step up in trip.
I know we are accused of focusing on the Cheltenham Festival well in advance of the meeting, but that lot will keep me going nicely throughout the summer, along with the memory of a sensational Gold Cup.
The late Many Clouds was named Jumps Horse of the Year. Did he get your vote and which others would've been worthy winners?
He sure did! I know it's easy to give a horse the sympathy vote in the circumstances, but Clouds really did deserve it for his achievements on the track and also for what he has done for the image of our great sport.
I was stunned when I heard he had collapsed and died after beating Thistlecrack in the Cotswold Chase and the very least we can do is honour this great horse with an accolade he richly deserves.
Many Clouds epitomised what a racehorse should be. He was a true warrior who gave more than he had to give on the track and was a real gentleman off it.
I was lucky enough to visit him at Oliver Sherwood's stables just a few weeks before his untimely death and had brought him some apples as a treat. Such was the care and attention given to him, that his devoted lad CJ made sure the stalks were removed from the apple before he was offered them.
The team at Sherwood's yard are a great bunch to be around and his trainer was dignified and gracious after the race that was to be the Grand National winner's last.
No one ever deserves something like that to happen, but for it to happen to a yard as warm and welcoming as theirs was a particularly cruel blow. As I voted for him, I feel he was the most worthy winner, so that probably answers your question.
There were any number of breakout stars during the National Hunt season. Can you give us a trainer and a jockey who've impressed you and should be watched closely in the future?
As for a new name then it's hard to ignore the newest kid soon to be on the block.
Gordon Elliott has had phenomenal success in his relatively short career and we will see if he shares his wisdom with employees as former assistant Olly Murphy has left the yard to take out a licence of his own after four years with Elliott.
It must be very tempting to stay with a yard so successful given the incredible talent there, but assistant trainers are in the best position to learn about the job, whilst harnessing their own ambitions and making valuable contacts.
Just look at Harry Fry and Dan Skelton, both former pupils of Paul Nicholls and now snapping the heels of their one-time boss.
Murphy won't be staying in Ireland, which seems a sensible move as some of the more successful trainers there have been forced to hand in their licences recently.
Instead he will be moving to the UK to set up in Warwickshire on the estate where his mother is based. Olly has a great racing pedigree and a good grounding in the sport. He is the son of trainer Anabel (King) and bloodstock agent Aidan Murphy and has worked for Alan King prior to becoming assistant to Elliott.
He has also ridden winners between the flags and under rules. If he can't make an impact then I'm not sure who can. Good luck to him.
As for a jockey to follow well I'm not unearthing any great secrets in mentioning Harry Cobden again.
The teenager really seems to have his head screwed on, as was demonstrated when I read that he had ploughed (almost literally) his earnings as a jockey into buying cattle and some agricultural land.
He is clearly ambitious and seems wise beyond his years (or he has great advisors - I'm not sure which!) and he can continue to make his mark given his premature success.
Moving onto the Flat and this weekend's QIPCO 2000 Guineas. Are you with or against Churchill?
I'm against him because I'm going to stick to the courage of my convictions and go with Barney Roy.
As I've mentioned a couple of times here, Richard Hannon's colt was my horse to follow for the season and so far so good after his win in the Greenham on his return to action.
It's now time to see if the faith his trainer has in him is justified as he takes on the might of Aidan O'Brien and Churchill. It won't be an easy task as Churchill is an absolute monster, the only doubt being we haven't seen him this season, but I don't seriously expect there to be anything to worry about.
Churchill is short enough in the betting though and as I result I'm happy to stick with the Hannon-trained colt ahead of what should be a humdinger of a race for the first Classic of the season.
Whatever Barney Roy does on Saturday I think he'll be even better when he steps up beyond a mile, so bear that in mind when you watch the race, but at the prices he gets my vote to show he has the class and speed for this test.
And finally to Sunday and the QIPCO 1000 Guineas. What's your take on the race?
I'm not going to be brave enough to take on O'Brien in this one and it's Rhododendron for me in the fillies' Classic (2/1 favourite with Sky Bet).
I think the race looks very competitive though and if the favourite's price doesn't appeal, then Fair Eva could be one to side with at 6/1.
Both fillies should have productive seasons with Rhododendron showing the best form as a juvenile, which culminated with her win in the Fillies' Mile over this course and distance.
Fair Eva is a daughter of the mighty Frankel and steps up to a mile for the first time on her seasonal debut. She hails from Roger Charlton's in-form Beckhampton stables and still has lots of improvement in her.
I was a fan of Rhododendron last year though and I'm sticking with her for the time being. It's worth remembering that O'Brien brought Minding into this race last season without a prep run and I doubt this filly will be any the worse for starting her season at Newmarket.