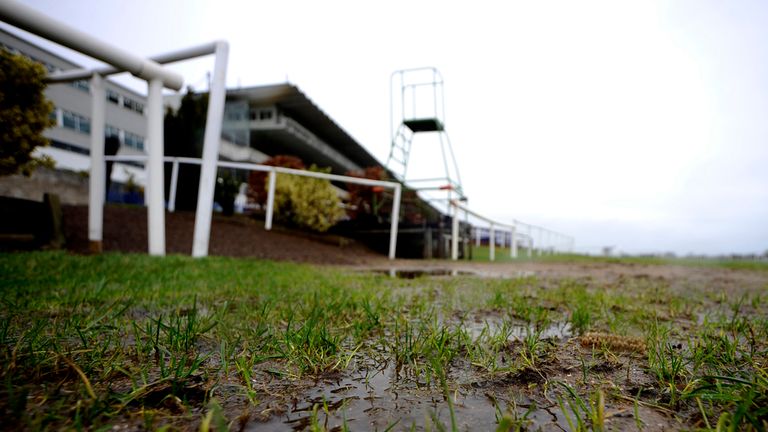 Lingfield's racing programme on Friday has been abandoned because of a waterlogged track.
Standing water on areas of the turf circuit left the situation untenable when clerk of the course George Hill staged an inspection on Wednesday morning.
Lingfield had sustained 65 millimetres of rainfall since Boxing Day, but that was exacerbated by a further five millimetres of overnight rain.
A statement issued by Lingfield's executive read: "More rain forecast tomorrow and Friday morning. There is no prospect of sufficient improvement for racing to go ahead on Friday."
Officials at Chepstow remain optimistic the rearranged Coral Welsh Grand National meeting will beat the weather on Saturday.The original fixture was abandoned due to waterlogging last week and though more rain has battered the course, it was raceable on Wednesday."We've got very strong winds and that could be a benefit to us," said clerk of the course Keith Ottesen."We had plenty of rain last night but it stopped and actually the wind is drying it out tarmac that hadn't been dry for a few days so it's going to have a similar effect on the track as well."I'm not saying it's going to dry out but it's going to have a marginally good, effect though we wouldn't want much more rain."From yesterday morning to midnight we had 14mm. We had 3mm in the morning and another 11mm yesterday evening which was quite a bit heavier than we thought, but, miraculously, we could race if it was today."It's very heavy (ground) but we're still in with a chance."It's dry today, another band of rain Thursday morning from 3am to 8am, but not a massive amount. More or less dry the rest of Thursday, showery on Friday, once again not enormous amounts and hopefully dry on Saturday."We remain very hopeful and positive."Cork, where racing is scheduled for Saturday, escaped the grip of Storm Eleanor.Maurice O'Brien, track foreman at Cork, explained the storm had passed north of them and their meeting was not placed in any doubt."We've had no structural damage of any form," he said."The worst of it was to the west and north of us so we've escaped."The going is now soft to heavy on both tracks following six millimetres of rain.