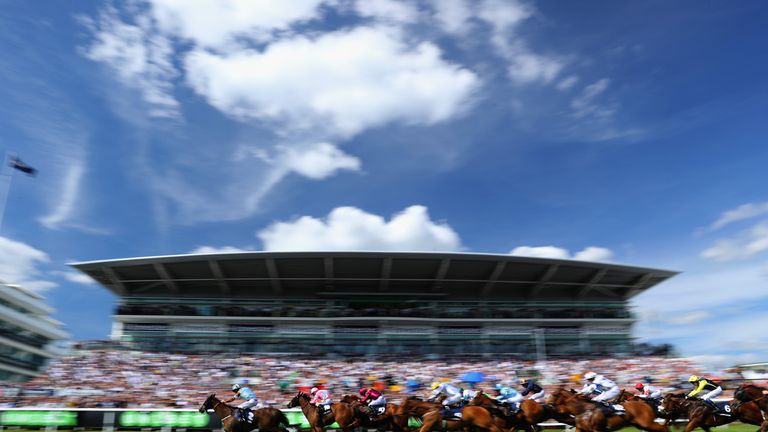 Championship Horse Racing have announced the introduction of a series of races to take place across eight racecourses in Britain and Ireland.
The dynamic new addition to the Flat racing calendar will see branded teams compete in 48 races, with each worth more than £100,000 in prize money.
The eight racecourses set to stage 'The Series' include Epsom, Goodwood, Newbury, Newmarket (July Course) and Leopardstown. Ayr, Haydock and Sandown are the other tracks set to take part.
The fixtures are proposed to take place on eight consecutive Thursday evenings between July 25 and September 12 of next year. The meetings will be additional to to the British fixture list and require approval from the British Horseracing Authority.
Jeremy Wray, chief executive of Championship Horse Racing, said: "Agreeing the likely racecourse schedule is a key milestone for CHR. Over the next few months we'll be announcing the teams and the media partners who will broadcast The Series across the world.
"We're thrilled that The Series is due to take place at such prestigious courses and that it will debut in three countries.
"They are great locations and have superb facilities for summer evening racing that promises fans something they've never experienced before. Fans will be encouraged to engage with the teams and our aim is to help tell the stories about the tens of thousands of people involved in the sport."
Simon Bazalgette, Group Chief Executive of The Jockey Club and Chairman of Jockey Club Racecourses, which are set to stage four of the eight fixtures in The Series, said: "We're delighted to support The Series. There are some fantastic people behind the horses in our sport and it would be brilliant to shine a light on them through this new initiative, while attracting new partners to our sport."
Each team set to take part in The Series will comprise a racing manager, four jockeys and a squad of 30 horses.
Leopardstown chief executive Pat Keogh described it as "very innovative" and is looking forward to getting to the detail to make it all possible.
He said: "It's very exciting. We've been talking about this for some time. It's very innovative.
"They talk about the similarities to Formula One and I think there are a lot of them. In Formula One you see the best cars going all over the world to different countries and that's what we have in horse racing.
"I think the whole idea to compete against each other at a number of racecourses over the summer is very exciting. We are delighted to be involved in it.
"There's a good bit to be agreed but the prize money, there's £600,000 prize money for each meeting. That's very attractive from the owners' point view, so we take something like this very seriously.
"I sincerely hope the racing fans get would behind it and the prospect of seeing teams competing against each other. I think it could be very exciting, but there's a lot of work still to be done on this."
Leopardstown should be able to accommodate the new series as they hold several Thursday evening meetings during the scheduled period proposed for the new series.
"Assuming it happens, it would be on one of our Thursday nights in the summer," said Keogh.
"For this to happen it would have to involve arrangements we have with existing sponsors and other things, including the calendar. We've already had discussions with all the interested parties and everyone sees this an opportunity too good to turn down.
"There's a lot of work still to be done, but you can rest assured we will be doing everything possible. Irish racing is fairly good like that. When there is something good, all the interested parties rally round.
"Horse Racing Ireland are normally very good in terms of trying to support new initiatives that are good and in the better interests of the sport."
John Dance, whose filly Laurens was one of the stars of the Flat season, has to be convinced about its appeal from an owner's point of view. He would like to see more details on how it would work as an attractive proposition apart from the obvious carrot of decent prize money.
He said: "The prize money is essentially good, and I always say horses need to pay their own way in prize money and this is potentially another opportunity to do that, but I don't know a lot of the details of how this works.
"Prize money aside, it feels from an owner's perspective that it's like being a football club - you buy all the players, pay their wages and then watch them play for someone else.
"Other than the chance to win some prize money, I don't know if there are any other incentives for owners.
"Whether you're in a syndicate or own your own horses, do you want to see them run in someone else's colours?
"From an owner's perspective, I'm not convinced it's going to work."
However, Dance would not be surprised if the racing public took to it.
"If it does work and they do get the horses and get the support, then I wouldn't rule it out working as a concept to attract an audience," he said.
"I would imagine the races in this series are going to be for decent horses, which Laurens and maybe Cosmic Law aside, maybe I won't have any horses for it.
"We need to know a bit more detail about the owners' side for sure. As an owner, I'm not licking my lips to watch my horses run in someone else's colours all summer.
"The Shergar Cup is a bit different. It's a one-off and I guess it's jockeys representing their countries."