Gordon Elliott has been handed a year-long ban by the Irish Horse Racing Regulatory Board, the final six months of which have been suspended, after an investigation into a photo of him sitting on a dead horse.
In a statement issued late on Sunday evening, Elliott confirmed the image was genuine and apologised "profoundly for any offence that this photo has caused", while seeking to explain what he said was the "context" of events that led to the picture.
The image was roundly condemned by racing authorities in Britain and Ireland, with the IHRB announcing an immediate investigation and the British Horseracing Authority issuing a temporary suspension on Elliott's runners until its conclusion.
On Tuesday, leading owners Cheveley Park Stud removed their horses from Elliott, with the unbeaten Envoi Allen one of those to join Henry de Bromhead.
In addition to the suspension, Elliott was also ordered to pay costs of 15,000 euros.
Delivering its verdict, a statement from the IHRB referrals committee said in its view "there is also a sinister aspect to this case. The committee are satisfied that the publication of this photograph is part of a concerted attack on Mr Elliott, the full circumstances of which are unknown".
"This has been canvassed not for the purposes of defence or absolution but in order to explain the publication of a photograph that has existed since 2019."
In considering sanctions, it said "the committee recognises that the sanction must be arrived at taking into account all of the circumstances, and the aggravating and mitigating factors including Mr Elliott's personal circumstances, in order to achieve a proportionate result".
The IHRB said Elliott had "expressed what we believe to be a genuine remorse and accepts that he is unlikely to forget this episode in his life", with the committee adding it believed he "genuinely accepts that he was extraordinarily foolish to participate in the way he did".
It added: "Whilst the incident in question was unforgivable, it was, nonetheless, an event which took place without deliberation or forethought over a time period of some seconds. There was a pointed absence of common sense."
BHA to 'reciprocate' ban in Great Britain
The Britsh Horse Racing Association were pleased by the 'swift' action of the IHRB and said the ban would be reciprocated in Great Britain.
It means horses under Elliott's name will not be able to run at the Cheltenham Festival or Grand National Festival, unless they are "transferred directly to other licensed trainers prior to March 9" when the ban begins.
"We welcome the fact that the Irish authorities have acted swiftly," the statement read.
"The suspension will be reciprocated here in Great Britain. The existing restriction on Mr Elliott having runners in Great Britain will stay in place until the suspension takes effect on 9 March.

"The IHRB Referrals Committee pointed to the fact that the photo showed appalling bad taste and demonstrates a complete absence of respect for the horse. We endorse these comments, and the view that respect is an integral and essential part of the duty of those in charge of animals."
'I promise to never again disrespect a horse living or dead'
After the IHRB delivered its verdict on Friday, Elliot released a statement accepting his sanction and promising to "never again disrespect a horse, living or dead".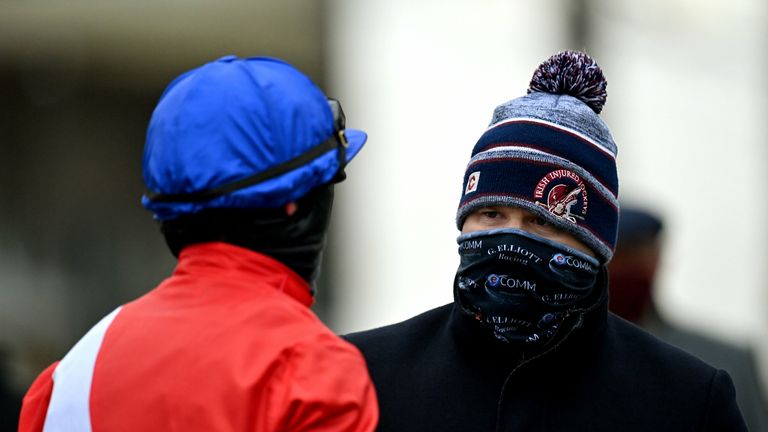 "I am in this situation by my own action, and I am not going to dodge away from this," the statement posted on his Twitter account read.
"With my position in the sport I have great privileges and great responsibility. I did not live up to that responsibility.
"I am no longer the teenage boy who first rode a horse at Tony Martin's 30 years ago. I am an adult with obligations and a position in a sport I have loved since I first saw horses race.
"I am paying a very heavy price for my error, but I have no complaints. It breaks my heart to see the hurt I have caused to my colleagues, family, friends and supporters. I have a long road ahead of me, but I will serve my time and then build back better."
'Sanctions probably about right'
Trainer Jamie Osborne believes the IHRB sanctions are "probably about right" but also added that Elliott's punishments may "outweigh" the crime he committed.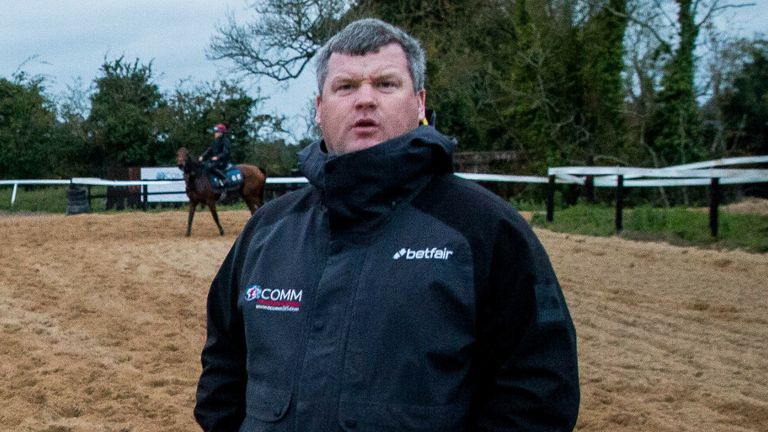 "I think it's probably about right and I think it's probably what a lot of people predicted." he told Sky Sports News.
"In my mind Gordon has paid an enormous price already. It's a difficult one, it depends how deeply we're going to talk about this.
"We need to be balanced about it and there is absolutely no excuse for Gordon's actions but I can't help thinking that to a degree the punishment has already outweighed the crime."
Asked whether he thinks Elliott's business can recover, Osborne added: "This has given it a chance to recover.
"It's clearly had a proper battering but if he can resume normal procedure in six months' time, so next season he can operate normally, then yes, it's got a chance of recovering."
'Authorities left with no choice'
Former jockey Mick Fitzgerald says the authorities were left with "no choice" but to suspend Elliott and that it's important for the sport to address its image with the wider public.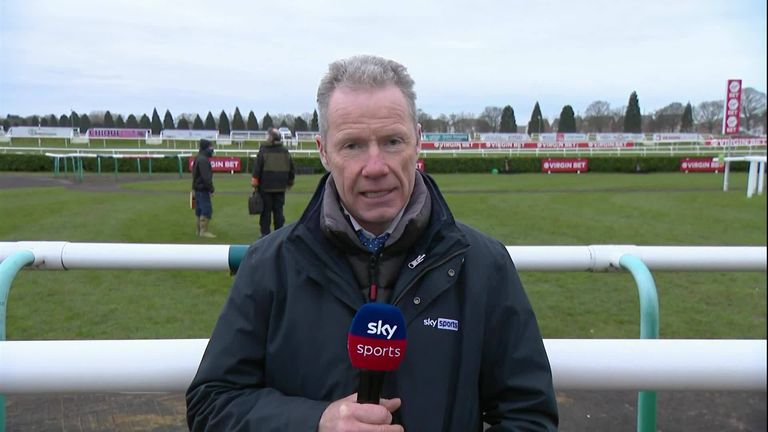 "I know Gordon Elliott and I have never ever heard a single person say that he has been cruel to any of the horses in his care, and it was horrible to see that," Fitzgerald told Sky Sports.
"It's been horrible to see him being put through the mill all week, but that picture is very hard to get away from and I don't think they had any choice but to give him a suspension because we have to send a signal out to people that this is not how we roll.
"I was down with (trainer) Paul Nicholls yesterday and one of the things that he said was, 'look, anybody who is not keen on horse racing or who thinks it's anything else other than for the love of the horse, please come down to my yard, please spend a day here, spend a week here, see how well treated these horses are.'
"That is the message that we need to get across to everybody in the great wide world. These horses get five-star accommodation and they are looked after like the athletes that they are, and we need people to understand that.
"The last thing that I wanted to see was people that horse racing is all about that picture - it isn't about that picture."