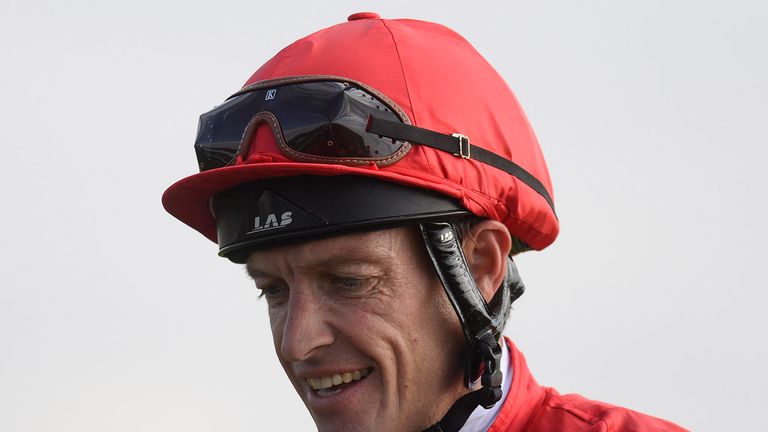 Sky Bet are paying out on Richard Hughes being crowned champion jockey after it was confirmed Ryan Moore won't be riding again this season.
Hughes has been chasing Ryan Moore's tail for much of the campaign but has stamped his authority on the challenge in recent weeks, often riding at two meetings a day in an insatiable quest for winners.
Moore stated some time ago he would not be very active in Britain during the last few weeks of the season, instead preferring to concentrate his efforts on the major prizes around the world.
His agent, Tony Hind, who also looks after Hughes, confirmed Moore would not be riding again in Britain this season after he missed two rides at Lingfield on Tuesday due to illness.
Hughes suffered a delayed start after a fall at Meydan on Dubai World Cup night ruled him out of the opening weeks of the season.
The 41-year-old jockey admitted any notion of catching Moore was inconceivable earlier in the year.
"I wouldn't say I've been battling with Ryan, but it still feels sweet after the doctor told me I could be out for months when I was injured in Dubai,'' Hughes told Press Association Sport.
"Because of that, I started a month behind everyone else and I didn't think I'd be able to catch Ryan.
"Winning this obviously means more to me than Ryan but it still feels sweet, especially winning it for a third time.
"There have been so many good days this year but if I had to pick one out I'd say Toronado coming back and winning first time out at Royal Ascot was very sweet. That was a great training performance.
"In general, we've had a great year.
"Tony does a great job with the both of us and I think we bounce of each other great, but it helps massively that I have a very powerful stable behind me.''
Hughes is stable jockey for champion trainer Richard Hannon jnr, his brother-in-law, who took over from his father, Richard, at the start of the year.
The jockey said: "It's been a great first year for Richard.
"It could have been very hard for him to step into Richard snr's shoes but for him to be champion as well makes it a great year.
"The stable has evolved more than changed, I think, and the team there do a fantastic job.''
Moore's attention will now be solely focussed upon winning big races in Australia, America and the Far East.
He was in Canada riding Hillstar to victory in the Canadian International on Sunday, barely 24 hours after taking part in Champions Day at Ascot.
Hind said: "He's going to Australia for the Cox Plate this weekend to ride Adelaide.
"After that it is on to America for the Breeders' Cup, back to Australia for the Melbourne Cup, and then there's the Japan and Hong Kong races.''
Sky Bet Racing PR Manager Michael Shinners said: "The momentum has been with Hughes for some time with Moore clearly not targeting the title as a priority.
"As he's sitting out the rest of the campaign there's no way he can close the gap so punters who backed Hughes can collect their winnings."