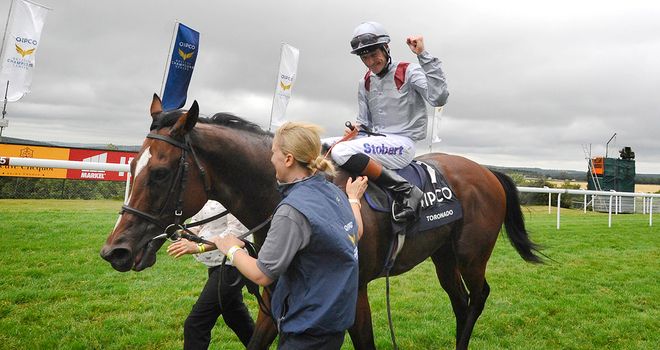 Toronado: Sussex Stakes winner
Toronado gained revenge over Dawn Approach with a fantastic success in the QIPCO Sussex Stakes at Glorious Goodwood.
Beaten by Jim Bolger's colt in the 2000 Guineas and the St James's Palace Stakes, Toronado made it 2-1 thanks to a thrilling late surge that saw him sweep by the Godolphin challenger.
Kevin Manning was hard at work on Dawn Approach long before Richard Hughes moved a muscle on Toronado, but the Guineas winner saw off the strong-travelling Declaration Of War and soon it really was a duel on the Downs.
It was soon a matter of if Richard Hughes was going to reel Dawn Approach in during the final furlong too, and he did, by half a length, the winning rider patting Toronado down the neck as they crossed the winning line.
Hughes said: "(That) was very sweet. Just when I kicked him in the belly, it wasn't as instant on that ground as it would have been on fast ground.
"It was a great race and he was very brave, he's brilliant.
"It was a true-run race and he was always travelling well but as I say, when I went to go it wasn't quite as instant as it was in the mornings."
Hannon said: "Revenge is sweet I suppose, but they are two great horses.
"Richard Hughes said the other morning when he worked him that he was the best he had ever ridden. We've had some good horses, but he's very good."
Hannon was asked if the QEII would be the next target and said "it could be" before dismissing the Breeders' Cup as an option.
Richard Hannon junior, assistant to his father, said: "We are delighted to have won one and the fact we didn't win the first two makes it that bit sweeter, I suppose.
"I don't think he quite picked up like we expected on the ground. Dawn Approach kept going after hitting the front, he's amazingly tough.
"What he does at home is clearly not normal, he's unbelievable.
"We were concerned about the ground as he's such a good-actioned horse and we thought it might not be in his favour, but we wouldn't change anything now.
"It's going to be a great episode if both go on to the QEII. Godolphin and John Ferguson were the first to come up and say 'well done'."
Bolger offered no excuses, conceding that Toronado was a deserved victor.
He said: "It was a top performance and we were just beaten by a better horse on the day.
"I'm not concerned about rematches. We still have to figure out where we go from here - whatever turns up, turns up.
"There are a couple of possibilities but time will tell all."