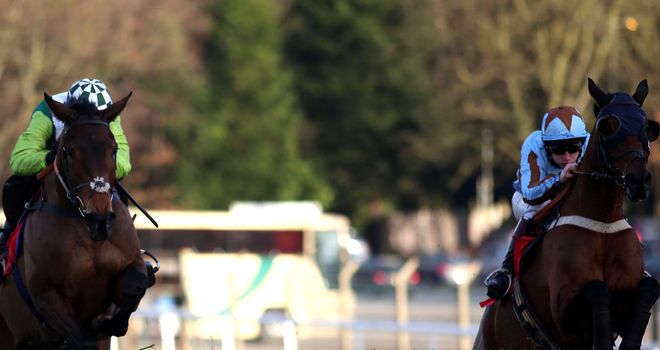 Vino Griego (right) was an impressive winner
Vino Griego produced a minor shock to turn over Rolling Aces and Harry Topper in the Future Stars Chase at Sandown at a price of 9/1.
Jamie Moore was happy to sit quiet throughout on Vino Griego, as Daryl Jacob and Rolling Aces took the field along at a steady gallop. Charlie Hall winner Harry Topper was messy at a number of fences and his jockey Jason Maguire was hard at work a long way from home, as Rolling Aces and Vino Griego began to make their move.
Jacob would have been happiest turning into the straight as his mount was jumping well and looked to be in control of the race. However, Moore was stalking the leader and closing in before he making a bad blunder at the second last.
The Gary Moore-trained gelding quickly recovered form that error and the pair jumped the last together before Vino Griego powered past Rolling Aces up the run-in to score by seven lengths, with a further seven back to Harry Topper in third.
Speaking after the race, Gary Moore said: "As he's got older maybe he has got slower, and looking at that you'd definitely say he got the three miles.
"I don't know what I am going to do with him now, I'll have to have a look, maybe there might be another of these somewhere."
The winning rider added: "I think it's the 28th time I've ridden the horse! He was quite impressive, we wanted to run him in a small race and it has worked out perfectly.
"The horse is a bit of coconut, he was schooling two days ago and smashed into a fence, but it's all worked out well."
Third-placed Harry Topper's trainer Kim Bailey said: "He's a soft ground horse, I knew coming here it would be good ground but I had to run him somewhere and I know now I can only run him where it is very soft."