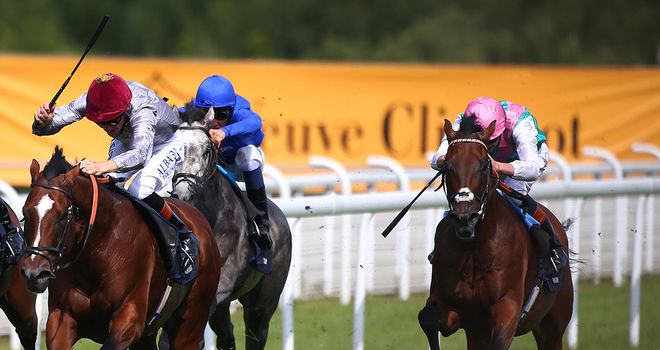 Kingman (far right): Took the Sussex Stakes with a fine burst of speed
John Gosden's grip on the top level of British Flat racing tightened even further as Kingman again showed stunning acceleration to prise Goodwood's Qipco Sussex Stakes away from Toronado.
Clarehaven Stables has unleashed a legitimate champion colt and filly in less than a week, as Kingman's victory over older horses followed just four days after Taghrooda managed the same in the King George VI & Queen Elizabeth Stakes.
Richard Hannon trails Gosden by half a million pounds in the trainers' championship and while the title rival's contender Toronado offered brave resistance, he was a sitting duck for 2/5 favourite Kingman off a slow pace once James Doyle had organised his mount approaching the final furlong.
Darwin was in no hurry to stretch the four runners, with Richard Hughes and Toronado (11/4) taking closer attention in an attempt to defend their crown.
With concerns about Kingman handling the lightning fast ground and the unusual track, both of which appeared to bear some significance when the winner changed his legs and was briefly stuck in neutral, Hughes sought to take advantage and struck for home before the distance.
It was the stars of the Queen Anne and the St James's Palace Stakes brought together in another incarnation of the 'Duel on the Downs', and while there was a length between them at the line, Kingman had clocked a staggering sectional time of 10.22 seconds between the two and the one-pole and at full steam he tore past in the final strides.
Gosden said: "It was a very tactical affair, rather like the Olympic cycling races when they go round the velodrome. They do nothing for ages and then they go mad.
"It was a clever ploy and for a furlong and a half we had to get on an even keel, but in the last furlong his class came through.
"He could see, he switched leads and then got rolling. It was a clever way to try to beat him but his class shone through.
"Actually he has the class to do it under hands and heels. It reminds me I had him in the July Cup and if truth be known, he would have won it.
"That's not me being loud-mouthed after the event because I feel it was a statement of fact. I ran a lovely horse called Gregorian, who was unlucky not to be second, and I wouldn't put them in the same bit of work.
"Is he as quick as his uncle (July Cup winner) Oasis Dream? They are both equally fast."
Looking ahead, Gosden said: "He's in the Prix Jacques Le Marois, which comes up pretty quick on August 17, but the QEII at Ascot has always been the big, big target, and we'll keep winding it back from there."
Owner Prince Khalid Abdullah chose to keep his previous superstar and Sussex winner, Frankel, in training at four, but no decisions have been made about Kingman.
"That's not my department," said Gosden. "I'm sure we'll all have lunch and discuss it in depth. It's up to the owner, but we know he's doing enough, and he's growing a lot.
"You are lucky to get two three-year-olds like this. Taghrooda has got bigger and stronger and he has done the same. It might never happen to me again, so you enjoy it."
Toronado's camp made no excuses, and Hughes said: "I hit the final two furlongs at full belt and I knew it would take a good one to get by me.
"I knew Kingman was brilliant the way he went by me (on Night Of Thunder) at Ascot. It was a different horse today, I got first run on him again off a slow pace and he has still beaten me."
Harry Herbert, representing Toronado's owner Al Shaqab Racing, said: "It was always going to be a muddling affair and the way it panned out was probably the only way were we ever going to beat Kingman.
"For a moment I thought it looked like we would, we quickened off a slow pace and got away coming down the hill.
"But as soon as Kingman hit the level ground, whoosh. Hughesie told me he's never been as fast in a final furlong as he's just been in a Group One race.
"Olympic Glory will go for the Jacques le Marois so we'll see where he goes, there aren't many options. He'll probably end up in the QEII but that is probably where the winner will go as well.
"I don't think he's lost a lot in defeat."
In the end, Darwin was only a head behind Toronado, while Outstrip finished a length and three-quarters further back.