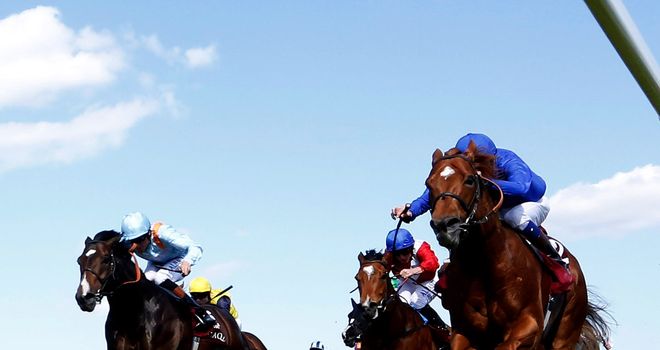 Night Of Thunder repels the late challenge of Toormore to win the Lockinge.
Top-drawer miler Night Of Thunder made the perfect start to his new season when beating stablemate Toormore to win the Al Shaqab Lockinge Stakes.
Yuften set the pace under Frankie Dettori in the early stages of the 17-runner Group One, with Integral - supported strongly to complete a five-time for Ryan Moore on the day - just in behind.
Meanwhile Toormore was also prominent nearer the centre of the course, but James Doyle had Night Of Thunder, the 11/4 joint-favourite, handy just in behind the pace.
Gradually edging over towards the far rail, Doyle struck for home over a furlong out and although he tired close home, allowing Toormore (10/1) to rally and get back to within a neck at the winning post, he was always just holding the upper hand. Arod (16/1) was third.
Moore had every chance aboard Integral, but had to settle for fourth place in his attempt to ride the first five winners on the card. He didn't have to wait long for number five though, as his mount Crystal Zvezda won the following contest.
Winning trainer Richard Hannon said: "I'm delighted. Toormore has run a super race and this horse (Night Of Thunder) looked to me like he was going to win very well and got tired, as he's had a long time off the track. I couldn't be more pleased.
"I think both of them will improve. Definitely, Toormore will. He was a bit heavy and doesn't do too much at home.
"Night Of Thunder shows us a bit more at home and he too will improve for it. He's nothing to prove now. He's won the Guineas and the Lockinge. He's obviously a very good horse and will make a very good stallion.
"These horses have speed and they get a trip. Toormore might get a mile and a quarter. We tried a mile and a quarter with Night Of Thunder. Nothing is impossible at this stage and they will probably now go to Ascot and go well in the Queen Anne."
Bookmakers Sky Bet cut the price of the winner from 7/1 to 6/1 for that contest, with Toormore 10/1 from 16/1.
Hannon went on: "They don't have to go for the same ones, and it would be better for me personally if they didn't. But I'm not the owner and the owners are entitled to go where they want to go.
"To get Godolphin and Sheikh Mohammed involved is the ultimate compliment and this horse has gone and done the business and we're delighted.
"This horse was the only one to beat Kingman last season and then I felt he was bit unlucky not to win again, so I'm pleased for him.
"James sent him on and he looked like he was going to go on and win a length, but he got a bit tired, so it says to me he will improve. Our horses generally improve over the season and I see these two as no exception."
Asked about becoming a specialist with horses at around a mile, Hannon added: "It is nothing to do with the way we train. These are the horse we get sent. I'd love to train a Derby horse - if there is anyone out there who would like to send me one - but we just don't seem to get those horses."
"If I had my time again, I'd probably have done things differently, but I wanted to secure my pitch against that rail and he's just had a puff on me and got a bit tired," said Doyle, who was riding his first winner since joining Sheikh Mohammed's Godolphin team at the end of last season.
"He didn't stop though, that's what I liked. He got tired but he still stretched all the way.
"It's the first time I've ridden him in a race and I've learnt about him today but it was a very good performance.
"This is what I want, this is what His Highness Sheikh Mohammed wants. It's an honour to put on these silks, ride horses like these. Hopefully there will be a lot more to come."
SIr Michael Stoute was not too disspirited over the performance of Integral and said: "She's been brought along steadily rather than rushed and I think we're going to have some more fun with her this year."