Rugby League Expert & Columnist
Brian Carney's letter to new Super League CEO Robert Elstone
Robert Elstone is a guest on Thursday's The Golden Point. Watch the show on Sky Sports Action from 7pm
Last Updated: 13/06/18 8:01am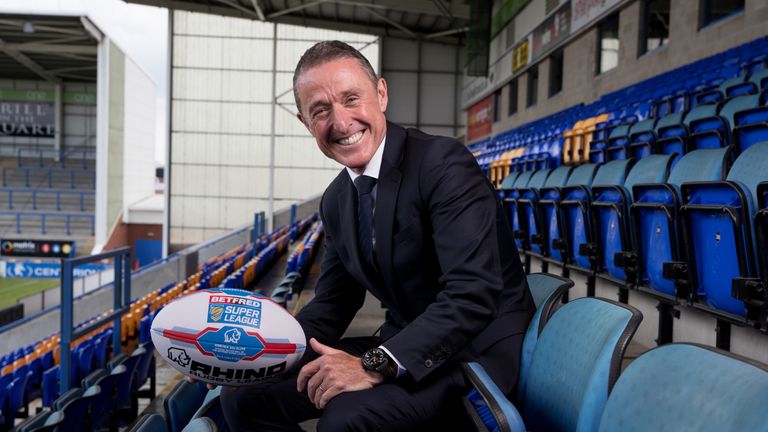 Sky Sports' Brian Carney pens a letter to new Super League chief executive Robert Elstone, urging him to raise the profile of the game as a whole.
Dear Robert,
The timing of your appointment couldn't be better. The future is bright, but there is work to do.
I have long believed since first moving to the UK from Ireland in 1998, that rugby league was a sport that delivered far more entertainment than its national and international profile would suggest.
It is of course not the only sport that may claim that, but I have been involved in a few and seen some at close quarters, and I truly believe that Super League delivers in spades when it comes to excitement, athleticism and just the right amount of physicality that doesn't stray into the unacceptable.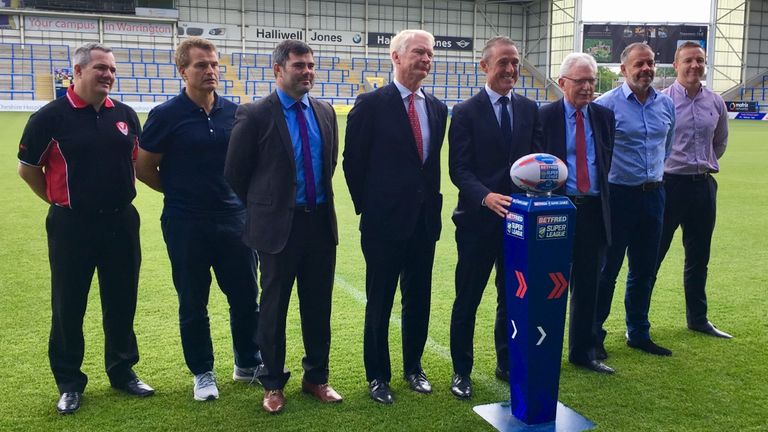 However, the game's profile is an issue and I believe with your leadership we can return it to where it belongs.
It has been there before in the not too distant past so it is not as if the game has to break new ground, it only has to regain territory it has lost.
So where do you start?
When you sit at your desk and you have the sometimes disparate interests of 12 Super League clubs to try and mould into one clear and identifiable objective, you may well feel like pulling your hair out.
The clubs' primary concern, and I have seen this at first hand, is their own backyard. Fair enough, I get that, but if that is the case then who is going to look after the bigger picture?
Robert, I believe that is your job.
You must rise above the inevitable in-fighting that will occur among a dozen different individuals with different opinions, biases and objectives.
You must herd the cats as it were, bring your own ideas and, this is crucial, ensure the game embraces fresh ideas from outside the game.
Draw on some of the better thinkers in the game, present a clear strategy for the future and then implement it.
Make fans of this game proud of the game, make it a game that players want to play, make it a game that sports fans of any persuasion want to watch.
Deliver the showbiz and pizzazz that rugby league once did but that has slowly drifted away.
The great news for you is that I truly believe the raw materials are there.
It just needs somebody to hammer them into shape and, most importantly, they have got to know what the final shape looks like.
You need to know what you want the game to look like, know what you want the matchday experience to be like, know what you want a star player to look like and behave like - and then go out and get that.
Unfortunately, at the moment, I am not sure the game knows the answer to any of those questions or if it does know what it wants the future to look like, it doesn't know how to get there.
That is ultimately your job and therefore it is up to you to provide clarity and map out the future of the game.
Be the breath of fresh air everybody is looking for but don't try and be all things to all people because I can guarantee that if you were to do that, then you would get lost in petty politics, bickering and bias.
I am excited and I know rugby league fans are, and I say rugby league and not just Super League because while this is a role separate to that of the Rugby Football League, it is a role that will have huge significance for the sport as a whole.
If Super League is the "poster boy" for the game of rugby league, make it one that all clubs are immensely proud of.
In leading the elite-level competition, you also have a responsibility to those in the divisions below.
Make Super League aspirational and make it a competition that others in the sporting landscape would be proud to copy.
There you have it, there's plenty to get stuck into but also plenty of opportunities and excitement.
Robert, it's now over to you.
Regards,
Brian