NRL talking points: Josh Hodgson returns, protecting players and the call of international duty
Last Updated: 12/06/18 5:48pm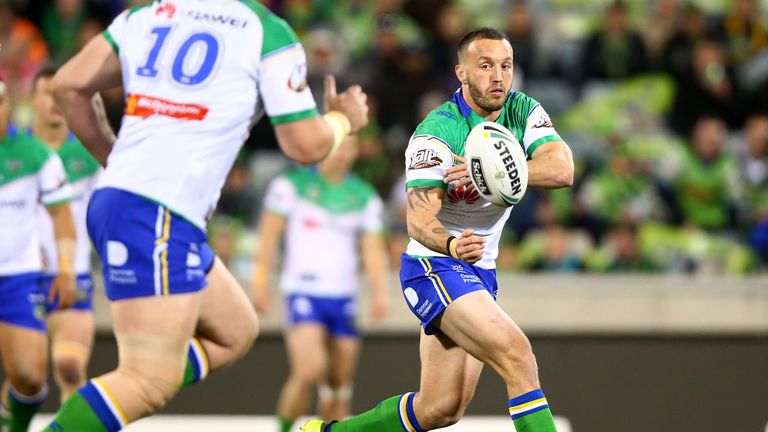 Jenna Brooks has the latest from the NRL as St George Illawarra prepare for two of their star players to head to Denver, Josh Hodgson set to make his comeback, plus Johnathan Thurston's frustration with the Cowboys.
Hodgson return
Josh Hodgson is set to make his long-awaited return this Sunday against the Wests Tigers.
Hodgson, who tore his anterior cruciate ligament during the World Cup last year, wasn't expected to return for at least another two weeks, but the England international has recovered ahead of schedule and is being rushed back into a struggling Raiders side.
The star hooker returns with the Raiders in 10th, having won five games this season.
"We've missed Josh this year," Canberra head coach Ricky Stuart said.
Hodgson is straight back into the starting line-up, despite not having played since the end of last year and Canberra legend Steve Walters has told fans to be patent with the marquee player.
"I've never had a knee reconstruction, but I'm pretty sure it will take him a little bit to get back to his best," Walters told Fairfax Media.
"We need to be a bit patient there and not expect things too quickly."
Dragons in Denver
Later this month England take on New Zealand in Denver and St George Illawarra's Gareth Widdop and James Graham have been included in the 19-man squad, with Jason Nightingale selected for New Zealand.
The three Dragons players will travel to North America with a chaperone - their strength and conditioning coach.
With Game two of Origin falling on the same weekend as the mid-season international, the top of the ladder Dragons could have six players involved in the two games.
Head Coach Paul McGregor has been in full support of the Denver Test from the very beginning and insists his players will be thoroughly assessed by medical staff.
"We've got things in place and at the end of the day if Gareth and that go over there to play and they're not right to play on the Thursday after it then they won't play," McGregor said.
"We'll just have to wait and see. We're sending one of our performance staff over there and we're managing it well which is the most important thing."
Cowboys struggle
Last year's grand finalists North Queensland are in trouble and look unlikely to make the eight. They have won just four of their 14 games this season and have dropped to 14th.
The Cowboys lost to bottom-of-the-ladder Parramatta 20-14 at the weekend, all but ending their hopes of a place in the finals and Johnathan Thurston expressed his frustration after the game.
"It's all mental and we need to get to the bottom of it," Thurston said.
"Those are the answers we need to find out and it is just basic footy. Catch and pass, catch the ball first before you pass, that would be nice.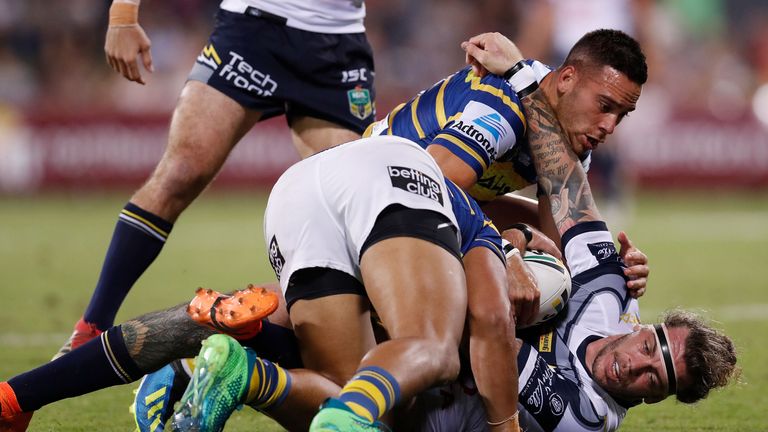 "Play the ball, it is stuff you are taught as a kid and we were very ordinary in that aspect tonight."
The Cowboys take on the Warriors on Friday, live on Sky Sports Arena, and Paul Green has made some big changes.
The Cowboys head coach has dropped 2015 premiership-winning duo Justin O'Neill and Antonio Winterstein.
"From here on in, my responsibility is to pick the best team that I think can get the job done on the weekend," Green said.
"Given our performance on Saturday night, I think something had to change."
Protecting players
In last week's article, I mentioned both Andrew Johns and Johnathan Thurston's plea to protect players, well it looks like the NRL are listening.
NRL CEO Todd Greenberg announced this week that the governing body will introduce a mid-season rule change enabling players to be sent to the sin bin for foul plays.
"We have made a decision mid-season, which we don't do often, to put power in the referees' hands to use the sin bin for what we think are really, really poor tackles," Greenberg said.
Under NRL rules, referees could not send a player to the sin bin unless the victim was forced from the field due to injury with no likelihood of returning.
"We want to protect the players and when we see players being hit off the ball late and then put in a difficult position we expect the referees to act.
"Referees are being given the power of discretion to send players to the sin bin when we see incidents like those."