Set of Six: Salford, Hull KR and Gallen's instruction to 'turn off the lights'
Last Updated: 03/10/16 2:21pm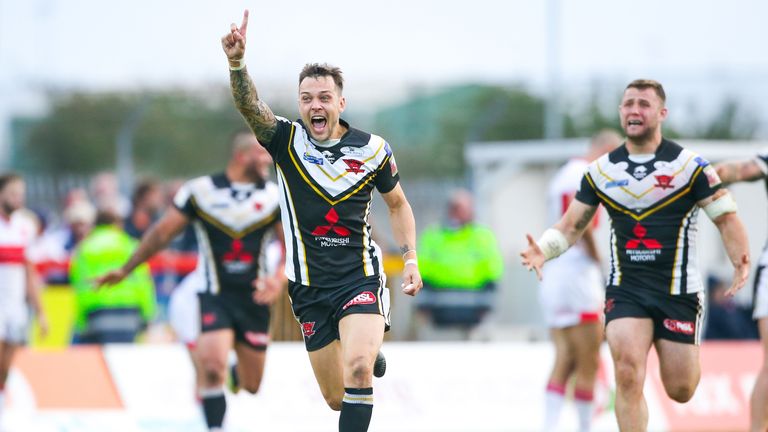 The respective futures of Hull KR and Salford, as well as Paul Gallen's instruction to 'turn off the lights' feature in this week's Set of Six.
What next for Hull KR?
The Robins' 10-year stay in the top flight was ended in dramatic fashion with a 19-18 defeat in golden-point extra-time in Saturday's Million-Pound Game.
With Hull KR now dropping into the Championship, James Webster said he is uncertain of his role as head coach of the club.
"I wouldn't have a clue (about my future)," said Webster.
"It's what happens with relegation and when all the funding in the top league is nowhere near the same in the second."
Head of Rugby Jamie Peacock offered his resignation after the defeat, but it was rejected by chairman Neil Hudgell.
"I always want to be accountable for my actions in life and offered my resignation to Neil after the game," said Peacock. "This was turned down which means I can continue my journey with this great club.
"To be part of a club with such loyal, passionate support is very humbling and the reaction after such a defeat will stay with me for life. The messages from within the club and across the game made me feel very lucky to be part of the RL community."
Can Peacock and Hudgell guide Hull KR back into Super League in 2018?
Salford stay afloat
Contrasting reactions in the opposition changing room as Salford secured Super League status for 2017 with a nervy win.
Owner Marwan Koukash, who has spent millions of pounds of his own money on Salford, had said earlier in the year he would consider his future at the end of the season.
Koukash confirmed on Saturday he would stay on with the club, but warned there would be some cuts on the organisation's spending.
"My gut feeling this morning is that I would like to stay, I'd like to give it one more go," Koukash said.
"I think there is some potential there. I think what took place yesterday gave the club a huge lift and we have undoubtedly a talented group of boys and with the addition of two or three players we could go places.
"If we could get it right off the field, in terms of marketing and attracting more people to come to the ground, we'll be fine."
RFL investigating crowd trouble
The Rugby Football League said it will investigate crowd trouble that marred the end of the Million Pound Game.
Fans of Salford and Hull KR invaded the pitch at the Lightstream Stadium both at the end of 80 minutes and after golden-point extra time. Fights broke out, which eventually led to the police moving in to dissolve the situation.
The RFL said in a statement they would move swiftly to ban anyone found to be involved.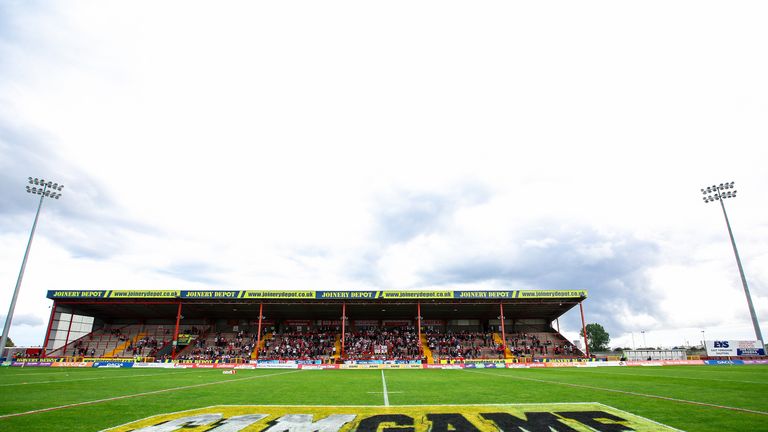 "Whilst relegation and promotion remains a part of our competition, and we believe it should, there are always going to be winners and losers," the statement said. "It isn't a nice situation, but it is the reality of sport and it is our job at the RFL to now make sure that the club, staff and players concerned are fully supported as best they can be.
"Games with so much at stake often mean emotions run high, but that does not excuse the minority of fans who behaved unacceptably following the final whistle.
"The RFL will conduct a full investigation into these incidents and will work with the police and club involved to ensure anyone found to have acted violently is dealt with appropriately and also banned with immediate effect."
Sharks end their drought
Paul Gallen has had little luck with New South Wales in the State of Origin series of late, but he has had even less fortune in the NRL. The 35-year-old has spent his entire professional career with the Cronulla Sharks, who have never lifted the domestic title.
The Sharks' run was so bad, legendary coach Jack Gibson once joked that "waiting for Cronulla to win a premiership is like leaving the porch lamp on for Harold Holt".
Holt was the prime minister of Australia who went missing at Cheviot Beach in Victoria in 1967, the same year the Sharks entered the competition.
But Cronulla turned the Australian game on its head on Sunday, with a gripping 14-12 win over Melbourne Storm in the Grand Final in Sydney.
Sharks skipper Gallen told fans afterwards to "turn their porch lights off".
Grand Final showdown
This year's Super League showpiece between Wigan and Warrington is a repeat of the 2013 Grand Final
Three years ago the Wolves were in the driving seat of the final, with tries from Joel Monaghan, Simon Grix and Ben Westwood putting them 16-2 up on the half-hour mark.
However Wigan centre Darrell Goulding crashed over shortly before the break, before the Warriors piled on 24 unanswered second-half points to walk away 30-16 winners. It was the Wolves' second Grand Final defeat in as many years.
Fast forward to 2016 and Warrington are arguable the team in form at the moment, having lifted the league leaders' shield at the end of the regular season thanks to a win over rivals Hull FC in the final week.
But Shaun Wane's men have more experience to lean on - Saturday's clash will be Wigan's fourth consecutive Grand Final appearance.
The Sky Sports cameras are back at Old Trafford this year, will it be the in-form Wolves who claim the spoils, or the experienced Warriors?
Saints on the wrong end of decisions?
After St Helens' semi-final loss to the Wolves, Keiron Cunningham said his side were on the wrong end of the refereeing decisions.
There was a question mark over Tom Lineham's try, with slow-motion replays suggesting there was a knock-on, while Saints had a late try from centre Dominique Peyroux ruled out by video referee Joe Cobb.
"We fought hard and played real good semi-final football," said Cunningham. "We just need a bit of luck and a few of those calls which didn't go our way.
"We could talk about (lack of) composure towards the end but that should never have been a try so it should have been 10-10 going into the last quarter.
"Warrington played exceptionally well but they say it's a game of inches and it certainly was. I thought we deserved a little bit more than we got in that game."
The role of video referees in rugby league has been questioned of late, but did they get the calls right on Thursday? Tweet us @SkySportsRL to share your thoughts.