Rugby League Expert & Columnist
Brian Carney: Good week for League Leaders Castleford while Catalans Dragons continue to struggle
Last Updated: 22/08/17 10:01am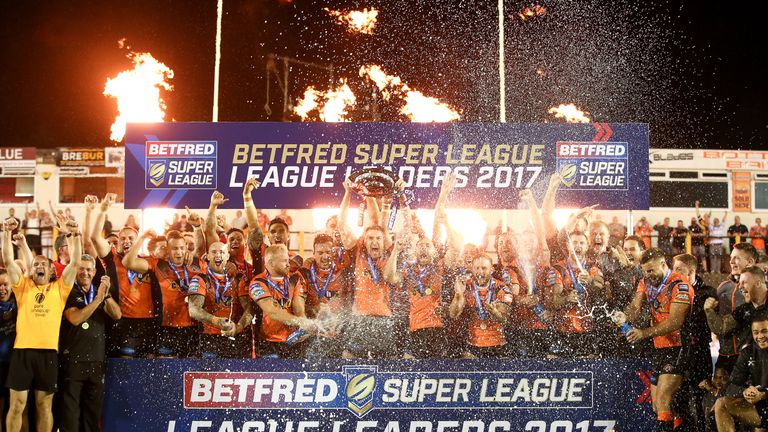 Brian Carney reflects on round three of the Super 8s where there was a historic victory for the Castleford Tigers while Catalans' struggles continued.
Good week
Castleford Tigers
It has been a good week for the Castleford Tigers as they claim the League Leaders' Shield, their first season-topping trophy in the club's 91-year history, and they did it in the style we have become accustomed to this year.
A gutsy Wakefield side put up a contest for long periods of that match but when Cas stuck on the afterburners the presentation podium was readied.
A little bit of criticism has come for Castleford from some quarters as they celebrated to 'we are the champions'. Since a Grand Final was introduced the emphasis shifted totally from finishing top of the table to making sure you were in the playoffs and ultimately winning at Old Trafford. But Tigers win does feel a little different.
I think there is a difference for a few reasons. One is that it was the first league victory in the club's history , that no matter the league structure should be celebrated and second is the manner of their victory. They haven't pipped anyone. They have been so far ahead on the scoreboards, on the table and in their style of play from the rest of the teams at this point that it has reignited the League Leaders' v Grand Final debate.
How would impartial observers view a Castleford semi or final defeat? Yes, it's the structure we have but is it the one we want? I don't believe the Grand Final is going anywhere. I loved the night as a player and now as a privileged observer.
The solution may lie in increasing the rewards for the league leaders. I'm sure the game can find more than 100k for the most consistent side over the season?
Ditch fanciful Dubai trips and focus the money on incentivising Super League clubs to create a race to finish top that they are desperate to be part of. £500k should go to the team finishing top. Then watch any winner celebrate like they are Champions!
Back to the Tigers. I think for Castleford, it was a celebration of not just finishing top of the table but finishing there in a hugely impressive style.
They will be aware that they will be considered Champions only if they win at Old Trafford. They will also be aware that supporters of other clubs will only be too happy to call the Tigers failures and chokers if they are not at Old Trafford on about 8 o'clock on that Saturday evening lifting the cup.
They have a massive target on their heads now.
Huddersfield Giants
While we were covering an important Leeds win over St Helens on Friday news came through from the KCOM Stadium where Hull had fielded a strong side as they played their last game before heading to Wembley and the scoreline was, and I mean this in all due respect to Huddersfield, attention grabbing.
I have played in sides that have had a cup final on the horizon where players are aware of places being up for grabs but when you're last game before the final kicked off there was no other focus than your immediate job and opponents.
So for Huddersfield to be so dominant over Hull tells us a couple of things.
Huddersfield might yet again have a say in the end of the season, either themselves with a miraculous run of games to get fourth spot or by upsetting the hopes of those further up the table. Remember this side have drawn three matches. And lost a few by narrow margins.
Well done to Rick Stone and his side and well done to Lee Gaskell who on an individual level was fantastic.
For Hull it's obviously not a brilliant performance to take on the bus South. They need to park that 80 minutes asap. But for us onlookers, what can we determine? Three times at home this year Hull have lost by close to or over 50 points. 45 nil at Magic Weekend and they have lost three and drawn one match against sides now in the Qualifiers.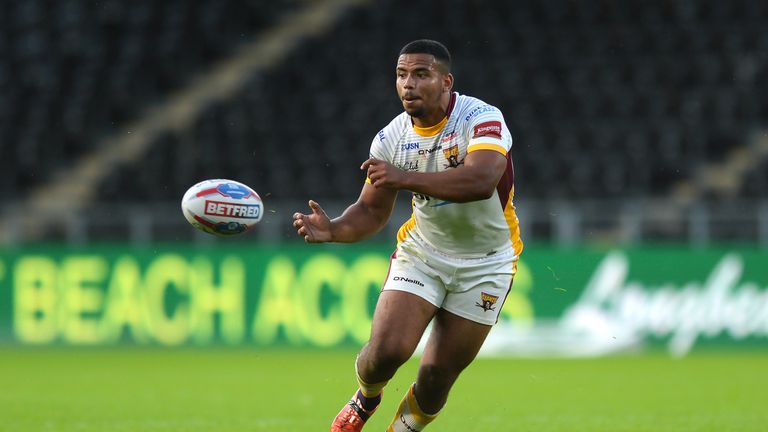 The case against this high-flying side is decent. When they're off they are off. But the have avoided those dips more than they have dropped into them and if they click they can beat anything else on show this year If.
Leigh
On the final good week, I will give mention to Halifax for their performance against Warrington. Halifax who were nowhere close to full-strength going up against the more significant wage bill of the Wolves and they put in a performance that would have made their coach proud.
Also to the London Broncos who gave it a good go again against Hull Kingston Rovers with their late charge in that game but the final good week will go to the Leigh Centurions.
I will talk about the Catalans Dragons at length shortly but first, in a highly pressurised match Leigh went to the south of France and did a very professional job to get the result.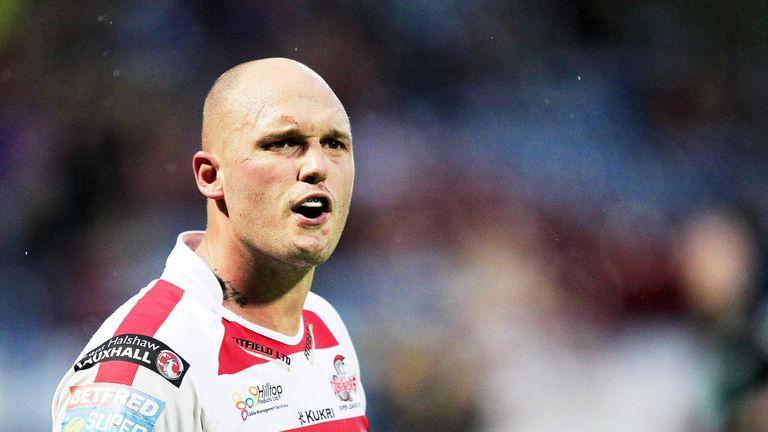 They have brought Kieron Cunningham in for the rest of the season and they have addressed some issues that they thought they have and I thought they were impressive.
Cory Paterson was influential for them. Much more like the very talented player who has really only shown glimpses of his wares to these shores.
Leigh wanted that win more than the Dragons. Or more accurately they were prepared to do more of the right things more often than the Dragons to get the result. For their Super League survival hopes, it was a massive result.
Bad week
Catalans Dragons
If you want to choose a club in crisis then it would have to be the Dragons. Their on-field performances are typical of a club on the slide and in a really dark place.
Steve McNamara has not been at the club long enough to take the full responsibility for his side's performances however you would expect some kind of reaction from a change of coach either in the short or medium term and they have had neither.
Did they need to make the change from Laurent Frayssinous? Absolutely.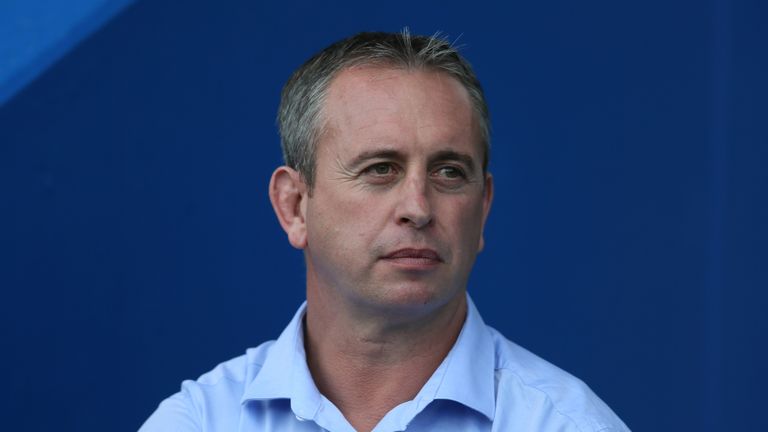 Do I believe they have the right man in Steve McNamara? I am unconvinced.
Having said that McNamara deserves the chance to turn things around. But will that be in the Championship? I hope not.
Their next two games are both must wins but it could all boil down to the final game against Widnes.
They have shown in their performances that they are vulnerable to Championship sides and that they are there to be beaten.
Tony Smith
I'll declare an interest. I like Tony Smith. I consider him a friend but I want to take issue with something he said after his side eventually got past Halifax.
"Playing against a Championship team you learn some stuff, but I thought we had a Championship standard referee today and that's going to happen to us from time to time."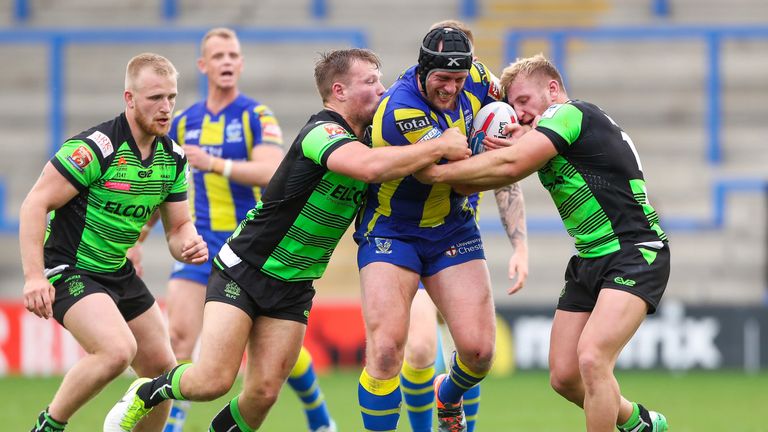 It hasn't been a good season for Warrington but they are three from three now in the qualifiers and looking good for being in the Super League in 2018 but Tony Smith is a man that demands that his players have class and humility and I didn't feel his post-match comments did the same.
It's like referee Robert Hicks coming out and saying "that Warrington performance was of Championship standard". Maybe true but inappropriate.
Salford
They may be seen as an easy target but my last bad week goes to Salford. They have suffered a string of defeats of late and for them I am sure it is alarming.
Their season up to a point will be considered a success because they are going to be in Super League in 2018, I get that they were a side that just escaped the drop in that never to be forgotten Million Pound Game against Hull KR last season.
But very quickly Salford's target would have changed from Super League survival to a top four place and possibly even into the final and it was realistic given their position but they have gone backwards at an alarming rate the last few months.
They have won one of their last 10 Super League and Super 8s games and that solitary win against Huddersfield has now been followed by a succession of defeats.
For a side that at one stage promised such a fairy tale revival following last year they are now sliding and looking at the bottom of the Super 8s.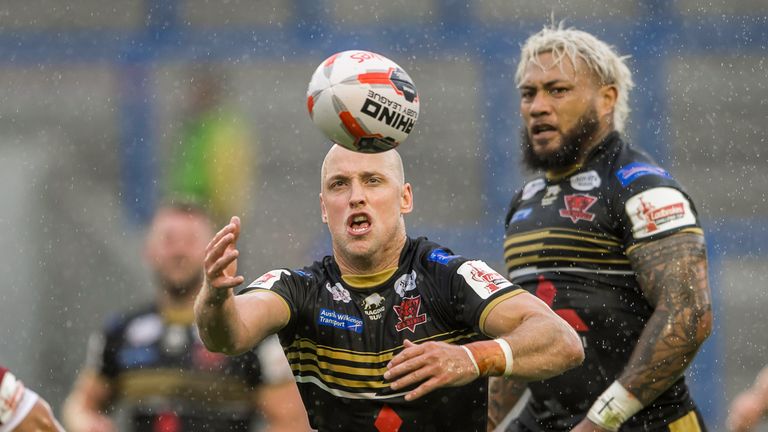 You would encourage that playing group, and I am not suggesting for a minute that they are in holiday mode, but Ian Watson and that playing group need to get something out of their final Super 8s games but I just think it will be too much now, not points wise but confidence wise that they will go on to make the top four.
But you would urge them now to get as much as they can out of their remaining games and put smiles on the faces of those fans that have stuck with them through the season.