Daryl Powell says Castleford's performance against St Helens was embarrassing
Last Updated: 03/02/18 1:21pm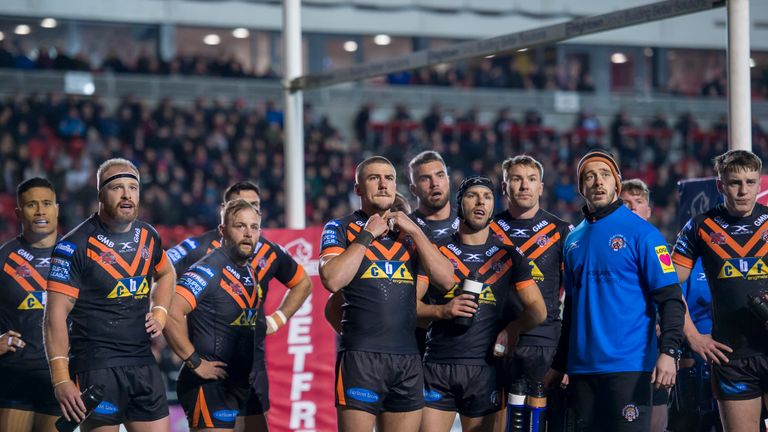 Castleford coach Daryl Powell described it his side's performance as "embarrassing" and "shocking" after they fell to a 46-6 defeat at St Helens in their opening Betfred Super League match of the season.
England centre Mark Percival scored a hat-trick and Australian full-back Ben Barba produced a man-of-the-match display as Saints ran in eight tries to one to reduce the 2017 league leaders to a rabble.
"Saints played very well and put us under a fair bit of pressure but I thought we were pretty embarrassing to be honest," Powell told Sky Sports.
"We consistently lost the ruck area and Saints ended up pulling us apart on the back of that.
"We had a shocking attitude to the game today - I have no idea why and will try to find out why over the next few days. I just don't think our attitude to anything we did was great. We turned over the ball cheaply whenever we got into an attacking position - and we didn't get into one in the first half until the very end!
"We just looked poor, disorganised and sloppy, but when you have to do so much quick defending because our ruck area was so poor then you are going to get put under pressure.
"It was a shocking performance from us - on the other side of the coin, Saints were really good and troubled us.
"We had to wait until they went down to 12 men before we looked anything like them so there is a bit of soul-searching to be done for us - it's a rude awakening, a kick up the backside whatever you want to call it.
"We obviously need a response and we have a fair bit of time before we play Widnes next week."
Powell says there will be changes for the home game against Widnes on Sunday week and he is hoping former Huddersfield centre or second rower Joe Wardle will be fit to make his debut after picking up an injury in Thursday's final training session.
The Tigers were comfortably the best attacking and defensive side in 2017 but they scored their only try through hooker Paul McShane while Saints were down to 12 men with Kyle Amor in the sin bin.
'Saints were fantastic'
St Helens coach Justin Holbrook says he could not have asked for more from his team as they went some way to avenging their heart-breaking semi-final defeat by Castleford in their last match.
"The boys were fantastic tonight," Holbrook said. "We're off to a great start. Obviously Castleford will be disappointed but from our end, I couldn't have asked for any more."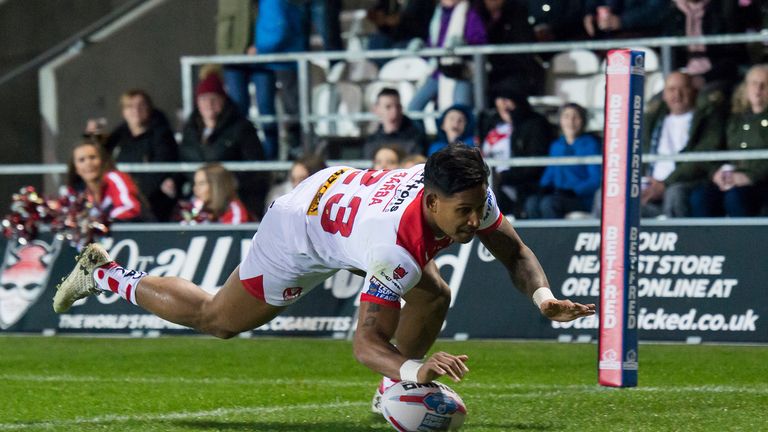 Barba, who played the last five matches of the 2017 season after joining Saints from French rugby union, justified his favouritism for the Man of Steel award with an impressive performance in which he scored two tries and helped create four others.
He also demonstrated his defensive mettle by throwing Castleford winger Greg Eden into touch on the first tackle to turn possession over deep inside the visitors' half.
"He was great, Benny," Holbrook said. "He was really good, especially when we were down to 12 men when he comes up with that big tackle and scored in the next play.
"Special players can produce special plays and he did two in two minutes.
"I always thought Benny was going to produce some things that he's done."
Saints were also indebted to half-backs Jonny Lomax and Danny Richardson, who got the nod ahead of former England international Matty Smith.
"Matty is a great player," Holbrook said. "He's a competitor and he wants to play. Obviously he's a different style of player. It was a tough decision but I was confident in the 17 we picked and they delivered."