Super League playoffs: Wigan captain Sean O'Loughlin wary of Huddersfield threat
Last Updated: 17/09/14 3:21pm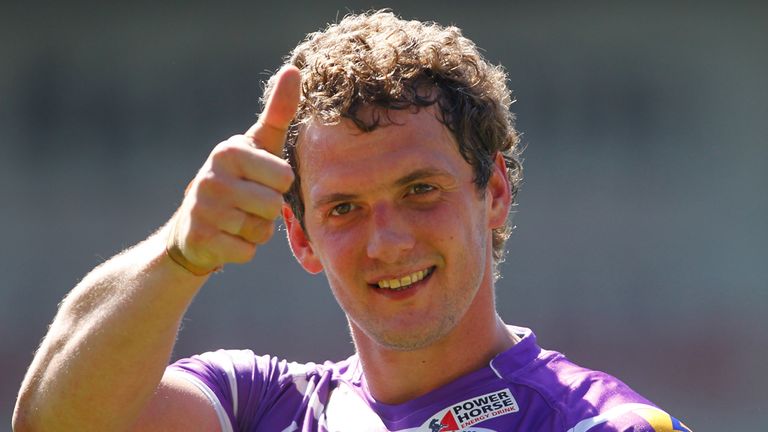 Wigan captain Sean O'Loughlin is mindful of the danger Huddersfield pose as the teams prepare for Thursday's Super League playoff.
The teams met on the opening day of the season, when Paul Anderson's men stunned Wigan by producing a 24-8 victory at the DW Stadium
Wigan lost just once more at home in Super League as they went on to secure a second-place finish thanks to impressive back-to-back wins over Leeds and Warrington.
But Huddersfield are unlikely to have any fears about travelling to Wigan, where they have won on seven of their last 10 visits.
O'Loughlin said: "They've been a bogey team for us over the last couple of years. They play well against us and we know we'll have to play as well as we did in the last couple of games if we want to get a win.
"The last two games have both been like play-off games, where both sides wanted the result. They were both tough, physical games which are what the play-offs are going to be like."
One big concern for Huddersfield is the their poor record in play-off rugby, with nine defeats from 11 including one to Wigan in the 2013 play-offs at the John Smith's Stadium.
England forward Brett Ferres believes the past record is not an issue for the current Huddersfield squad.
"We were disappointed what we dished up last year but it's a new squad, it's a new season and we've been able to put a lot of things right that we maybe did wrong last year," said Ferres.
"We're looking forward to it. It's play-off time and everyone gets excited at this time of year. This is what we've played all year for and it's the time to shine.
"It's nice to have a bit of form and we've certainly some confidence from last week. It was a must-win game and we came through the first test. We're battle hardened and I think we're ready for play-off football.
"I think it's the norm now at Huddersfield, we're expected to be in the play-offs. I think we've crept under the radar this year but we've knocked off some decent teams."