Super 8s to be scrapped at end of season, says Super League CEO Robert Elstone
Robert Elstone is a guest on Thursday's The Golden Point. Watch the show on Sky Sports Action from 7pm
By Matthew Treadwell
Last Updated: 13/06/18 8:01am
New Super League CEO Robert Elstone has confirmed the Super 8s will be scrapped at the end of the season, with promotion and relegation reverting to a one-up, one-down format in 2019.
Former Everton chief executive Elstone addressed the issue at a news conference and revealed the format - which includes the bottom four sides in Super League entering a post-season mini-league with the top four teams from the Championship - will not be returning next campaign.
Elstone cited concerns that the Super 8s leaves too many Super League clubs concerned for their future in the competition, with, in theory, four clubs in danger of losing their top-flight status every season.
"We have looked at a competitive structure that really isn't working: effectively it provides too much uncertainty," said Elstone.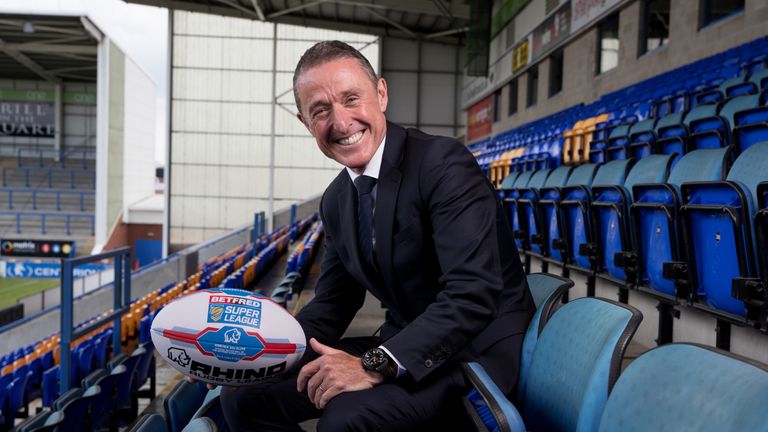 "The job starts with building a positive working relationship with the Rugby Football League and that's recognising Super League's responsibilities to the wider game, too."
Leeds Rhinos were the only Super League team to vote against scrapping the Super 8s, with their chief executive Gary Hetherington describing the move as "an absurd grab for power for the game by a small group of men who think they own the game".
Elstone appeared alongside Wigan owner Ian Lenagan, St Helens chairman Eamonn McManus and Warrington co-owner Simon Moran, three of the key figures behind the changes to the league's structure.
"We are committed to promotion and relegation," said Lenagan.
"It's not going to be four clubs in jeopardy any more - but one being promoted and one being relegated. We are planning for it to take effect for the beginning of 2019."
McManus was in agreement with Lenagan: "After four years we don't believe the Super 8s is the optimum structure which produces the optimum commercial returns," he said.
"We do see tremendous opportunities for Super League and the wider game."