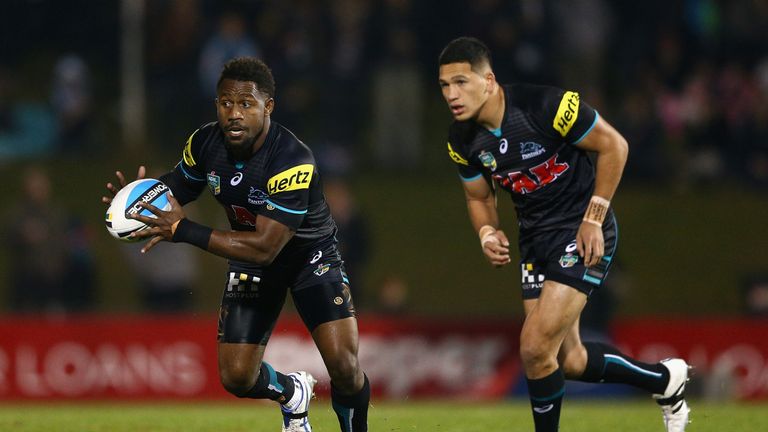 James Segeyaro has revealed he is committed to the Leeds Rhinos until the end of 2018.
The Rhinos announced last month they had signed the 25-year-old initially to the end of the season, with a view to "a potential long-term arrangement", after former club Penrith Panthers agreed to waive the remaining six months on his contract. 
England full-back Zak Hardaker made the move in the opposite direction on a similar basis, but hooker Segeyaro has confirmed he has no plans to return to the NRL in the foreseeable future. 
"My contract runs until 2018, I signed for two years," he said. "The call is in my favour. There's an option for me to leave if I want to but I've signed until 2018." 
Segeyaro was born in Papua New Guinea but switched allegiance to Australia, although he now believes he can further his career in Super League.
"Maybe, I don't know, I kind of like it over here," he said.
"I'm just happy to play football and these boys have welcomed me with open arms. In that kind of environment, you don't want to leave.
"It's a winning environment, a place where I feel I can succeed more in my career." 
Segeyaro fell out of favour with Penrith coach Anthony Griffin and was dropped to the reserves, but is pleased to be working with Rhinos coach Brian McDermott.
"He's a very good coach," Segeyaro said. "He coaches to play football. Some coaches are more structured in the sense of completions and stuff but under 'Mac' it's not a black and white game, there's a bit of grey there.
"He reminds me of Ivan Cleary, I played my best footie under him, and I believe I'm going to play my best footie under 'Mac'.
"It's very exciting times for myself, keep working hard and keep getting wins for the Rhinos." 
Segeyaro made his debut in the 20-15 win over Hull KR on Friday, just four days after arriving in the country, and is eagerly anticipating playing in front of the Leeds fans for the first time when Wigan visit Headingley on Friday night.
"The fans are pretty vocal over here so I'm very excited to see what that's like," he said. "I was blown away when I ran out at Hull so I can't imagine what this place is going to be like on Friday.
"It was good to get my first run-out. I thought I went all right. There are some positive things to work on.
"It's hard coming to a team halfway through the year when they've got their own combinations, but the boys helped me out.
"I've still got to work on my fitness so it was good to get that out of the way.
"It was a massive win for the club, especially in light of the adversity they've been through. To get a win against such a quality opposition like Hull is enormous for the club.
"But that's behind us now, we're focusing on Wigan this Friday."