Brian McDermott rallies Leeds Rhinos fans for new-look Headingley
By PA Sport
Last Updated: 07/03/18 1:19pm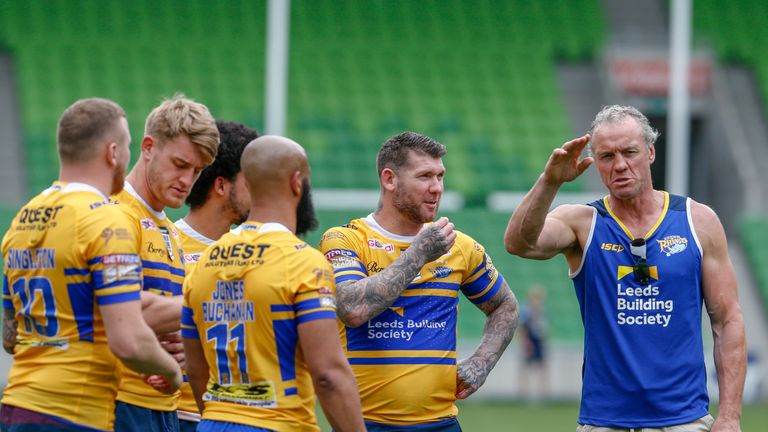 Leeds coach Brian McDermott accepts it could take some time for the players to readjust to their surroundings when they return to Headingley on Thursday.
The famous ground is undergoing a major redevelopment which will not be completed for another 14 months but work is advanced enough for the Rhinos to play their Betfred Super League round five fixture against Hull there - live on Sky Sports Action.
The ground capacity has been cut to 12,500, with 2,000 fans accommodated in the part-built new South Stand and a further 2,500 housed in a temporary North Stand.
"It's important that we get back here and start to rack some games up here," McDermott said. "It's been a long while and there's a different feeling to it.
"We start a new era, we're the first team that's going to try and create that new atmosphere that makes Headingley a daunting place to come to.
"There will be fewer seats and a reduced capacity but there is a responsibility for the crowd to try to scare the life out of the opposition as much as they used to do when it was nice and comfortable.
"It's going to be hard to start with but hopefully within about two or three home games we'll develop our own backyard mentality.
"We played the last few games without the South Stand and it was like looking into Mrs Robinson's front room watching Coronation Street which I found distracting.
"The new South Stand is already very imposing and the North Stand is going to be even bigger."
Leeds' last appearance at Headingley was last September when they inflicted on Hull a 13th successive home defeat going back to 2007.
Hull vice-captain Scott Taylor, who will lead the side in the continuing absence of Danny Houghton, says he does not believe in hoodoos.
"It doesn't come into our mindset," Taylor said. "Every game is worth two points.
"(Coach Lee Radford) Radders mentioned it to us after Friday's game that we haven't won there in 11 years but leading the boys out on Thursday, the only thing on my mind will be picking up those two points and not what's happened over the last decade.
"I'm not a believer in hoodoos. We did a job on them away from home in last year's Challenge Cup semi-final so there's no reason why we can't do it at Headingley."