Super League: Leeds Rhinos' Liam Sutcliffe hopeful of new contract
Liam Sutcliffe hopes his recent good form will be enough to earn him a new contract at the Leeds Rhinos.
Last Updated: 04/07/13 11:22am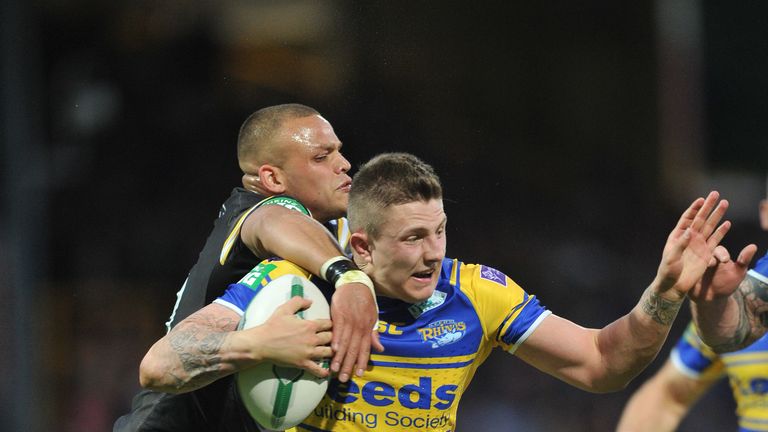 Sutcliffe, 18, has played in the Rhinos' last seven games, scoring five tries and believes regular game time has helped him improve as a player.
The half-back is still unsure of his future, however, and admits he will have to wait before he can be confident of where he will be next season.
"We are just going through it (the contract) at the moment - we'll have to wait and see what's happening," Sutcliffe told the Yorkshire Evening Post.
The teenager has done himself no harm in the last few weeks and revealed that another youngster has acted as something of an inspiration to him.
Example
Stevie Ward forced his way into the Leeds side for last season's Challenge Cup and Super League finals just months after making his senior debut and Sutcliffe hopes he can make himself equally important to the Rhinos.
"With the form he was producing, they couldn't keep him out of the team," he said.
"He is someone I've looked up to, thinking if I play well enough I might be in the team for the rest of the year. I've just tried to go on that basis."
Sutcliffe is confident that he is learning with every game he plays and the advice of senior players such as Rob Burrow, who himself came through the ranks at Leeds, can only help.
"Rob is always coming up and giving me advice," he said.
"He's been in the same position as me and he advises me on what to do - and so do Kev (Sinfield) and Mags (Danny McGuire).
"They give me tips on how to run a game and I am really grateful for their support as well as it is all very helpful.
"Every game is different and I'm gaining experience from every game I play in.
"There's still a long way to go, I am not saying I've made it yet. I am going to keep working hard in training and hopefully try and keep improving."