Bulls fans call for clarity
Bradford Bulls fans would like to see 'openness' from the club's hierarchy to avoid a repeat of their financial meltdown.
Last Updated: 26/06/12 11:39am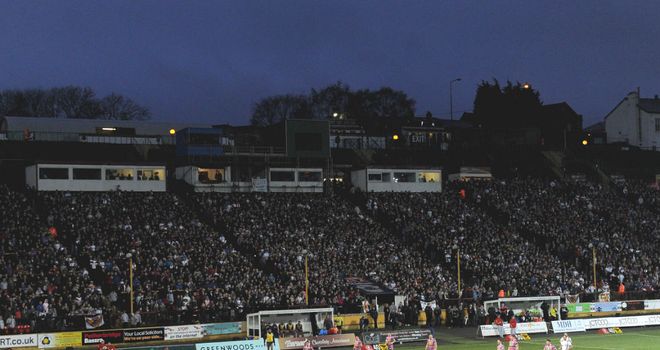 Bradford Bulls fans would like to see 'openness' from the club's hierarchy to avoid a repeat of their financial meltdown.
The Stobart Super League side were forced to issue a plea to fans asking for cash in late March to stave off the threat of administration.
The Bulls achieved £500,000 in pledges meaning they can pay April's wages and an outstanding tax bill, although their long-term future remains unknown.
The West Yorkshire club require another £500,000 to ensure their medium-term survival but are hopeful current talks with several local businessmen will bear fruit.
BullBuilder, a supporters' trust, are keen to ensure the pledge money will make a difference and that the funds raised will be used appropriately.
Achievement
"Following the achievement of ordinary Bulls fans, we are sure the board will agree that it is now time to fulfil their part of the bargain and to deliver the rest of the investment required to secure the Bulls' financial stability for the foreseeable future," read a statement from the trust.
"However, we also believe that the club owes a further debt of openness to the supporters who have handed over half a million pounds of their own money.
"Specifically, we would ask the club to undertake the following:
:: Give assurances that the pledge has only been called in because the club is confident that administration can be avoided.
:: Provide assurances that the money contributed will not be wasted and that no further appeal for pledges will follow.
:: Disclose details of further investment as soon as financial prudence and commercial confidentiality allow.
:: Confirm that they take full responsibility for the future financial well-being of the club, including consequences for any mishandling of affairs.
:: Engage more fully with supporters via a formal mechanism to take account of their views and concerns, ideally including some form of supporter representation at the highest level."
Opportunities
The Bulls have had no access to cash following a tightening of restrictions by their bank.
Chief executive Ryan Duckett says Bradford are hoping they will not need to ask supporters for more cash and that the money can be raised instead from the business community.
"We have a number of positive conversations going on with regard to commercial opportunities and also one or two people who are interested in getting more involved with the club," commented Duckett.
"Those will progress over the next couple of days and weeks. We've got a few different plans and it depends how some of those conversations go over the next few days.
"Certainly the aim is to get to our next target through some commercial opportunities and one or two individuals."