Gelling eyes fresh start
Wigan new boy Anthony Gelling expects to be the butt of some toilet humour following his arrival in Super League this year.
Last Updated: 24/01/12 6:51am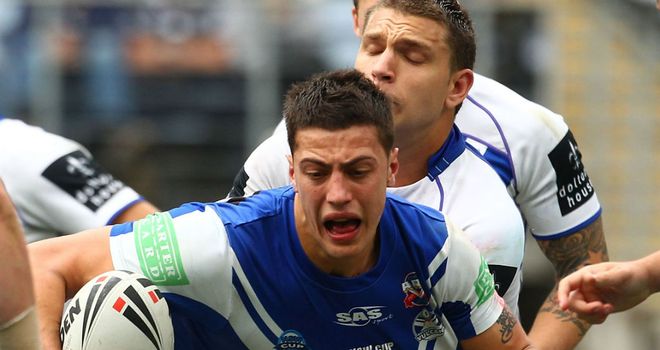 Wigan new boy Anthony Gelling expects to be the butt of some toilet humour following his arrival in Super League this year.
The 21-year-old, who has joined the Warriors from the Auckland Vulcans, was sacked by the Sydney Roosters in 2010 after he and a team-mate were found to have defecated on tables in a hotel room.
Gelling got his career back on track with New Zealand Warriors' feeder club in Auckland but admits his actions will take some living down.
"People are always going to remind me about it," he said.
"It's not something you read every day. It was pretty rough at first. I didn't expect it to be front page of the sports section.
"Me and the other guy that was involved, Sammy Brunton, both still keep it in mind. It's something you've got to learn from, make sure it doesn't happen again.
"We've both moved forward, we're still playing footie. It is pretty character-building.
"People are always going to give me a bit of stick for it but you just take it on the chin."
The 6ft 5in, 16st centre or second rower found himself in hot water with new Wigan coach Shaun Wane a week ago after being late for training on consecutive days and is now sporting bleached hair as a result.
Sorry
"I didn't get a training schedule for the week ahead so I went home that night thinking we had the Monday off," he said.
"When I spoke to Shaun, he said 'you've the day off tomorrow' and I told him I was sorry and it wouldn't happen again.
"But when he said day off he meant a day off the field, training - we still had weights and everything - so I've done it again."
The outcome was a heavy fine and a forfeit determined by the roll of a dice.
"Each number has something bad on it," he explained.
"The first one I rolled had a fake tan but they said that doesn't count for me so I had to roll again and got bleached hair. I've definitely learned my lesson."
Gelling will not play in Wigan's friendly at Salford tonight but will instead face Leigh, the team he was originally intending to join, on Friday night.
He was lined up to follow Centurions' new coach Richie Blackmore, his old boss at the Vulcans, to England when he received a call from Wane, who had been tipped off about the Cook Islands international by former Wigan centre Kevin Iro.
"I had never heard of Shaun at that time and I thought it was a prank call," he said.
"But, as soon as he mentioned Kevin, I knew he was serious and my mood changed.
"I was really surprised. I knew Wigan were quite a big club and I didn't think that anyone in Europe would even know who I was, let alone be interested.
"For me to go straight from a reserve-grade side to here I didn't really think was possible but I'm here now."