Phil Clarke analyses whether field position is everything in Super League
Phil Clarke looks at which Super League teams have made their field position count so far this season.
By Phil Clarke
Last Updated: 30/04/14 1:33pm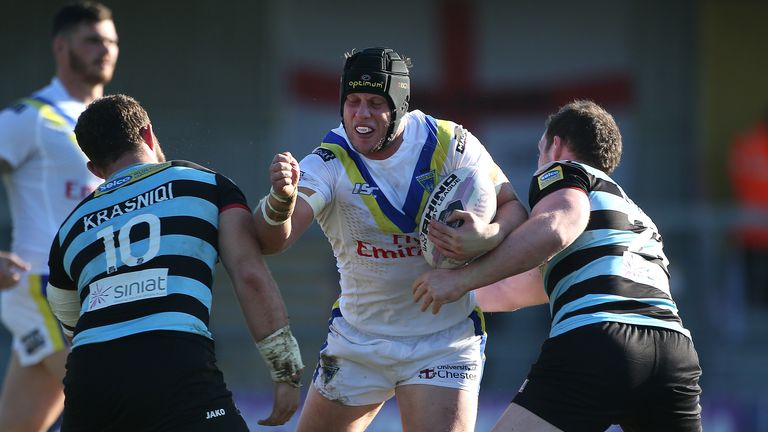 It was billed as the title decider. Jose Mourinho's team ended up winning by two goals to nil but Liverpool seemed to have more of the ball and, in the second half especially, spent long periods of the game attacking Chelsea around their own goal area.
The post-game stats underlined this fact and it was fascinating to see some other recent possession stats from big games that we've seen on Sky Sports. It's clear that the team with most of the ball doesn't always win in the round ball game. Of course, it's easier to score in a game of rugby as the 68-metre try line is a much bigger area than the goals inside the penalty box, so what difference does possession make in rugby league?
I was asked recently to try to explain the half-time heat maps that we show during the Super League games, and attempt to put into context how relevant they are to success in the sport. It's the boxes with the numbers inside them which show how often the team has had the ball in that area of the pitch.
The term 'field position' became trendy in rugby league about 30 years ago when people worked out that it's much easier to score if the play is taking place close to your opponents' try line. For those of us who like to see teams scoring long-range tries, it has at times stifled some players of their natural attacking instincts, but I understand that for professional teams, the aim of the game is to win, and playing percentages is sometimes the best option.
Correlation
So, after 10 rounds for most teams, is there any link or correlation between field position and overall success? Do the weaker teams get trapped in their own half, or do the rules and nature of the game allow both teams a fair chance to attack? (I know that Wigan and Widnes need to catch up their fixture and so I have used a match average for comparative purposes).
Most people who have ever watched a handful of games would know that two out of three tries scored in Super League occur when the team in possession play-the-ball inside the opposition 20-metre zone. Short-range tries - when the team run 20 metres or fewer - account for just over 66 per cent of all tries in Super League. So let's look at which teams have had the best field position after 10 rounds.
The table below shows the average number (per match) of play-the-balls in the opposition 20-metre zone so far in 2014, and the number of tries scored from this position.
| | | |
| --- | --- | --- |
| Team | Average play-the-balls in opposition 20m zone | Average tries scored |
| Warrington | 32 | 2.5 |
| Hull KR | 28 | 2.8 |
| Wigan | 26 | 4.0 |
| Leeds | 25 | 3.3 |
| Salford | 25 | 2.7 |
| Catalans | 25 | 3.3 |
| Castleford | 23 | 3.2 |
| London | 21 | 1.8 |
| St Helens | 21 | 3.8 |
| Hull FC | 20 | 3.1 |
| Widnes | 20 | 3.1 |
| Wakefield | 20 | 2.0 |
| Huddersfield | 19 | 2.9 |
| Bradford | 17 | 2.0 |
Let's begin with the number of times a team has been attacking in this area. Would you have guessed that the Wolves have spent longer than any other side in Super League trying to crash over the try line?
Hull KR's relative success has been based on having much more possession than their opponents in seven of the 10 games they've played. Add to that 280 plays inside their opponents' 20-metre area and you'd expect them to have a couple more wins.
What about the Giants? They've had far fewer of the best chances to score than most others. The Super League average is 23 per match, and you might say that four below that isn't too many, but over 10 games it's 40, and for the Giants that would be about another six tries, which may equate to another two wins on the league table.
This isn't a recent issue for Huddersfield; they had very few play-the-balls deep inside their opponents' half last season and still managed to finish at the top after 27 Rounds. It just makes it a bit harder for them when things aren't going well.
Converting chances
The right-hand column is possibly the more important one. Converting your chances to tries will win games, which is usually the only thing people remember a week after the match.
Wigan have been the best at this so far in 2014, and if you saw them play against Bradford recently you may recall that 11 of their 15 tries were scored when they played the ball inside this area of the field. They did that from just 35 play-the-balls. In the season as a whole, they score a try about every six play-the-balls they get inside their opponents' 20-metre zone - half as many as the Wolves. You could say that for every three plays they scored one try.
Leeds, St Helens and Catalan have also been good at converting chances to points, which simply highlights how much the Dragons have under performed in the opening 10 games. I'll be amazed if they don't end up inside the top six by the end of the season.
I found it interesting that the rules of the game seem to give both the strongest and the weakest teams a fair chance to attack. The speed of the play-the-ball and the 10 metres the defenders must retreat allow both sides a time to attack close to the scoring line.
Principle
But, just as Liverpool found out at Anfield, it's not how much ball you have, but how well you use it when you have a chance to score.
I realise that you can score tries from long range and usually they are the most spectacular, but the overall principle of a game like rugby is to invade your opponents' territory and score some points.
Of course attacking is only one half of the game, and a team's ability to defend close to its own try line is equally important. It wouldn't surprise you to know that Wakefield, London and Bradford rank at the bottom of this category, and it's also the reason why the Dragons have lost so many games - they've been terrible at this. Fixing up their goal line defence is their number one priority.
The standout team in Super League this year at goal-line defence, and one that we can see playing on Friday evening on Sky Sports, are the Leeds Rhinos. If we look at tries conceded by teams when their opponents play-the-ball within 10m of their own try line, you'd find that the league average is 21. Amazingly, Brian McDermott's men have conceded just seven. It's half as many as the second best team, the Tigers, and a massive improvement on last season.
I'm still looking forward to seeing if London can pick up their first win at St Helens on Thursday, but can't wait to watch the Rhinos take on the Warriors this Friday. If you can't get to the game, tune in - this is a 'must-see' event.