Rugby League World Cup: Sonny Bill Williams in for New Zealand but Tohu Harris is axed
Sonny Bill Williams has been rushed back into New Zealand's squad for the World Cup just 24 hours after he was omitted.
Last Updated: 09/10/13 5:43pm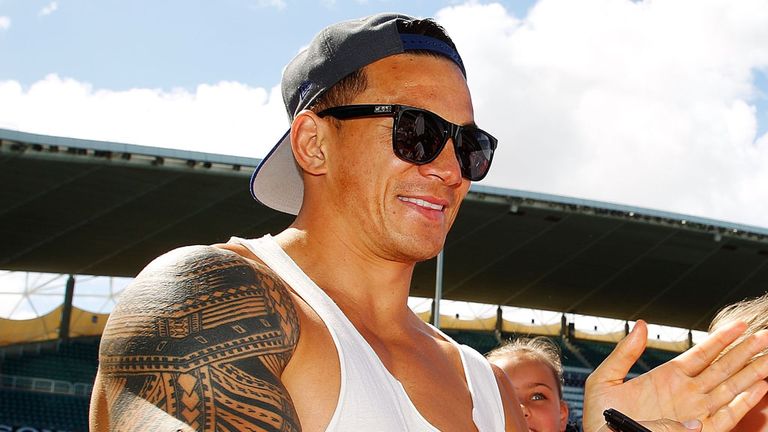 The 28-year-old, a World Cup winner in the 15-a-side code with the All Blacks, was initially left out of the 24-squad for the tournament in the UK as he wanted a break from sport.
However Williams had a change of heart and he has been brought back in - with Melbourne Storm back-rower Tohu Harris the unlucky player to be cut.
"It's been a tough situation, but Sonny brings things to the group that we couldn't ignore," said head coach Stephen Kearney.
"He has had time since his NRL grand final win to clear his head and he wants to represent the Kiwis on the world stage.
"He missed our 2008 World Cup win and his inclusion will be a great asset in trying to repeat that success this year.
Benefits
"It's not only his footballing ability, but also what he brings off the field which will benefit the team."
Harris, who is has been capped once, has been offered the chance to travel as a 'development player' but the move has been blocked by the Storm. However the 21-year-old has been praised by Kearney for the way he has handled the situation.
Kearney added: "It was a conversation no coach would like to have, but he's a terrific young man and I'm sure he'll have many more opportunities to pull on the black jersey.
"It's been a unique set of circumstances for all involved, but for now our focus is getting set to defend the World Cup with the team we have."
Williams have offered his apologies on Twitter to Tohu and has promised to give his all in the England and Wales tournament later this month.
"I'm really sorry about the Tohu situation it was never my intention I just followed my heart, now I promise ill play with all of it," he tweeted.