Growing on league!
November is the start of pre-season training and the time to start cultivating some face furniture!
Last Updated: 26/11/12 1:52pm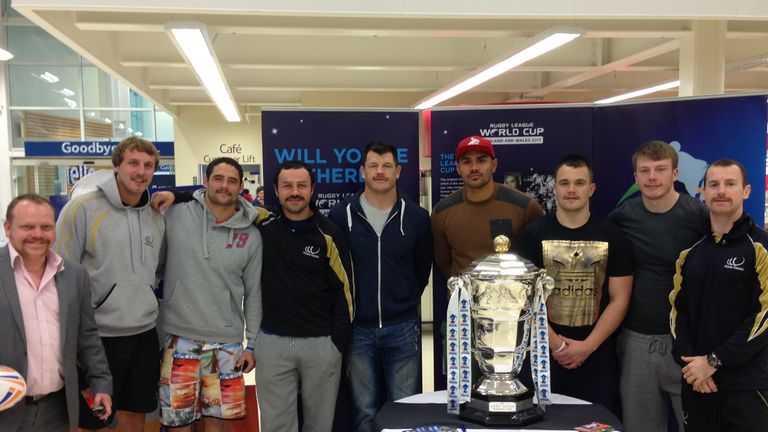 Good news - rugby league is a growth sport. At least it has been during November. In one specific area. And that's on the upper lips of players such as Adrian Morley, Jamie Jones Buchanan and Jon Clarke.
The reason? Well, while November means the start of the grind of pre-season training for Super League teams, it also means the now annual sprouting of facial fluff by men in support of the MOvember campaign, and a number of clubs have livened up the drudge of fitness work by cultivating magnificent moustaches in aid of the charity.
I know, growing a handlebar 'tache doesn't sound like a particularly imaginative way to bring a bit of excitement to the weights room but we're talking about competitive players here and MOvember is a chance for them to demonstrate who can grow the best mo while taking the mick out of the young shavers in the squad who aren't harry hormone types and struggle to cultivate a few whisps of whiskeriness.
The real beneficiary of MOvember though is the charity itself which began as a bit of a laugh among friends in Australia in 2003 with just 30 men taking part. In 2004 a grand total of 450 men were involved and they raised $55,000.Since then MOvember has grown to involve millions of men all over the world. The aim: begin the month of November clean shaven and spend the rest of the month growing a moustache. Such a simple concept and one that has raised £184 million globally since its launch 10 years ago.
And that money has gone to help a number of charities around the world which are involved with male health issues, in particular testicular and prostate cancer. In this country one of the beneficiaries is Prostate Cancer UK which works hard to raise awareness of what is the most common form of cancer in males, one which kills one man every hour and which is predicted to become the most prevalent of all cancers in the UK by the year 2030.
Prostate Cancer UK recognises that sport is good way of getting its message across to men and it has a lot of sporting links and supporters,in fact it's the Football League's current charity partner.
So hats off to the rugby league players who've joined in the MOvember campaign, helping to make this an even bigger year for thatnfoundation and, ultimately, enabling Prostate Cancer UK to do more to raise awareness and improve the treatment of the disease.
They've been cultivating upper lip accessories at the Castleford Tigers, Wakefield and the London Broncos while one or two Rhinos have been seen with new mos. The England squad joined in during the Autumn International series, Adrian Morley's top lip topiary making him look like a character from the gangster film Chopper.
But one club in particular has got behind the cause with the entire Widnes Vikings squad getting hairy, Jon Clarke's Borat impression being particularly successful. And not just the Widnes players; the Vikings' Director of Marketing Brian O'Connor has cultivated a very impressive handlebar moustache while club chairman Steve O'Connor has joined in and is now referred to as Chairman Mo.
The Vikings finished bottom of the table last year, by a whisker. If they show as much commitment when Super League XV111 kicks off in February as they have done to the MOvember cause then they should shave a few points off their competition rivals.